Need a Job? Here Are the Biggest Employers Across America
See which employers are based in the biggest U.S. cities.
America has had its share of company towns over the years, with some of America's biggest cities becoming ubiquitous with their biggest employers — Detroit as Motor City, to Pittsburgh as Steel City and Cincinnati once going by the unfortunate nickname of "Porkopolis." Even today, the biggest employer in a city can play an important role in the lives of its inhabitants.
And, depending on which city you call home, you might be near a very different main employer, according to a new study by GOBankingRates. The largest employers in America's biggest cities are a varied bunch, but some companies are even the home to the biggest payroll in multiple burgs.
Here's a look at which companies are the biggest employers in each of the 50 largest cities in America:
50 Biggest Employers Across America
Ranking
City
State
Company
Number of Employees
1
New York
New York
JPMorgan Chase & Co
29,000
2
Los Angeles
California
Kaiser Permanente
36,468
3
Chicago
Illinois
JPMorgan Chase & Co
15,229
4
Houston
Texas
Walmart
37,000
5
Phoenix
Arizona
Walmart
34,090
6
Philadelphia
Pennsylvania
Comcast Corp.
14,531
7
San Antonio
Texas
H-E-B
22,000
8
San Diego
California
Qualcomm, Inc.
11,830
9
Dallas
Texas
Texas Instruments
10,961
10
San Jose
California
Cisco Systems Inc.
14,000
11
Austin
Texas
H-E-B
12,198
12
Jacksonville
Florida
Bank of America Merrill Lynch
8,000
13
Fort Worth
Texas
American Airlines
25,000
14
San Francisco
California
Wells Fargo
8,195
15
Columbus
Ohio
Kroger
22,821
16
Charlotte
North Carolina
Wells Fargo
24,100
17
Indianapolis
Indiana
Eli Lilly and Company
11,479
18
Seattle
Washington
Boeing Co.
81,919
19
Denver
Colorado
United Airlines, Inc.
5,777
20
Bakersfield
California
William Bolthouse Farms
1,802
21
El Paso
Texas
T&T Staffing
5,348
22
Boston
Massachusetts
State Street Bank & Trust
7,500
23
Nashville
Tennessee
Hospital Corporation of America (HCA)
10,180
24
Detroit
Michigan
Rock Ventures
16,617
25
Portland
Oregon
Intel
19,300
26
Oklahoma City
Oklahoma
Hobby Lobby Stores
5,100
27
Las Vegas
Nevada
Wynn Las Vegas, LLC
8,250
28
Memphis
Tennessee
FedEx Corp.
30,000
29
Louisville
Kentucky
UPS
22,354
30
Baltimore
Maryland
Exelon
2,950
31
Milwaukee
Wisconsin
GE Healthcare
6,000
32
Albuquerque
New Mexico
Sandia National Labs
10,500
33
Tucson
Arizona
Raytheon
9,600
34
St. Louis
Missouri
Wells Fargo
5,418
35
Sacramento
California
Kaiser Permanente
10,517
36
Wichita
Kansas
Spirit Airlines
10,800
37
Kansas City
Missouri
Cerner Corp.
12,890
38
Atlanta
Georgia
Delta Air Lines
5,348
39
Cincinnati
Ohio
Kroger
21,646
40
Miami
Florida
American Airlines
11,031
41
Raleigh
North Carolina
Duke Energy Progress
3,700
42
Anaheim
California
Disneyland Resort
31,000
43
Virginia Beach
Virginia
GEICO
2,700
44
Pittsburgh
Pennsylvania
PNC
11,432
45
Oakland
California
Kaiser Permanente
12,287
46
Minneapolis
Minnesota
Target
8,200
47
Tulsa
Oklahoma
Walmart
8,500
48
Arlington
Texas
General Motors
4,484
49
New Orleans
Louisiana
Ochsner Health System
16,771
50
Tampa
Florida
Publix Super Markets
7,420
Financial Industry, Retail Most Likely to Span Multiple Locations
As more people opt to do their investing and banking online, one area where the need for physical locations is declining steadily is finance. But you wouldn't know that by looking at this study.
Of the organizations that are the largest employers in more than one of America's largest 50 cities, two are banks. JPMorgan Chase & Co. is the top employer in both New York and Chicago, and Wells Fargo has the most employees in San Francisco, Charlotte, N.C., and St. Louis.
The same is also true of retail stores, with Kroger employing the most people in two Ohio cities — Columbus and Cincinnati. And Walmart, the biggest private employer in America, has the largest payroll for Houston, Phoenix and Tulsa, Okla.
Healthcare giant Kaiser Permanente is the largest employer in more than one city in its home state of California.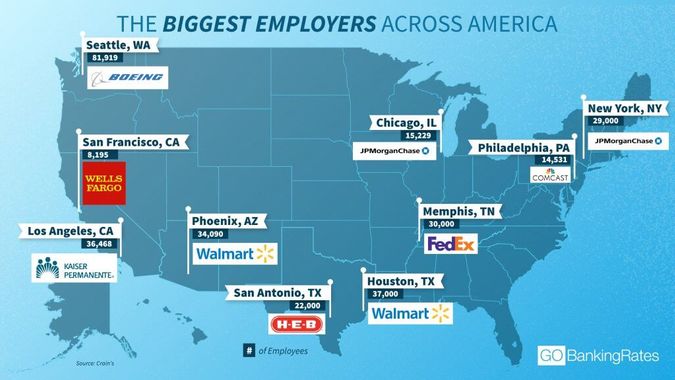 Check Out: Highest- and Lowest-Paying Entry-Level Jobs
Traditional Industries on the Decline?
It's also notable that some of the famed connections between a specific city and an industry don't appear to be linked in the same way anymore.
For example, the top employer in Detroit isn't Ford, General Motors or Chrysler — it's Dan Gilbert's Rock Ventures. Pittsburgh's largest employer isn't a steel firm, but rather, the bank PNC. Milwaukee's top employer isn't a brewer — or even a dairy. It's GE Healthcare. And sunny Los Angeles, home to Hollywood and the supposed center of the entertainment industry, is one of the three cities where Kaiser Permanente is putting the most people to work.
So although those better-known industries might have helped define those cities in the public eye, it might be time for people to start updating their perceptions.
Click to keep reading about the best and worst cities to score your dream job.
More on Businesses
Methodology: GOBankingRates analyzed financial data for 50 of America's largest cities in order to determine the largest private-sector, for-profit employer in each. Data was compiled from various sources, including individual city comprehensive annual financial reports (CAFR) and reports conducted by Crain's.