He Launched Acorns and E-Trade's Investment Arm — Now He's Banking on Video Games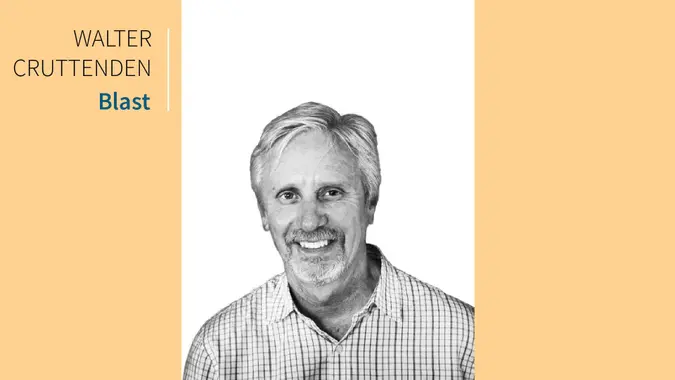 Before launching Blast, a free app that gamifies saving money, Walter Cruttenden co-founded the hugely successful micro-investing company Acorns. He also founded and served as CEO of Roth Capital Partners and E-Trade's online investment bank E-Offering, and co-founded audio tech company SRS Labs. TechCrunch reported in July that Blast had raised $12 million in funding from investors in its first few months of existence, all while earning the trust of big financial players like Tony Robbins. 
In this installment of GOBankingRates' "Best in Business" series, which sets out to discover what makes the people behind top innovative companies tick, Cruttenden told GOBankingRates about the "healthy fear" necessary to start a company, what it's been like to found companies with his four sons — and ways that you can find (or build) your own dream job, too.
When did you know you had to start this company?
I was playing a mobile game, FreeCell, and at the same time reflecting on the tremendous growth we had seen at Acorns, to over 4 million accounts. It just dawned on me that billions of people play games, and it would be really cool if they could get paid to play and micro-save through games. Having read enough about gamification to know it would be a big trend, and understanding through my Acorns experience that micro-transactions were now finally economical — and soon to be ubiquitous — I formed Blast.
What were your biggest fears about launching this business?
When I start a company, it is initially with just a few people and very little money until the technology is proven. So, there was no immediate trepidation. Of course, there were all the concerns about the amount of effort required, finding the right team, building and marketing the product, raising the next round, that always gives one pause. I guess that's called healthy fear!
Make Your Money Work Better for You
I'm so excited to be working with

@acorns

co-founder Walter Cruttenden, who has developed the new

#app

, Blast. We are helping to invest, promote, and grow this PHENOMENAL app for kids — while they are gaming, they will be building REAL

#investments

. ???? Check it out!

https://t.co/38DE3KR69F

— Tony Robbins (@TonyRobbins)

August 3, 2018
What was the most surprising thing about the process?
Having founded Roth, SRS Labs, Acorns and others, I knew there would be many small pivots and critical needs. The big one at Blast was aligning ourselves with the large game companies and their attribution partners, so everything could technically work. It was tentative up until that moment.
Find Out: 7 Surprising Costs That Come With Starting a Business
What was the hardest part?
Finding the right designers, engineers and management people that understood both gaming and fintech was key. It turns out that many people that could design or code financial products were avid gamers on the side. We hired them first and built out a very cool game room to retain them. Many people play at lunch or after hours. We have a blast every day!
Did any previous jobs inspire you to run Blast the way you do?
There were many lessons, but I knew it was especially important to get everyone aiming at the same goal, communicating well and feeling like an owner. So, we started with frequent stand-up meetings, and made sure everyone was clear on the goals and everyone had meaningful stock options. Personally, there is no greater satisfaction than to see my partners grow, gain the knowledge to someday start their own company and realize a big capital gain along the way.
Make Your Money Work Better for You
With each business you also learn what to avoid. You want to structure the business to grow as fast as possible with high margins and hire wisely. We want to avoid complexity, low margins and big egos, or anyone that can bring down the culture. The right people are essential. Mixing them together is like a recipe. It can be delicious fun — or one bad ingredient can leave everyone with a bad taste.
Who are the people you lean on most?
In each business I have usually started with one of my four sons as a co-founder. I bring the experience; they bring an understanding of the latest technologies. Alex is my gamer son, a natural designer gamer and my partner in Blast. But for inspiration, I've always enjoyed reading about the lives of the saints and sages. We meditate, and I feel like they are watching over us.
(You should see our meditation room at Blast. On the walls we have everyone from Jesus and Krishna to Lincoln, Einstein, Luther Burbank, Tagore and George Washington Carver. We surround ourselves with the vibrations of amazing souls!)
Check Out: 13 of the Richest Young Entrepreneurs of 2018
What advice would you give to someone who wants to start their own business?
Go for it. Do the best planning you can. Get input from smart, positive people, and line up enough funds to give you the time to prove it out. If the money is hard to come by, good — take that as a lesson. Keep working until the plan is so compelling, people beg you to take their money.
Make Your Money Work Better for You
When did you realize Blast was going to make it?
At Blast, it was when the big game companies signed on as our partners. They want to give something back to the gamers, and they love our engagement tool, which helps gamers build savings accounts. It feels like a real win-win. I expect fintech and gaming will flourish together in many companies.
How do you define success?
We all have desires and work to fulfill them. But if they are only for personal satisfaction, it just doesn't feel like success. It feels empty. It is only when we bring other people along for the journey, face daunting problems together and somehow overcome them as a team that things feel truly amazing. When we celebrate together — that's success!
More on Entrepreneurship
We make money easy. Get weekly email updates, including expert advice to help you Live Richer™.