Boston Philanthropist Gives Multiple $2,021 Tips, $1 million to Help Small Businesses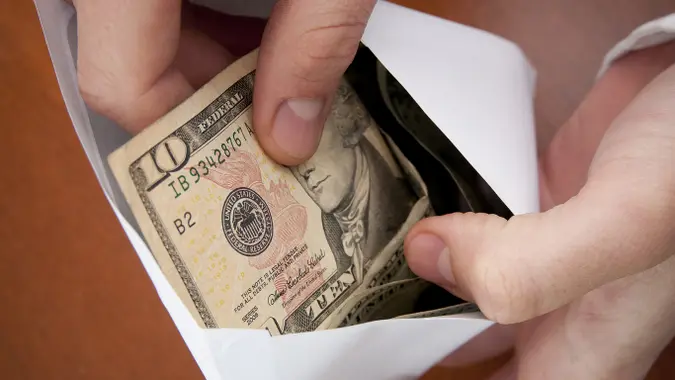 Marcell Mizik / Shutterstock.com
The identity of the mysterious benefactor who left six envelopes with $2,021 in tips in various Boston bars and restaurants this week was finally revealed. Local car magnate and philanthropist Ernie Boch, Jr. said in an article that he was saddened to see how restaurants have been struggling since the pandemic.
See: The Best and Worst States for Workers Who Depend on Tips to Make a LivingFind: How Restaurants Are Preparing for Winter
"It was so dead that I had this idea, why don't I go into Boston and hit all these different bars and give some support," Boch said in an article from WHDH in Boston.
Boch and a friend enjoyed the service in six Boston places in three hours, leaving the envelopes. "I don't get takeout that often, but when I do, I can just see the problems that are there," Boch said. "I encourage anyone who can do it, please, support the industry."
See: The 20 Industries That Will Never Be the Same After the CoronavirusFind: Big Tippers — 20 Celebs Who've Left Generous Tips
Yesterday, Boch also donated $1 million to the Barstool Sports restaurant fund set up to help small businesses in need of help due to the impacts of COVID.
"It's a ray of sunshine in this storm and an inspiration to others," Doug Bacon, president of Red Paint Hospitality Group, said in a Boston Herald article. "It's worse than anyone can imagine. People in the industry are just getting by. But this brings hope," said Bacon, who owns eight restaurants and bars in Boston. "There are good things coming on the horizon."
See: 72% of Americans Believe in a Better 2021 After a Year in Financial 'Survival Mode'
Find: 30 Major Companies Giving Back During COVID-19
Make Your Money Work Better for You
One of his servers, Conor Gallivan, who was a recipient of a $2,021 tip at the Corner Tavern, told the Boston Herald that the tip was "overwhelming" and that he immediately used it to pay off a few bills.
"I was trying to figure out for a second whether that was what was intended, and then you realize, he left $2,021 for 2021, it was pretty clear symbolism," Gallivan said. "I basically got a month's rent in a tip."
The hospitality industry has been hard hit and is still continuing to struggle due to restrictions and lockdowns.
More From GOBankingRates: