Budweiser: 'The Super Bowl is Not the Holy Grail,' Foregoes Ad Spot During Game for the First Time Ever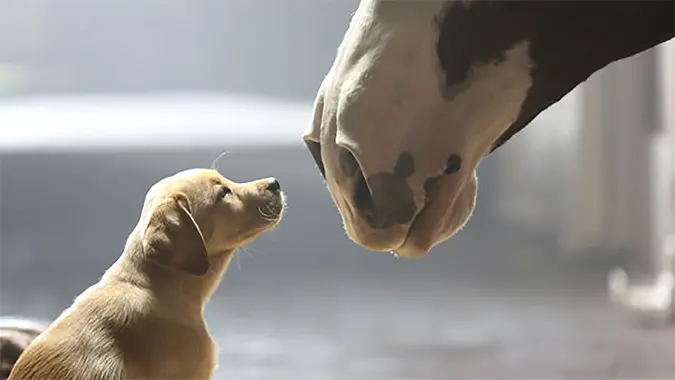 © Anheuser-Busch Companies
Major brands are learning how to navigate their advertising efforts during the pandemic, either because they don't want to risk sounding tone deaf or inappropriate, or because they suffered financially from the pandemic. Several companies, including Budweiser, Pepsi and Coca-Cola, have therefore decided to forego advertising during the Super Bowl, one of the biggest advertising moments of the year, opting instead to use their dollars to help COVID-19 vaccine education efforts.
See: Disneyland Will Be First Massive COVID-19 Vaccination Site
Find: Amazon Offers to Help Biden Administration Distribute, Administer 100 Million COVID Vaccines in 100 Days
"For the first time in 37 years, we aren't running a commercial during the Super Bowl. Instead, we're helping to safely bring America back together again soon," Budweiser said in a tweet.
The Ad Council commended Budweiser for its effort in a tweet, saying it thanks the company for its commitment "to our COVID-19 vaccine education initiative and other vaccine awareness efforts. We commend them on their generosity, powerful message & commitment to social good."  The Ad Council committed to raising $50 million from the private sector for communications efforts to encourage COVID-19 vaccinations.
Make Your Money Work Better for You
Other brands that have been hit harder by the pandemic, such as Coca-Cola, are pulling out entirely in order to invest their money in other activities.
See: 47 CEOs Taking Pay Cuts to Help Their Companies Survive
Find: These 30 Companies Are Giving Bonuses and Raises to Their Essential Workers
"Every brand is reallocating their marketing dollars in a unique way, but each shift can be attributed to the impact of the pandemic on this year's game," Margo Kahnrose, CMO at marketing technology platform Kenshoo tells GOBankingRates.
In addition, some brands are shifting dollars to online advertising, not only to avoid the $5.5 million price tag that comes with a TV ad, but also because that money can go much further when spent on digital ads, Kahnrose adds.
Without big in-person parties, brands don't necessarily get the same return from those expensive investments, as people aren't discussing them in real time with the people around them, Kahnrose says.
Find: The NBA and 27 Major Companies Donating To Fight Inequality
See: 23 Athletes Who Love Giving Their Money Away
Make Your Money Work Better for You
"Spending money online not only helps get eyes on your ads, but also gives brands valuable data," she says, adding that many will create campaigns that go viral on YouTube and social media. "In doing so, those marketing teams will have executed a really telling test of the value of their individual media investments and can then decide how to move forward for the 2022 Super Bowl," she says.
While Super Bowl advertising typically results in an immediate awareness lift for advertising brands, and often a corresponding increase in sales, "for the lesser-known brands, immediate new customer acquisition is very much the hope and expectation from such a large investment," Kahnrose says.  So coming off a year where e-commerce accelerated, it's easy to understand why doubling down in advertising channels that can generate immediate sales would be justifiable, even at the expense of a big branding expenditure like the Super Bowl.
"Retail media buys on Amazon, Walmart, Instacart and Target are where we have seen these investments go, and to great effect — away from traditional media," she adds.
See: Instacart and Trader Joe's Are Paying Their Employees to Get Vaccinated
Find: Washington State Turns to Starbucks for Vaccine Distribution; Goal is 45,000 Doses Per Day
"It makes sense, coming off that experience, that brands have learned to be much more discriminating and deliberate about the advertising spend, and if they could gain as much impact from digital at a fraction of the cost, they are now experienced, comfortable, poised and ready to make the leap and see how it works out," she explains
Make Your Money Work Better for You
Kahnrose also says that this shift has created an opportunity for new advertisers to get in on the Super Bowl ad game. Newcomers are likely to enter the space this year, especially those in categories that benefited from the at-home and e-commerce boom triggered by the pandemic. The food-delivery service DoorDash is one example.
See: 25 Companies Making the Most Money From Coronavirus
Find: These 47 Billionaires Got Richer During the Pandemic
"It seems clear that suddenly, the Super Bowl is just one more tactic in an advertiser's toolbox, not the holy grail it once was, but a lever that can be pulled and employed based on a company's stage and priorities," Kahnrose says.
In terms of content, brands are also being very careful with their tone. Kahnrose says to expect values-centric ads that focus on unity.
"I think everyone learned the hard way in the early months of the pandemic that consumers don't want to look at ads focused on the realities of the pandemic, and we'll see less of that this time around," she says. "But coming off such a socio-political minefield as was 2020, feel-good stuff that is values-centric is likely to play a starring role."
More From GOBankingRates:
Make Your Money Work Better for You