Businesses Missing Out This St. Patrick's Day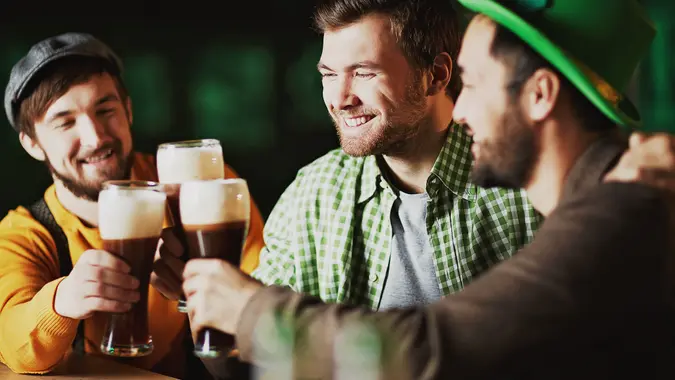 Pressmaster / Shutterstock.com
St. Patrick's Day has become synonymous with bar crawls and beer consumption, so it's no wonder that the March 17 holiday is typically the highest-grossing day of the year for U.S. bars and restaurants, according to NielsenIQ.
COVID's Financial Impact After 1 Year: See All Our Coverage
In 2018, compared with the average day, beer sales were 174% higher and spirits sales were 153% higher, NielsenIQ found. The consumer intelligence company also conducted a survey of 15,000 American consumers which found that one-third had visited a bar or restaurant on St. Patrick's Day that year.
Looking Back at St. Patrick's Day 2020
By the time St. Patrick's Day rolled around last year, much of the U.S. was under lockdown with large gatherings banned. This meant that parades were canceled, and many bars and restaurants were closed.
Take a Look: What COVID-19 Has Meant for Small Businesses
A survey conducted by the National Retail Federation prior to the lockdowns found that more than half of adults (56%) planned to celebrate St. Patrick's Day in 2020 with total spending expected to reach a record $6.16 billion. But many of those dollars were never spent, and money that bars had shelled out in anticipation of the holiday went to waste. According to Eater New York, a canceled New York City St. Patrick's Day meant "more than 250 barrels of beer that could go unused. Hundreds of pounds of brisket for corned beef that may have to be donated."
Make Your Money Work Better for You
While restaurants and bars of all types would likely suffer from lost revenue, the hit was felt the hardest by owners of Irish bars. One Irish bar owner told Eater New York that sales from a typical St. Patrick's Day are comparable to as much as three months' worth of revenue.
Keep Reading: Creative Ways Small Businesses Stayed Open the Past Year
"It's like canceling Christmas on us," PMAC Hospitality co-founder Patrick McNamee, who owns several bars around New York City, told Eater New York.
What Will St. Patrick's Day 2021 Hold?
Loosening restrictions around the country may be good news for bar and restaurant owners and employees. The National Retail Federation's annual St. Patrick's Day survey found that 10% of consumers are planning to celebrate the holiday at a bar or restaurant this year. While that's lower than previous years — last year's pre-pandemic survey found that 27% of consumers planned to party outside their homes — that's still a decent amount of business, especially considering that the holiday falls on a Wednesday this year. The survey also found that the average consumer plans to spend $40.77 on St. Patrick's Day, with total spending for the holiday reaching an anticipated $5.14 billion.
Make Your Money Work Better for You
Check Out: How Our Businesses Will Continue To Move Forward Post-Pandemic
Typically, the cities that see the biggest boost from St. Patrick's Day sales at bars and restaurants are Boston and Chicago, with on-premise establishments in Chicago (including small neighborhood bars, Irish pubs, restaurants and nightclubs) making an average of $8,287 on beer sales alone, the NielsenIQ analysis found.
But this year may fall short. In Boston, bars are allowed to be open at a limited capacity, so bar owners are not expecting this year's celebrations to look anything like 2019's.
"We're not going to have any kind of hoopla like we normally do," Seana Gaherin, co-owner of Dunn-Gaherin's Food & Spirits in Newton, Massachusetts, told Boston.com. "On a normal year, it is by far the best day of our year. It's the ultimate day. … This year, because of the limited labor staff and everything else, we're only operating the restaurant from 3 p.m. to 10 p.m."
Make Your Money Work Better for You
Chicago also has capacity limits in place — venues are limited to 50% capacity or 50 people, whichever is fewer, The Chicago Tribune reported. So while there may not be the usual bar crowds, some bars and restaurants are getting creative with their offerings to make up for potential revenue losses — Beatrix is selling Irish coffee kits, The Rambler will have an "Irish Pub Experience at Home" takeout platter and Jake Melnick's is selling green beer to go — in addition to the numerous venues offering dine-in food and drink specials.
See: A Look at How We've Been Spending on Alcohol During COVID-19
It remains to be seen how much bars and restaurants bring in this year compared to pre-pandemic times, but some venue operators are hopeful that St. Patrick's Day will be a boost for their struggling businesses.
"While the day was obliterated last year by things out of our control, we are hoping to regain just a little bit of the magic of the day this year as we slowly return to a sense of normalcy," Hannah Huke, marketing director for The Briar Group, told Boston.com.
More From GOBankingRates
Last updated: March 17, 2021
Make Your Money Work Better for You