Chipotle Stock Ends 2017 on a Low After a Tumultuous Year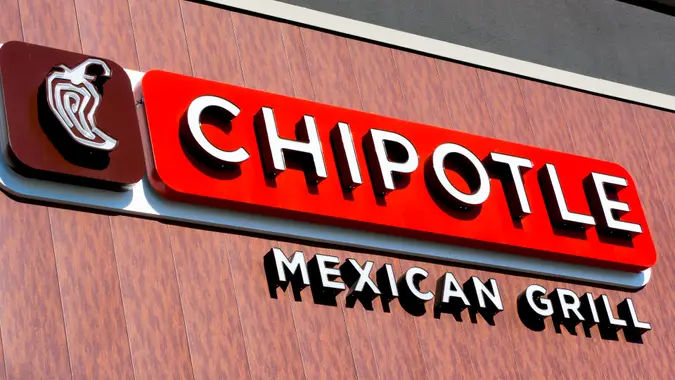 Ken Wolter / Shutterstock.com
Chipotle Mexican Grill, the casual fast-food restaurant chain, was an investor favorite in 2013 and 2014, returning 79.11 and 28.48 percent, respectively. In 2015, however, Chipotle began a slide from which it has yet to recover.
While employees at the restaurant might love the perks, investors have battered the stock, which dropped 29.9 percent in 2015 after five separate waves of foodborne illnesses at its restaurants in the last half of that year.
The next two years didn't prove to be any better for the beleaguered company, as its stock dropped 21.37 percent in 2016 and another 27.94 percent through Dec. 1, 2017. This continued downturn likely came as a big surprise to many investors, as some analysts had pegged the stock to rise as much as 51 percent in 2017.
Here's a timeline of the stock as it tried to regain its footing in 2017. Keep reading to learn how Chiptole has reacted to the never-ending string of headlines that continue to appear.
Feb. 2: Bad Earnings, Stock Moves Up and Down
Bad news came early for Chipotle in 2017, as its first earnings report of the year, released on Feb. 2, showed a 76 percent drop in year-over-year earnings. The earnings report reflected a number of different factors, from higher food costs to the continued sales slump hangover from the E. coli and salmonella breakouts.
However, CEO Steve Ells painted a hopeful picture of an earnings turnaround in 2017, and the stock rallied 3 percent in after-hours trading that day.
Make Your Money Work Better for You
But by the next day's trading, the euphoria had worn off and the stock began trading down, from a close of $423.20 on Feb. 2 to $404.08 on Feb. 3, continuing down to $395.59 per share on Feb. 6. By the end of the week, buyers had returned, and the stock was back to $413.36.
July 18: Virginia Illness Scare
Investors thinking that Chipotle's food contamination issues were behind it were surprised on July 18, when the company announced the temporary closing of a Virginia store after numerous customers reported getting sick.
The company's executive director of food safety announced that the symptoms the customers had were consistent with norovirus, which he stated did not come from their food supply. While industry experts applauded the speed with which Chipotle handled the latest public relations disaster, the stock still suffered.
Aug. 10: Dallas Chipotle Outlet Closed Due to Rodent Infestation
Chipotle investors had to deal with a different kind of health violation in August, when instead of a virus outbreak, Chipotle reported that a Dallas customer reported — and filmed — mice in the restaurant.
While seemingly a one-off event, investors took the stock down another 2 percent in a knee-jerk reaction. For some customers, this no doubt confirmed what they already believed about Chipotle — that it was an unsanitary place to eat — but the stock suffered only mild damage in the wake of the bad news.
Aug. 25: Credit Suisse Cites Rising Avocado Prices as a Risk to Chipotle Profits
Noting that avocado prices had surged 75 percent since the middle of July, Credit Suisse lowered its price target on Chipotle to $320, indicating the firm "would not be buyers of the stock."
Make Your Money Work Better for You
Investors seemed unfazed by the Credit Suisse report, as the stock traded up on the news: CMG closed at $301.92 on Aug. 24 but finished at $308.79 on Aug. 25, the day the report was released.
Sept. 8: Cowen Cuts Chipotle to Sell With a $250 Price Target
In the early morning on Sept. 8, investment firm Cowen put out a negative note on Chipotle and slapped a $250 price target on the stock, which had closed at $317.25 the day before. Cowen was concerned that negative attitudes toward the company would impede a turnaround.
Furthermore, Cowen sounded the alarm bell about Chipotle, announcing a 5 percent price increase that would take hold over subsequent quarters, wondering how that would play with customers who weren't looking to spend any more money at Chipotle.
By the time the stock market closed on Sept. 8, Chipotle had fallen from $317.25 to $300.03.
Sept. 12: Chipotle Adds Queso to Menu, Stock Stumbles as News Comes Out
Chipotle hoped to begin turning its fortunes around with the addition of queso to the menu in September. Many of the chain's fans — and investors — were looking forward to the new menu option. But unfortunately for Chipotle, the queso seemed to leave a bad taste in customers' mouths.
Some reports from Twitter called the queso "gritty," while others said it "tastes like crayons." The day the queso rolled out, Sept. 12, Chipotle closed at $308.03. By Sept. 18, the stock had fallen another 2 percent.
Oct. 24: Chipotle Misses Earnings Estimates — Again
The turnaround envisioned by Chipotle's CEO in February had not taken effect as of October, when the company reported a big earnings miss that tanked the stock.
Make Your Money Work Better for You
Analysts were expecting the company to report $1.63 in adjusted earnings per share; Chipotle reported $1.33 in EPS instead. Both revenue and same-store sales also fell below expectations, with everything from hurricanes to a data breach combining to bring down the numbers.
After closing at $324.30 on Oct. 24, Chipotle tumbled to close at $277.01 the day after the earnings release.
Chipotle: Today vs. Q4 2016
On Nov. 24, 2017, Chipotle stock closed at $279.31, down about 25 percent on the year. On Nov. 23, 2016, the day before Thanksgiving, the stock was at $410.41, marking a year-over-year decline of almost 32 percent.
Lots of analysts got it wrong at the end of 2016, but only time will tell if the predictions at the end of 2017 will bear fruit in 2018. As of Nov. 24, analysts have a 12-month consensus price target of $300 on the stock.
Earnings for fiscal 2018 are expected to reach $9.09 per share, up from $6.63 in fiscal 2017. However, over the month of November, eight analysts revised their earnings downward, versus only one analyst who raised the estimate.
What's Ahead for Chipotle?
The company is trying to turn the ship around by adding new items to the Chipotle menu and new technology in the form of a mobile-ordering app.
A new CEO also will take over for Ells, the Chipotle founder who will become executive chairman. The company also placed celebrity chef Richard Blais in charge of its new Tasty Made burger restaurant, an effort to take the concept in a new direction under the leadership of an established and popular chef.
Make Your Money Work Better for You
Whether these and other efforts bring Chipotle out of its earnings doldrums remains to be seen. But you never know — Chipotle might be the type of brand that took a beating in 2016 and 2017 but takes off in 2018.