Coffee Shop Start-Up: Florida Café Offers Nostalgia and Engaging Events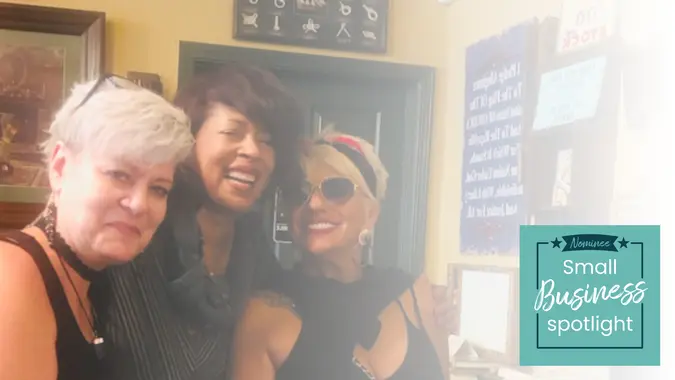 This summer, GOBankingRates is continuing its annual tradition of the Small Business Spotlight by featuring small businesses that have been nominated by our readers. We hope to shed light on inspiring local businesses, particularly after the pandemic left so many establishments struggling to get back on their feet.
In this small-business feature, we're spotlighting Sunrise Coffee Shop and Wine Cellar, a cafe in Madison, Florida, that features coffees, teas and wines and hosts private events, five-course murder mystery dinners, wine tasting and live music. While appreciating antique decor representative of the Florida town, guests can enjoy delicious farm-to-table eats including sandwiches, soups and salads. The cafe owner, Moruna Sheppard, describes her business as "a touch of vintage nostalgia, combining a love of people, antiques, travel, coffee, teas, fine wines, beers and wholesome organic foods and fresh baked goods in a cozy and quaint restaurant lounge." Known for its elegant events, Sunrise was awarded "Best Event Coffee Shop in Northern Florida" by the LUXLife Magazine in 2022. Here, we speak with Sheppard about how she turned a side hustle into a bustling entrepreneurial success and the advice she has for aspiring business owners.
Here It Is: Our 2022 Small Business Spotlight
See: 22 Side Gigs That Can Make You Richer Than a Full-Time Job
Was there a particular moment or experience that inspired you to start your business?
I always laugh when asked how I ended up in this town — I hear this question at least once a day! Ten years ago, I was only here to assist a close friend and business associate who had purchased land in the area in what was going to be a small side business, decorating with fine antiques and providing bakery recipes at the cafe. Since I have another profession (model) and live in two other states (New York and Georgia) and travel extensively internationally, I only expected minimal involvement. Needless to say, it will be nine years next year. In the third year, with a lot of rearranging of my life — and with blood, sweat and tears — I took ownership; and something beautiful and meaningful has been created.
Make Your Money Work Better for You
What did you take from past experiences or jobs that you knew you wanted to be a part of your new business?
Everything I've ever learned I've used in the cafe. Aside from being eternally grateful to my mom for teaching me bakery skills, meticulous cleaning and organization, I've learned a lot from my international travels. I learned how to provide a unique and healthy menu to my traveling customer base and how to enjoy the day-to-day interaction. In terms of customer interaction, speaking various languages and customer service is a huge part. When solving conflicts, my baccalaureate in psychology helps as well. 
Getting to know and understand your customer base's needs and wants is a huge part of understanding your business, as well as being able to pivot if you see a change or need to change things for yourself. In the unexpected times during the pandemic, we started our delivery service, and continue to do so, expanding bakery orders and online gift ordering.
The business has evolved a lot through the years. It is not only a coffee shop with our exclusive Four Freedoms Blend, but a full bakery and restaurant as well as a wine cellar. I love to create fine events and host special occasions and celebrations, and that has always been a part of our establishment.
Make Your Money Work Better for You
Additionally, the member's lounge is a wonderful place where our closest customers could enjoy the beautiful space throughout the day for not only meetings, but a glass of wine or a cigar with friends, family or business associates. Our Mystery Dinners are something so delightful that I hope to lend a bit more time for during my summer season hiatus, and are an opportunity to see everyone I miss during the summer.
Sunrise is more a "garden," where all of the seeds of love are sown. It's sprouted such beauty and unexpected friendships, fruitful and bountiful. 
What has been the most rewarding aspect of being a business owner?
What I considered just a small, unexpected side business nine years ago has so much more meaning than I ever expected or anticipated, especially during the pandemic. The friendships I've made are for a lifetime, and the lessons I learn and the people I meet are unforgettable. Although it's 100 times more challenging (and exhausting) than my actual degree or what was/is my actual profession, the unexpectedness of my business makes the job 100 times more rewarding.
Make Your Money Work Better for You
What advice would you give to someone who wants to start their own business?
I would recommend never starting a business in a town you haven't lived in for at least two to three years. Don't take the recommendation of Realtors or friends in the area, but see the location for yourself. You and you alone must first do the research and get to know the locale and people and business itself inside and out. Choose a town or city that you love — one that has a train and bus and that offers not only large business tax cuts, but cuts for small business ones as well. Speak honestly to other successful business owners and don't try and compete with them by opening the same thing, but try to choose a business to complement them.
More From GOBankingRates
Make Your Money Work Better for You