Coke Joins Other Consumer Brands in Raising Prices to Offset Higher Costs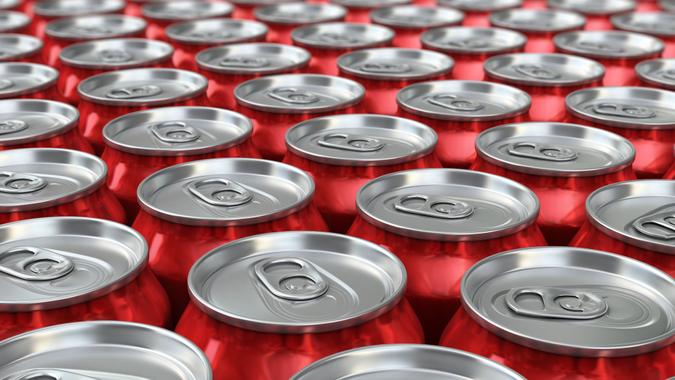 spawns / Getty Images/iStockphoto
If you're one of those folks who need a mid-afternoon Coke to get the creative juices flowing again, your habit might soon get a little more expensive. In April, Coca-Cola said it will raise prices on its drinks to offset higher commodity costs. And it's not the only one. Look for higher prices on everything from breakfast foods and deli meats to personal-care and paper products.
See: 50 Easy Things You Should Do to Save Money
Find: Goods and Services That Will Be More Expensive in 2021
The producer-price index, which represents the prices suppliers charge businesses, are on the rise, according to The Wall Street Journal. Companies are also struggling with increased freight and manufacturing costs. At the same time, they've increased wages in an attempt to lure new hires and hold onto existing employees. As the economy reopens, some are leveraging pent-up demand to pass these extra costs along to consumers.
Make Your Money Work Better for You
Here's a look at which big companies are considering price increases, and which products you might pay more for in the coming months — if you're not already.
Learn More: Why Does the Consumer Price Index Matter?
Coca-Cola
In an interview with CNBC, Coca-Cola CEO James Quincey said price increases are needed to offset higher costs that are expected to bring margin pressure beginning in 2022. He did not specify which products would get higher price tags.
The iconic beverage company spent much of the COVID-19 pandemic focusing on larger bulk packaging for home-bound consumers who stocked up at grocery stores, CNBC reported. That represented a shift from Coca-Cola's pre-pandemic strategy, when it and rival PepsiCo focused on smaller cans and bottles that tend to carry higher prices per ounce. Last week, Pepsi said smaller packaging will likely return as the pandemic impact eases.
The J.M. Smucker Co.
In an interview on "Squawk Street," J.M. Smucker CEO Mark Smucker told CNBC's Sara Eisen, "We have been seeing inflation over the past year, across the board," adding that the company has managed inflation by passing the costs along to consumers.
J.M. Smucker raised the price of its Jif peanut butter in August due to cost pressures, CNBC reported. It also has been watching coffee supply chain issues but said that so far, it has no plans to raise coffee prices on its Folgers and Dunkin brands.
Make Your Money Work Better for You
See: Inflation Is at a 13-Year High — So Why Is Everyone So Calm?
Procter & Gamble
Procter & Gamble, which makes Pampers, Always and Tampax, said it would increase prices on feminine hygiene, baby care and adult continence products by mid-single digits in September.
Kimberly Clark
In March of 2021, Kimberly-Clark announced that it planned to "increase net selling prices across a majority of its North American consumer products business" to "help offset significant commodity cost inflation." The company said mid- to high-single digit increases would go into effect in late June on baby and child care, adult care and Scott bathroom tissue businesses. Other popular Kimberly Clark brands include Huggies and Pull-Ups diapers.
Read Next: Inflation Hits Purchases of Used Cars, Bacon, Citrus Fruit and Airline Fares the Most

General Mills
Cheerios maker General Mills also said it will raise prices to help offset higher freight and manufacturing costs in addition to rising commodity prices "in this higher-demand environment," The New York Times reported. The company is betting that high demand for at-home food products can support the price increases.
Make Your Money Work Better for You
Related: What $1 Could Buy the Year You Were Born
3M
3M, maker of N95 filtration masks and other personal safety products, as well as roofing granules and industrial adhesives, recently warned that that supply chain disruptions were driving up costs. Although 3M hasn't said that it would increase prices, supply chain issues have lead other companies to do so.
Traveling? Flying vs. Driving — Which Is More Cost Effective for Travel This Year?
Clorox
You'll see higher prices on Clorox's Glad products beginning in July due to what CEO Linda Rendle called "extraordinary circumstances" related to the resin used to make the plastic products, Bloomberg reported. Chlorox is looking at its entire portfolio of products to see where higher prices could increase its profit margins.
See: Inflation's Ups and Downs — How It Impacts Your Wallet

Whirlpool
Whirlpool announced it would increase prices as much as 12% as a result of high demand for appliances and home products combined with increased raw material and freight costs, CNBC reported.
"Obviously, we're facing an environment where we just see cost inflation. I don't think that cost inflation will go away overnight," Whirlpool CEO Mark Bitzer said during an interview on "Closing Bell."
The Consumer Price Index, which measures changes in the price of consumer products, has been on the rise for months, and a 0.6% increase in May contributed to the largest 12-month increase since 2008. Experts say that some inflationary price increases, such as travel and restaurant meals, are temporary, reflecting a return toward normal as the pandemic eases and the economy reopens. Other increases reflect changes in consumer and worker behavior that could have a more lasting effect.
More From GOBankingRates
Vance Cariaga contributed to the reporting for this article. 
Last updated: July 1, 2021