Chewy, Sprouts and 8 Other Companies That Are New to the Fortune 500 in 2021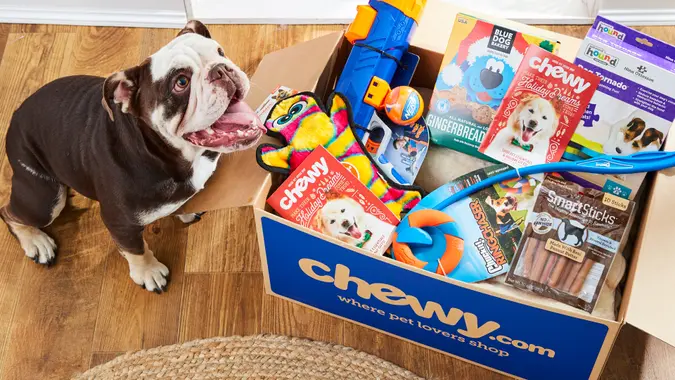 ©Courtesy of Chewy.com
The Fortune 500 has been ranking the top 500 businesses in the United States by revenue since 1955. Originally, that list included companies like General Motors, Exxon Mobil and General Electric–all three of which are still on the list 66 years later. The Fortune 500 also signals to the business world who the key players are. In 2021, 39 companies made their debut on the list. Below are the top 10 according to revenue in the last fiscal year.
Learn: How Social Security, Wage Hikes and SNAP Will Alleviate Inflation in 2022
Explore: Fed Likely To Hike Interest Rates in June 2022 To Combat Spiking Inflation
Carrier Global

Revenue: $17.456 billion
Carrier Global came in at #171 on the Fortune 500. The corporation is centered in Florida and provides ​​heating, air conditioning, and refrigeration services. The company made more than $1.9 million in profits in the past fiscal year.
Rocket Companies

Revenue: $15.980 billion
The parent company of Rocket Mortgage hit the list at #194. Services include getting approved for a loan in under 8 minutes, making it an extremely valuable service.The company's growth is partly attributed to going public in August of 2020. Currently, the company has 24,000 employees. 
Make Your Money Work Better for You
Related: What's the Difference Between SNAP and WIC? — How to Apply
Otis Worldwide

Revenue: $12.756 billion
Otis Worldwide is responsible for making escalators, elevators and moving sidewalks. The Farmington, Connecticut-based company hit the list at #236, and currently has $69,000 employees.
Viatris
Revenue: $11.946 billion
Epi-Pen, Viagra, and Lipitor are all owned by Viatris, which ranked at #254 on the Fortune 500 this year. The company was formed in 2020 during the merger of Mylan and Upjohn. Their headquarters is in Canonsburg, Pennsylvania. 
See: 5 Financial Resolutions for 2022 That Will Actually Stick
Block

Revenue: $9.497 billion
If you've paid for something in the past year, you're probably using something Block is responsible for. Block runs both Square Reader and Cash App and debuted at #323 on the Fortune 500. The company is currently working on expanding into Ireland.
Global Payments

Revenue: $7.423 billion
Global Payments landed on the list at #394. The Atlanta, Georgia-based company provides technology and software services, and has 24,000 employees. 
Make Your Money Work Better for You
Discover: The '12 Days of Christmas' Will Cost You Over $40K in 2021 — How Inflation Is the True Grinch
Chewy

Revenue: $7.146 billion
Pet lovers will know this company. The online pet store made its debut on the Fortune 500 this year at #403. Chewy's headquarters is in Dania Beach, Florida and they have 18,500 employees.
Jefferies Financial Group

Revenue: $6.955 billion
Coming in at #419, Jefferies Financial Group made its first appearance on the list since it was established in 1962. The company provides its clients with investment services. JFG is one of the smaller companies on this list with 4,121 employees.
Explore: 6 Best Delivery Services for Last-Minute Christmas Gifts
Learn: How To Buy Gift Cards in Bulk at Costco
Sprouts Farmers Market

Revenue: $6.468 billion
The supermarket chain has more than 340 stores nationwide. Sprouts made their debut on the Fortune 500 at #437. The company has 33,000 employees and provides daycare services as one of their benefits.
T. Rowe Price

Revenue: $6.206 billion
T. Rowe Price is a global investment management firm that ranked at #447 on the Fortune 500 list. The firm currently has some $1.6 trillion in assets under management. Their headquarters is in Baltimore, Maryland. 
More From GOBankingRates
Make Your Money Work Better for You