Fox News and 25 More Companies That Faced Public Backlash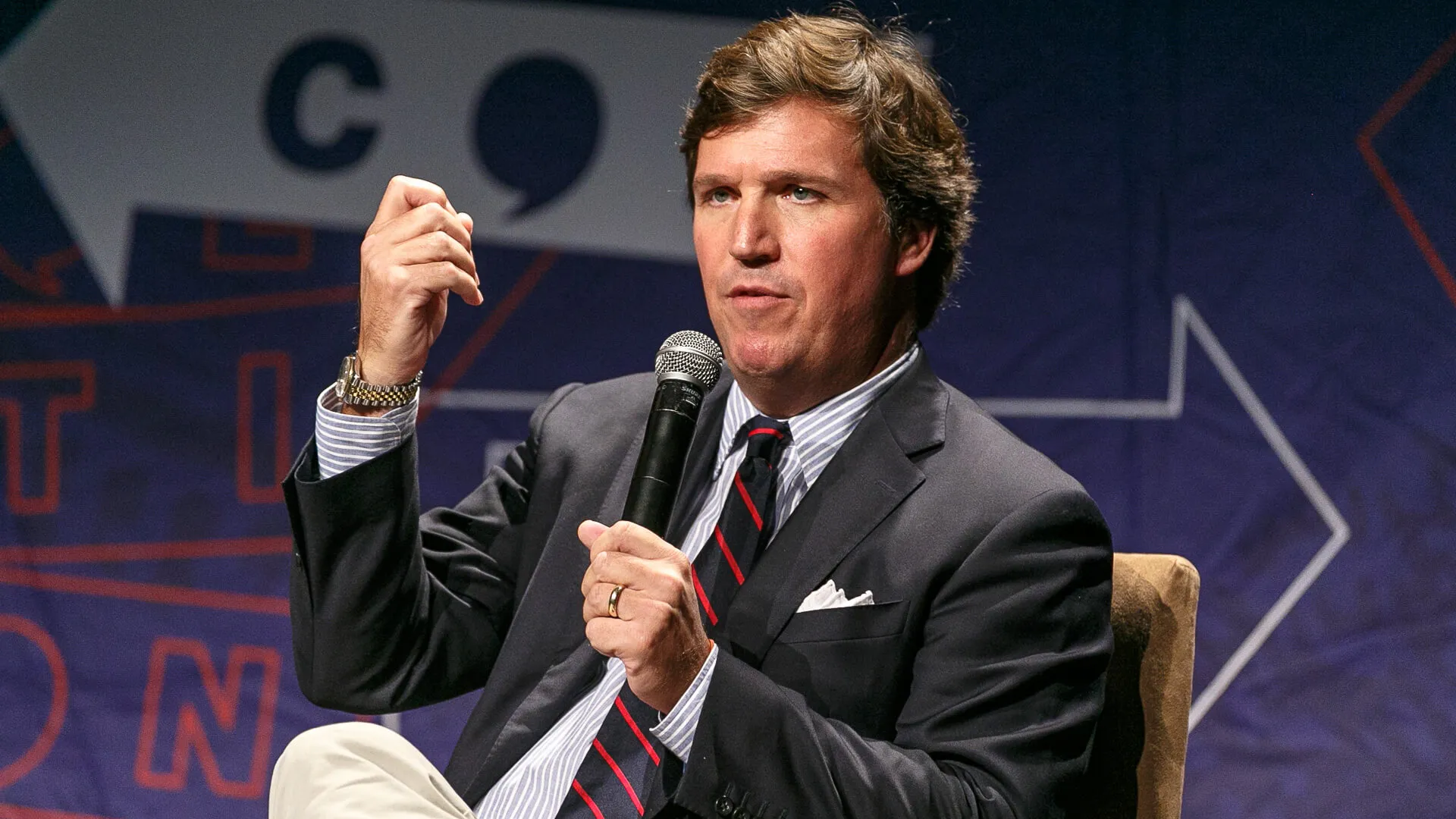 No matter how great the product or how strong the marketing, no company is immune to public backlash. For decades, consumers have used their wallets to make a statement, from the political to the personal.
And in the social media age, negative news spreads faster than ever. Here are 26 examples of companies that faced outrage for actions that range from launching thoughtless advertising campaigns to producing dangerous chemicals. Find out what these companies did that inspired public outcry.
Last updated: March 25, 2021
Pictured: Tucker Carlson speaks onstage during Politicon 2018 at Los Angeles Convention Center on Oct. 21, 2018.
Fox News Faces Advertiser Boycotts
Host Tucker Carlson, in the June 8 edition of his Fox News program "Tucker Carlson Tonight," said about the growing anti-racism protests across the country, "This may be a lot of things, this moment we're living through, but it is definitely not about black lives, and remember that when they come for you, and at this rate, they will." Advertisers including T-Mobile, Papa John's and Disney swiftly pulled their advertisements from the program.
In December 2018 Carlson and his show experienced a similar wave of advertiser boycotts after he said immigrants make the United States "poorer, and dirtier, and more divided."
Other Fox News shows have faced similar boycotts after inflammatory comments from hosts. Jeanine Pirro criticized Rep. Ilhan Omar for wearing a hijab and Laura Ingraham made fun of Parkland shooting survivor David Hogg. Both shows ( "Justice with Judge Jeanine Pirro" and "The Ingraham Angle") lost advertisers.
These regular advertiser boycotts haven't made a lasting impact on the Fox News network or its hosts because the network makes more money from cable subscribers than ad sales, according to Bloomberg, and advertising spending is actually up, according to PolitiFact.
Make Your Money Work Better for You
New Yorkers Say No to Amazon's Headquarters
The online retailer Amazon stirred public, political and corporate outrage in 2018 when it announced it would be moving its headquarters into two facilities — one in New York City and one in northern Virginia.
New Yorkers were especially outspoken, citing that a smaller city would be better served by the jobs it would bring. They also didn't want their taxpayer money to go to Amazon. In February 2019, the company nixed its plan to move to New York City, though in December it did lease Manhattan office space.
Apple Admits Planned iPhone Battery Failure
In 2017, the iPhone maker, Apple, admitted it purposely slowed down batteries in its older phones, spurring loud public outcry and a sense of betrayal. Apple then published a letter of apology, trying to explain its reasons — to reportedly protect phones — then offered a reduced price of $29 instead of $49 to replace these batteries through the end of 2018.
Pictured: Citizens United lawyer files suit against Apple for battery problems
Burger King Accused of Brazilian Deforestation Practices
In 2017, an environmental group, Mighty Earth, published a report called "The Ultimate Mystery Meat," connecting the fast-food chain Burger King to significant deforestation in the Brazilian rainforest. The group also engaged in a series of protests at Burger King locations.
In response, Burger King pledged to end ties with meat producers responsible for deforestation by 2030. However, scientists with the advocacy group Union of Concerned Scientists claimed that the timeline was not fast enough.
Chick-fil-A President Accused of Anti-LGBTQ Sentiment and Donations
The president of the family-owned fast-food company Chick-fil-A, Dan Cathy, first created controversy when he expressed his support for "biblical families" on a Christian radio show, interpreted to mean that he is opposed to gay marriage. He doubled down on his statement even after public outcry.
Equality Matters, an LGBTQ advocacy group, reported that the Cathy family had donated millions to anti-gay organizations in 2010. Though people began to boycott the restaurant, the public backlash has not changed Cathy's stance nor appeared to have affected the business.
Make Your Money Work Better for You
Coca-Cola Disappoints Customers With New Coke
In 1985, desperate to get the leading edge on competitor Pepsi, the Coca-Cola Co. changed the formula of its popular soda, Coke, and launched a new version, aptly dubbed "New Coke." Customers hated it, and sales tanked.
One customer, Gay Mullins, a 57-year-old medical researcher, was so outraged he spent thousands of dollars to form an activist group to force the company to switch back to the old formula. Coca-Cola restored Coca-Cola Classic just 79 days after the launch of the new, failed formula.
Protestors Call Out Dow Chemical Over Napalm in Vietnam War
When word got out in 1967 that the U.S. military was using napalm — a chemical compound that was dubbed "liquid fire" for the way it burned and mutilated human skin — in the Vietnam War, protests against its maker Dow Chemical broke out.
Dow did not immediately quit making the napalm. In fact, it launched a PR campaign to explain that it wasn't as harmful as detractors said. However, by 1969, the company gave up producing it. Protestors continued to protest the company long after.
Pictured: Dow Chemical Vietnam War napalm protest in Wisconsin
SoulCycle and Equinox Under Fire Over Owner's Politics
In August 2019, protestors boycotted SoulCycle, the trendy fitness clubs where people ride spin bikes to pop music, as well as the Equinox gyms that own SoulCycle. This is a reaction to the news that its owner, real estate developer Stephen Ross, announced he would host a fundraiser for President Donald Trump's reelection. Tickets cost $100,000 and up.
Ross issued a statement saying he's "an outspoken champion of racial equality, inclusion, diversity, public education and environmental sustainability." His apology did not appease his detractors, including some celebrities, who claim to be quitting SoulCycle and Equinox.
Facebook Is a Repeat Offender of Privacy Breaches
In April 2019, a cybersecurity firm called UpGuard reported that third-party apps affiliated with Facebook had exposed millions of Facebook users' data to the internet. This came after Facebook revealed in 2018 that British analytics firm Cambridge Analytica, which was hired by the Trump administration in 2016, also gained access to private Facebook user data. Facebook's net worth dropped $37 billion after that.
Facebook's CEO, Mark Zuckerberg, apologized, but the company hasn't restored consumers' confidence. The Federal Trade Commission fined Facebook a record-setting $5 billion. Several investigations into these data breaches are still underway in the U.S. and Europe.
Pictured: Facebook data breach protest in Brussels, Belgium, after Cambridge Analytica data breach
Make Your Money Work Better for You
Gillette Upsets Some While Taking On Toxic Masculinity
The shaving company Gillette took a risk in early 2019 by launching a new commercial that tackled such timely issues as toxic masculinity, the #MeToo movement and sexual harassment. It even updated its old slogan, "The best a man can get," to "The best men can be."
The commercial went viral for the good and the bad. Along with praise, it received a furious public outcry by private and public figures who felt it was emasculating men. Despite an initial loss of sales, Gillette has stood by its updated message.
Google Under Fire for Too-Human Artificial Intelligence-Based Assistant
In 2018, Google rolled out a new artificial intelligence-based (AI) assistant, Google Duplex, that was so convincingly human, test subjects did not know they were speaking with a robot.
Tech ethicists and consumers protested that this was unfair to unwitting participants. In response to the outrage, Google changed course and stated that they would tell people they were dealing with an AI when using the service.
Grape Workers Demand Better Conditions
In 1965, Filipino-American grape workers went on strike in Delano, California, protesting low pay and poor working conditions. They reached out to famed United Farm Workers union leader Cesar Chavez for support.
He urged the public to boycott table grapes and went so far for the cause that he ultimately put his life in jeopardy with a 25-day hunger strike. Five years in, the protests were successful, and table grape growers signed the first union contracts with their workers.
Pictured: Grape workers strike from Delano, California
Gravity Payments Realizes No Good Deed Goes Unpunished
In 2015, the owner of a Seattle credit card processing company, Gravity Payments, tried to do the right thing by his employees. Dan Price cut his own million-dollar salary to provide a minimum guaranteed $70,000 salary to his employees.
It set off a storm of problems: First, clients, fearing a rate increase or seeing it as a political statement, fled. Then some employees quit, claiming that raises were no longer merit-based. Third, his brother, a co-founder, filed a lawsuit against him.
The publicity attracted new clients, however. And Price said he believed the company would tough out the hard times as soon as cash flow improved.
Make Your Money Work Better for You
H&M Is Called Out for Racist Advertising
In January 2018, the clothing company H&M surprised and offended many customers by posing an African American child in a sweatshirt that read, "Coolest monkey in the jungle." Customers called the company out on the racist pairing. The company hired a diversity leader and issued a public apology, but it didn't soothe customers' ire.
Heineken Accused Of Purposeful Racism To Increase Views
In 2018, a Heineken ad for a new light beer also offended viewers for racist undertones. The ad slogan shows a beer being slid down a bar past darker-skinned customers until it reaches the hands of a noticeably lighter-skinned woman, with the slogan "Lighter is better" appearing on the screen.
Chance The Rapper accused the company of displaying racism on purpose to get more views, which Heineken denied. The company apologized for the ad and pulled it off the air.
Instagram Tries To Sell Users' Photos to Advertisers
In 2012, the photo-sharing site Instagram outraged users when they learned the new terms of service allowed private companies to pay to use individuals' photos in their advertising. After customers threatened to dump the service, Instagram backpedaled and said they would instead take time to reconfigure their advertising terms and would be transparent about it with customers.
President Trump's Uncouth Comments Tank Ivanka Trump's Clothing Line
In October 2016, Shannon Coulter and Sue Atencio started a nonprofit site called #GrabYourWallet after Access Hollywood revealed President Trump saying disparaging things about grabbing women's genitals.
They encouraged other outraged people to boycott companies associated with the Trump family, particularly Ivanka Trump's clothing line. In 2018, Ivanka announced that her clothing brand was going under, and Coulter believed the website played a role.
Make Your Money Work Better for You
Nestle Accused Of Undermining Breastfeeding in Developing Nations
In the 1970s, social activists protested Nestle for what they saw as strategic attempts to undermine breastfeeding in developing countries, so Nestle could sell more products there. Nestle distributed pamphlets that activists say planted fears in undernourished women's minds that their lack of nutrition would harm their babies.
Because baby formula is expensive, some women in these countries were also diluting the formula to make it last longer, leading to malnourished babies. Nestle put out statements saying it supported the World Health Organization's policy of exclusive breastfeeding for a baby's first six months. But critics assert that it still has not changed its practices today.
Pictured: Nestle advertisement of powdered baby milk substitute
Nestle Increases Water Bottling During California's Drought
Nestle inspired outrage again in 2016 when California was several years into a major drought. Nestle was allowed to bottle 36 gallons of water from the San Bernardino National Forest on what environmental experts considered an expired permit. Meanwhile, residents were being forced to cut back on their water consumption.
Nestle's permit was updated, but people were not satisfied. Its chairman and former CEO, Peter Brabeck, didn't help matters when he questioned the United Nations' stance that water is a human right in a live interview. Brabeck claimed his comments were taken out of context.
Netflix Upsets With Graphic Suicide Scene
When Netflix debuted a controversial new series for teens called "13 Reasons Why" about a teen girl's suicide, they claimed to be opening a dialogue about a tough, often hidden subject. But some suicide prevention groups and parents felt the show glorified suicide and would encourage other kids to see it as an option.
People demanded Netflix remove the graphic scene in which the protagonist dies by suicide. Two years later, in July 2019, Netflix removed the scene.
Make Your Money Work Better for You
Netflix Called Out for Excessive Depictions of Smoking
Netflix stirred up further agita in June 2019, when the nonprofit advocacy group Truth Initiative, which aims to curb the use of tobacco, called the network out for its excessive depictions of smoking in shows aimed at kids. Truth Initiative named such popular shows as "Stranger Things" and "Modern Family." Netflix said it would do better going forward with content aimed at young audiences.
Nike Nixes Patriotic Shoe Design
Nike received public calls for boycott and accusations of being unpatriotic when it yanked a shoe design featuring a Betsy Ross American flag right before the Fourth of July 2019. The company did so at the urging of its spokesperson, NFL player Colin Kaepernick. Kaepernick is famous for taking a knee during the national anthem to protest police treatment of African Americans, who said he and others found the flag offensive due to its association with slavery.
Gay Rights Activists Boycott Florida Orange Juice
In 1977, gay rights activists first celebrated a win when Dade County, Florida, passed an ordinance to outlaw discrimination against gays and lesbians at work and in housing. Former beauty pageant queen and singer, Anita Bryant, campaigned to repeal the law, claiming it was an affront to traditional families — and the Florida Citrus Commission supported her.
Activists both locally and nationally called for a boycott of Florida orange juice. Unfortunately, the repeal was successful. But in 1979, Bryant was fired from the Citrus Commission. In 1998, Dade County passed a new ordinance protecting gay rights and expanded the protections in 2014 to cover gender identity and expression.
Pictured: Anita Bryant with Florida Citrus Commission
Make Your Money Work Better for You
Tesla Slashes Prices, Increases Outrage in China
Electric car company Tesla, owned by frequent controversy-maker Elon Musk, is known for stirring up trouble. Though the company has reduced prices on its cars to the delight of many customers, it sparked public outrage in China when it dropped the price of its Model S and Model X cars by thousands of dollars overnight in March 2019. Owners who had already purchased the car were angry at having paid more, and that they now owned a car with instantly reduced value.
Tylenol Murders of 1982 Spur Radical Change in Packaging
In 1982, five people all mysteriously died not long after consuming the over the counter pain reliever Tylenol. Police revealed that the victims had died of cyanide poisoning, thought to be injected into the capsules, and the bottles were resealed and put back on the shelves. A national panic ensued, demanding Tylenol do something about their packaging. Tylenol's market share plummeted.
Johnson & Johnson, which owned Tylenol, quickly took responsibility and worked with the U.S. Food and Drug Administration to create "tamper-proof packaging," which would become the gold standard by 1989. U.S. Congress even passed "the Tylenol bill," making product tampering a federal offense.
Pictured: Roger Arnold charged (and cleared) for cyanide-laced Tylenol murders
Under Armour CEO Stirs Up Political Controversy
The apparel company Under Armour faced consumer backlash after its CEO, Kevin Plank, praised President Trump in 2017, calling him "a real asset to the country." Anti-Trump consumers took this as the company's endorsement of Trump and called for a boycott.
Several well-known athletes publicly disagreed with the statements, including ballerina Misty Copeland and basketball player Stephen Curry. The company soon released a statement suggesting it disagreed with some of Trump's policies, stating, "We engage in policy, not politics."
More From GOBankingRates