Dollar General Under Fire — Why Shareholders Are Stepping In (and What Happens Now)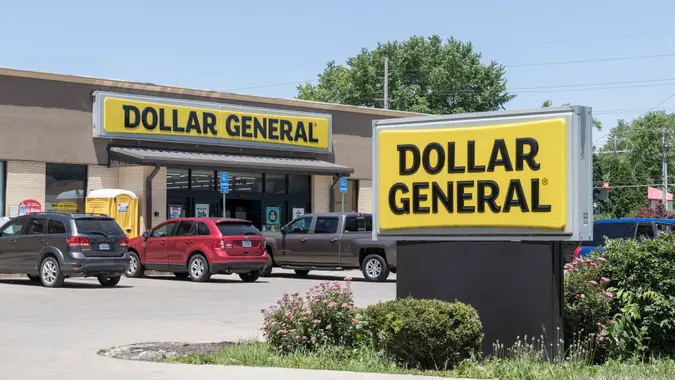 jetcityimage / Getty Images
One of America's favorite discount destinations and its fastest-growing retailer, Dollar General, is feeling the heat as employees and labor advocates demand better safety and health protections. Their rallying cries were heard Wednesday outside Dollar General's headquarters in Goodlettsville, Tennessee, just in time for the company's annual shareholder meeting.
Shareholders are taking these concerns seriously and approved a proposal by Domini US Impact Equity Fund for a third-party audit of worker safety at Dollar General stores, according to preliminary results of a proxy vote announced at the meeting.
Since January 2017, OSHA has inspected more than 270 Dollar General locations and noted 111 instances of workplace safety violations, according to The New York Times. OSHA has since slammed Dollar General with more than $15.5 million in penalties, according to data given to the Times by a White House official.
CNN reported that since 2014, there have been 49 people killed and 172 people injured at Dollar General stores, according to data compiled from non-profit group Gun Violence Archive. A separate investigation by CNN in 2020 found that at least six store employees died during armed robberies at Dollar General locations from 2016 to 2020.
Make Your Money Work Better for You
Multiple Dollar General stores have closed in the wake of violence on its premises.
"Dollar General has a responsibility to provide a safe working environment for its employees, and it now has clear support from its shareholders to do this," said Mary Beth Gallagher, director of engagement at Domini Impact Investments, in a statement.
"We hope the company will act quickly to conduct an independent audit, incorporating worker and customer input, so root causes can be identified, and the process can begin to make system-wide improvements to the safety at its stores, so that workers no longer have to worry if they will come home from work safely," Gallagher continued.
What does all of this mean for Dollar General and its consumers? It isn't yet entirely clear. Dollar General is a machine that pulls in $37.8 billion in yearly revenue, according to Zippia. But is it a well-oiled machine? Right now, it doesn't appear to be functioning at its best, but it also doesn't look to be in danger of folding. Hopefully the retailer will emerge as a safer place in and after the process of this much-needed audit. As things stand now, there are Dollar General employees genuinely and validly afraid to go to work. That is simply inexcusable.
Make Your Money Work Better for You
More From GOBankingRates