Donald Trump, Jr. Asks Elon Musk to Create New Social Media Platform Now That His Dad Is Banned from Twitter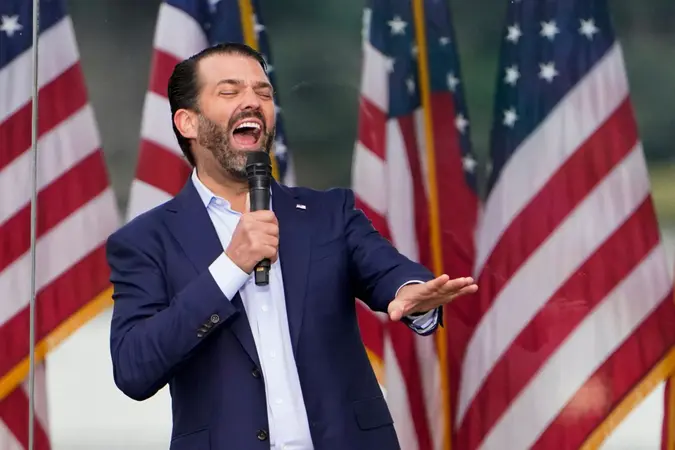 Jacquelyn Martin/AP/Shutterstock / Jacquelyn Martin/AP/Shutterstock
Following social media platforms — most notably, Twitter and Facebook — banning Trump from using them after the violence at the Capitol last week, Trump's son, Donald Trump, Jr., is asking Elon Musk to create a new platform.
See: Big Tech Woes — Trump Threatens Twitter, Parler Files Lawsuit Against Amazon
Find: Short Tweet From Elon Musk Sends Random Stock Soaring
In a video posted on Instagram, Trump's son asks Musk to "help save free speech," saying that "if Elon Musk can privately send people into space I'm sure he can design a social network that isn't biased. I think there's a lot of Americans that would love that and support it wholeheartedly."
Twitter, which shut down Trump's 89-million-follower account permanently last week, saw its stock price drop by 12% on Monday, erasing $5 billion from its market capitalization.
See: PGA Pulls Event From Trump Golf Course, Shopify Terminates Trump's Online Stores, Banks Cut Ties
Find: Elon Musk Surpasses Jeff Bezos as the World's Richest Person; Sends Tweet That Causes a Random Stock to Surge 1100%
Make Your Money Work Better for You
The social media platform explains its decision by citing concerns that the president would use it to further incite violence. "After close review of recent Tweets from the @realDonaldTrump account and the context around them we have permanently suspended the account due to the risk of further incitement of violence," Twitter said.
Facebook also announced the ban on Thursday and saw its shares drop 4.5% on Monday, representing $33.6 billion being erased from the company's market cap.
CEO Mark Zuckerberg said that the company believes "the risks of allowing President Trump to continue to use our service during this period are simply too great, so we are extending the block we have placed on his Facebook and Instagram accounts indefinitely and for at least the next two weeks."
More From GOBankingRates:
Make Your Money Work Better for You