In 2021, Facebook Joined $1 Trillion Club, Changed Its Name & Much More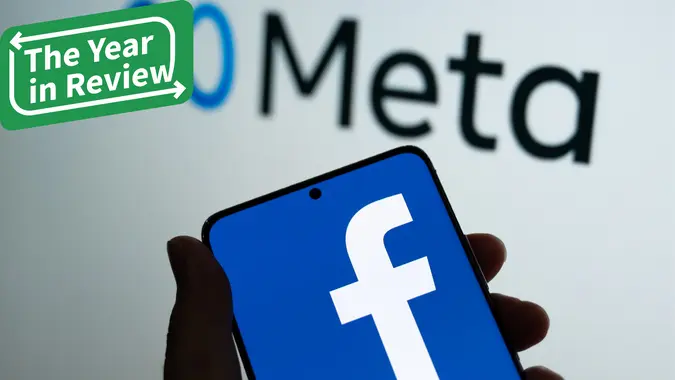 Facebook entered 2021 on the heels of a year that was both highly controversial and highly profitable. In those respects, the new year wouldn't be much different than 2020 — but both the challenges and opportunities that greeted Facebook in 2021 were unlike anything the company had experienced before. Here's a look back on the key moments that defined the year for Mark Zuckerberg and the tech giant he built.
Jan. 7: Facebook Bans Trump
One day after the Capitol insurrection, Zuckerberg announced that Facebook was banning Donald Trump — the sitting president of the United States — from using the world's biggest social media site indefinitely.
The unprecedented move was followed by a permanent ban from Twitter the very next day, which effectively cut Trump off from mainstream social media. In June, Facebook announced it had decided to ban Trump for two years, until Jan. 7, 2023.
March 10: Facebook Fights Anti-Trust Suit
In December 2020, the FTC and attorneys general from 46 states accused Facebook of acting as a monopoly in a lawsuit that sought to break up the social media giant.
Three months later, Facebook struck back and asked a judge to toss the federal/state tag-team legal challenge. In doing so, Facebook revealed a multi-pronged defense strategy that was skillfully designed to stand up to even the most powerful legal assaults. When the company made the announcement, Facebook shares soared.
Make Your Money Work Better for You
March 15: Facebook Joins the Vaccine Effort
Just a few days after battling in court, Facebook partnered with the government when it launched a new tool to help users find vaccination sites and schedule appointments to get their shots. It also helped governments and global health organizations send billions of updates to citizens of the world through chatbot messages.
April 3: The Big Hack
At the start of April, Business Insider reported that hackers had gained and disclosed the personal information of more than a half-billion Facebook users. The cyber-criminals responsible published personal data such as locations, phone numbers, full names, email addresses and biographical information of 533 million users in 106 countries, including 32 million in the U.S.
April 28: Facebook's Q1 Results are Undeniable
Facebook absolutely crushed Wall Street expectations with a 48% revenue increase in the first quarter, sending shares up by more than 5% on the news. Wall Street expected earnings per share of $2.37 and Facebook delivered $3.30 — along with $26.17 billion in revenue instead of $23.67 billion. Total revenue soared by 48% compared to the same period the year before and net income grew by 94%.
May 10: Instagram Idea Stirs Outrage
In May, Facebook's shares plunged when attorneys general from 44 states urged Zuckerberg to abandon plans to create a version of Instagram for children under the age of 13. Despite vows not to include ads, Facebook received immediate pushback to the idea, which activists worried could be toxic to vulnerable kids.
Make Your Money Work Better for You
June 28: Facebook Joins the 13-Figure Club
At the tail end of June, Facebook closed with a market cap greater than $1 trillion for the first time. News that a court dismissed the FCC's antitrust lawsuit helped boost Facebook's value. It joined Apple, Alphabet (Google), Amazon and Microsoft as only the fifth company in history to breach the 13-figure market cap mark.
July 28: Another Earnings Home Run
A little more than midway through the summer, Facebook put the "big" in Big Tech once again when it smashed Wall Street expectations with a 56% increase in revenue while doubling its profits. The news, however, was tempered with a warning from Facebook that revenues were expected to stagnate in the second half of the year, which sent the stock price down despite the blowout report.
Sept. 13: Businesses Get a Nine-Figure Boost
In early fall, Facebook pledged $100 million to pay outstanding invoices for small, minority- and women-owned businesses. The move was part of a larger effort by Facebook to offset COVID's toll on small businesses — and to bolster its business advertising relations.
Sept. 27: Facebook Invests in the Metaverse
The Metaverse — an imagined future where the real blends with the online — has long been an obsession of Zuckerberg's. At the end of September, the dream got a $50 million boost thanks to an enormous global research and development pledge from Facebook.
September: The Facebook Files
In September, The Wall Street Journal began publishing reports based on a trove of internal documents leaked by Facebook whistleblower Frances Haugen. The documents showed that Facebook enforced its standards much more leniently with high-profile users such as President Trump and many celebrities. The expose also revealed indifference to the potential harm that Instagram posed to teen girls and to Facebook as a dumping ground for anger and misinformation. Facebook lost $20 billion in market cap as a result.
Make Your Money Work Better for You
Oct. 5: The Blackout
For six hours on Oct. 5, Facebook, Instagram and WhatsApp went offline in the biggest outage in company history. With half the world disconnected from their apps of choice, Facebook's reach was put on full display and Twitter was briefly the only social media game in town.
The company's stock took a 5% hit and Mark Zuckerberg's net worth dropped by $7 billion.
Oct. 28: Facebook Inc. Becomes Meta
Just as Google grew so big that it had to create Alphabet to serve as an umbrella company for its sprawling tech empire, by the end of October, Facebook, too, had outgrown its original corporate structure. Three days before Halloween, Mark Zuckerberg announced the creation of Meta, formerly known as Facebook Inc., which was now the parent company of Facebook, WhatsApp and other Facebook subsidiaries.
More From GOBankingRates