Amazon Is Down a Massive 24% and So Is Netflix — Here's Why It Matters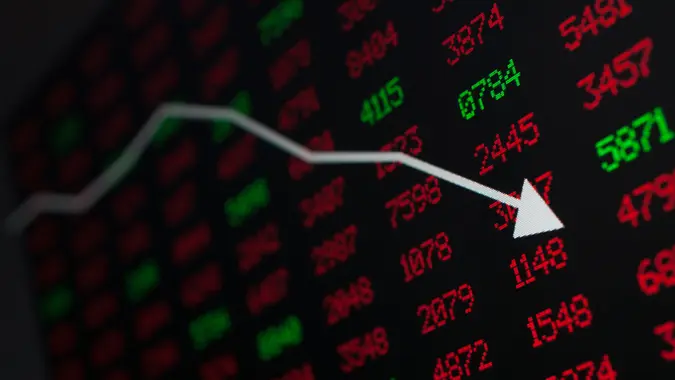 JMiks / Shutterstock.com
Investors who have been holding big technology stocks have probably felt pretty proud of themselves over the past few years. But their luck might have run out this month, as Facebook (FB), Amazon (AMZN), Netflix (NFLX) and Google's parent company Alphabet (GOOGL) have seen a collective decline.
Are you thinking about letting go of these volatile stocks? Here's what you should know before you decide on an action plan for your investments.
What's Behind the Double-Digit Drops in FANG Stocks?
Since Oct. 1, the so-called FANG stocks are down in a big way, across the board:
Facebook opened at $163.03 on Oct. 1 and closed at $142.09 on Oct. 29, a decline of 12.8 percent. Facebook's woes began in July when it announced disappointing results in the second quarter. Privacy concerns led to a decline in user growth, and FB investors ran away in droves.
Amazon opened at $2,021.99 on Oct. 1 and closed at $1,538.88 on Oct. 29. This represents a tumble of 23.9 percent. On Thursday, Amazon reported third-quarter earnings that were below analysts' estimates. The company's outlook for the fourth quarter was also lower than expectations.
Netflix opened at $375.85 on Oct. 1 and closed at $284.84 on Oct. 29, dropping 24.2 percent. Netflix missed its targeted subscriber growth in the second quarter but rebounded nicely in the third. It might be the one stock of the four that is on the rebound.
Google's parent company, Alphabet, opened at $1,213.00 on Oct. 1 and closed $1,034.73 at on Oct. 29, a drop of 14.7 percent. Alphabet's third-quarter earnings were released Oct. 25, showing earnings per share above consensus but revenue below expectations.
Check Out: Selling Your FB Stock? Here Are Smart Ways to Reinvest
What About Apple Stock?
Apple (AAPL) opened at $227.95 on Oct. 1 and closed at $212.24 on Oct. 29, showing a relatively modest loss of 6.9 percent. Apple is predicting strong advertising revenues this year, and has the market dominance to succeed. Apple is not one of the FANG stocks, and tends to behave independently of them, perhaps due to its age and hardware focus.
So, what's a tech investor to do? That depends on your risk tolerance. If you can withstand these bumps in the road and those that will inevitably follow, you might be rewarded in the end. Some investors will jump in with both feet and "buy the dip" right now. Others will move to more defensive positions, but they might be caught flat-footed when FANG turns around again.
Make Your Money Work Better for You
Whether you've been holding these stocks since their early days and are sitting on a big gain or you've just gotten in and have seen your investment dip, tech stocks are not for the faint of heart. So buckle up — it could be a bumpy ride.
Read more about why the stock market has lost $1.6 trillion in October.
More on Investing and Stocks
We make money easy. Get weekly email updates, including expert advice to help you Live Richer™.