Following Second Impeachment, Trump Says He Won't Pay Giuliani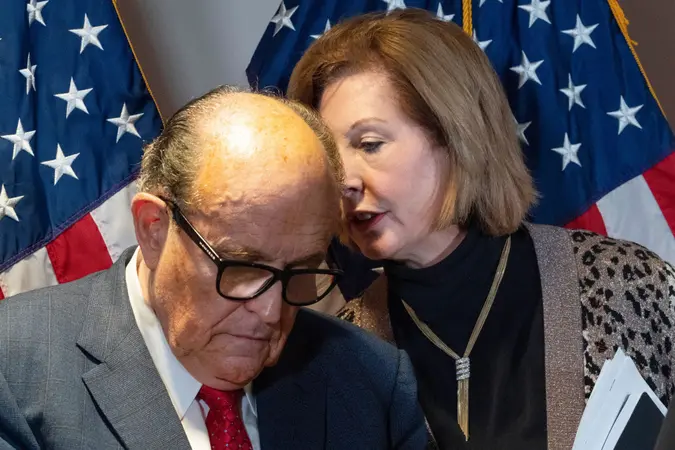 Jacquelyn Martin/AP/Shutterstock / Jacquelyn Martin/AP/Shutterstock
Following his historic second impeachment yesterday, President Trump said he would not pay his personal attorney Rudy Giuliani's legal fees anymore, according to reports.
See: Barr Finds No Election Fraud as DOJ Pursues 'Bribery for Pardons' Scheme
Find: Credit Card Transactions, GoFundMe Campaigns — FBI Is Following the Money to Capitol Hill Attackers
The former New York City mayor has been a longtime Trump ally and friend. Just last week, Giuliani spoke at the "Save America" march, calling for "trial by combat" just hours before the violence erupted.
But the second impeachment yesterday, combined with the fallout from last week's insurrection at the Capitol, have left Trump extremely irritated, according to reports.
See: PGA Pulls Event from Trump Golf Course, Shopify Terminates Trump's Online Stores, Banks Cut Ties
Find: CEOs Send Strong Rebuke of Capitol Riot as Multiple Trump Staffers Resign
According to The Washington Post, Trump said he was unhappy with Giuliani's demand for $20,000 a day in fees and "has privately expressed concern" with some of his attorney's moves. White House officials have even been told not to put through any of Giuliani's calls, the Post notes.
Make Your Money Work Better for You
"I never asked for $20,000," Giuliani told The New York Times, adding that the president volunteered to make sure he was paid after the cases concluded. "The arrangement is, we'll work it out at the end."
Following last week's violence, Giuliani is also facing disbarment in New York.
See: What Is Rudy Giuliani's Net Worth?
Find: Trump Ex-Lawyer Sued by Dominion for $1.3 Billion — How 14 Corporate Lawsuits Turned Out
The New York State Bar Association released a statement announcing it was launching an historic inquiry into removing Giuliani, saying  that "no person who advocates the overthrow of the government of the United States, or of any state, territory or possession thereof, or of any political subdivision therein, by force or other illegal means, shall be a member of the Association." The NYSBA added that Giuliani's words "were intended to encourage Trump supporters unhappy with the election's outcome to take matters into their own hands. Their subsequent attack on the Capitol was nothing short of an attempted coup, intended to prevent the peaceful transition of power."
As for Trump, he has a long history of not paying his bills. A report on NorthJersey.com said there is a "trail of unpaid bills he left behind from his days as an Atlantic City casino mogul," including bills for carpenters, electricians, plumbers, window installers and other contractors who built Trump's Taj Mahal in Atlantic City three decades ago.
More From GOBankingRates:
Make Your Money Work Better for You
Make Your Money Work Better for You