This Fundrise CEO Came Up With a Brilliant Way to Turn Anyone Into a Real Estate Mogul
Ben Miller thinks you should crowdfund your next investment.
Before co-founding real estate investment platform Fundrise, Ben Miller acquired, developed and financed more than $500 million worth of property as managing partner of WestMill Capital Partners and president of Western Development Corporation. He used his real estate and finance knowledge to co-found his company, which allows people to "invest in million-dollar deals without writing million-dollar checks" as a way to diversify their portfolio, simply and at a low cost. The company has racked up over $55 million in funding, according to Crunchbase, and was named one of the top 50 fintech companies of 2018 by Forbes.
Each week, GOBankingRates sets out to discover what makes the people behind top companies tick. We like to call this series "Best in Business" — and Miller really is one of the best. He told us why entrepreneurship is a really — really, really — long game, how he keeps his company from getting too top-heavy and ways that you can find (or build) your own dream job, too. Below, find our favorite moments from the story of how Miller launched his business.
After Raising $500 Million for Big Property Deals, Nobody Would Give Him a "Small" Check
The great financial collapse of 2008 disillusioned me with the traditional, large­-scale investment system, so I went out on my own to start a company focused on small, local real estate development.
Make Your Money Work Better for You
In 2010, I [wanted to purchase] our first property near downtown Washington, D.C., but initially couldn't raise the capital. In my career, I had raised over $500 million for large real estate deals, but traditional capital sources couldn't understand investments in emerging neighborhoods — the check was too small, the neighborhood too dodgy. However, locals who knew their areas well understood why the property had such potential and were asking to invest. I began to wonder why individuals couldn't invest in real estate through the internet, similar to the way that they could buy a book from Amazon.
Learn More: 25 Investing Myths No One Should Believe
Finding Investors Was Hard — Cutting Through Red Tape Was Harder
If a tree falls in the forest and no one hears it , does it make a sound? Our biggest challenge in the beginning was just getting people to notice us.  Real estate is probably the best performing asset class in history, yet most people don't invest in it the way they do with stocks and bonds. Before Fundrise, most people couldn't invest in private real estate. We had a large awareness and education challenge ahead of us!
Make Your Money Work Better for You
It was shocking how much longer it took than I expected. We needed to purchase a building for the investment opportunity, get the investment offering qualified by the Securities and Exchange Commission and build our online platform. The hardest part was getting regulatory clearance from the SEC and state regulators. Back in 2011, no one had ever heard of raising real estate equity funding on the internet. It was an extremely novel idea. It took the regulators more than a year to analyze us — with many questions throughout the process — before getting comfortable enough to qualify on our first offering.
Now, more than seven years later, we are still building and growing. Entrepreneurship is a long road.
Get Inspired: 20 Inspiring Entrepreneurs You Need to Follow on Social Media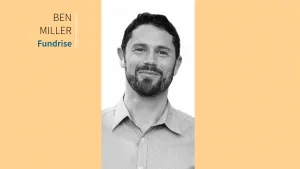 He Realized Huge Corporations and C-Level Execs Had a "Stranglehold" on Creativity
I learned that a few exceptional people can achieve the results of an army of people. Technology amplifies the best and the brightest. Entrepreneurship unlocks the boldest creativity. Skepticism from the status-quo players motivates us to break the stranglehold of the big companies, which are bogging down old industries.
Make Your Money Work Better for You
I worked for a tech startup that was way too top-­heavy during the 1999 to 2001 dot­-com bubble. Lots of high­-powered, C-­suite executives from big companies joined the startup scene [and there weren't enough people there to get the actual work done]. So when I started Fundrise, we all did whatever needed to be done, whether it was big or small. Years later, we still are!
The key to Fundrise's success has been my teammates. I have been blessed with some exceptional co­-founders. Our CTO, COO, chief product officer, general counsel and head of real estate investments are each simply exceptional. They're not alone — the list could go on. I have worked with some of the best people of my life here. It would have been utterly impossible without them.
Don't Get Stuck: Entrepreneurs Beware of These Critical Hiring Mistakes
He Learned You Can't Rush Success
You better be tough and really want it. It's going to be a lot harder and take a lot longer than you could possibly expect.
Make Your Money Work Better for You
We've hit many milestones since we first launched, but investor adoption has always been a key metric of success. Acquiring our 50,000th investor was a big win in 2018! We are continuing to raise our sights in 2019. When the big, status-­quo companies who dominate the financial industry start to fear our growth, then we're succeeding. Once they are feeling threatened, then we're making an impact large enough to change the status quo.
More on Entrepreneurship and Investing
We make money easy. Get weekly email updates, including expert advice to help you Live Richer™.
This interview has been edited and condensed.