How Gusto CEO Josh Reeves Turned Your Paycheck Into a $2 Billion Business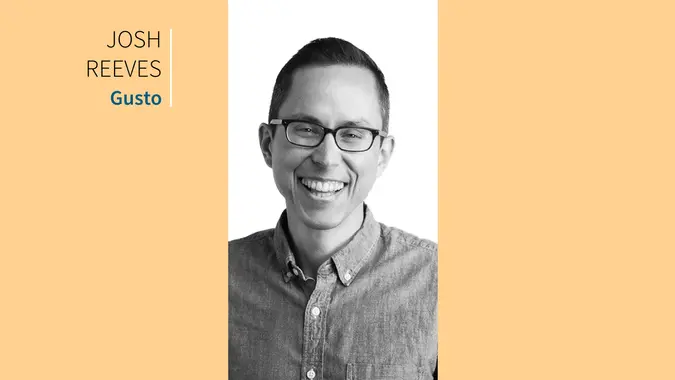 Josh Reeves is the CEO and co-founder of Gusto, a leading payroll, benefits and human resources platform for small businesses. He leads the company on its mission to create a world where work empowers a better life, and building Gusto to its full potential is a multidecade mission for him.
Prior to launching Gusto, Reeves was the CEO and co-founder of software-as-a-service startup Unwrap, which was sold to Context Optional in 2010, according to Entrepreneur. Gusto now reports that it serves over 60,000 companies nationwide. It was recently named one of the Best Places to Work in Colorado by BuiltIn Colorado — as well as one of Forbes' Biggest Fintech Companies in America of 2019, with an estimated value of $2 billion. The company has raised $316.1 million since its founding in 2011, according to Crunchbase.
In this installment of GOBankingRates' "Best in Business" series, which sets out to discover what makes the people behind top innovative companies tick, Reeves told GOBankingRates about why customer satisfaction is the core of any successful business, how to hire the right team, and ways that you can find (or build) your own dream job, too.
When did you know you had to start this company?
Before starting Gusto, my co-founders and I ran separate small businesses and used other payroll systems. We were frustrated with the experience and thought it could be better. A second catalyst was having family who ran small businesses. The exposure to how manual and painful it was for them to hire someone, pay them and set up benefits is a problem we wanted to solve.
Make Your Money Work Better for You
Every year, approximately 40 percent of small businesses pay penalties or fines for late or incorrect payroll filings, mainly because they are doing them by hand. It's incredible that calculators are the most advanced technology many small-business owners are using to run payroll. With our backgrounds in software development, we knew payroll and other aspects of running a company could be automated, especially now that cloud software and mobile technology are ubiquitous. We also got excited about improving the employer-employee relationship, given that people are the foundation of every business.
What were your biggest fears about launching this business?
When we started the company, my two co-founders and I had never built a payroll system before. Payroll is one of the most important parts of running a small business, and we knew that it had to work right from day one.
We never take our customers' trust for granted, so we spent several months learning and working with payroll experts who had decades of years of experience. We did not pay ourselves until we had a functioning payroll system. Once we started serving our customers and heard their incredibly positive feedback, we knew we were on to something.
Learn More: How These 15 Highly Successful People Stay Happy and Healthy
Make Your Money Work Better for You
What was the most surprising thing about the process?
Payroll is complicated, especially in the U.S. We quickly found that launching nationwide is like building a product for 50 different countries, given the different local, state and federal requirements. We expanded nationwide methodically because payroll is the core of our people platform and so important to our customers.
What was the hardest part?
When a business is just getting started, there are a million things that need to get done. A common pitfall, especially in Silicon Valley, is to hire for the sake of hiring. Hiring requires a lot of intentionality and purpose. When a business welcomes someone to their team, especially in the early stages, that person is not joining just because of their skill set. They are also going to be contributing meaningfully to the culture and how the company works.
At Gusto, we think of hiring as a search for alignment of values, motivations and skill set. It would be easier to hire based on skills, but we focused on three dimensions to find people who shared our philosophy around service mindset, not having an ego, ownership mentality and a bias toward transparency.
My advice to other founders is to remain intentional with hiring, even when there are a million things to do. It pays dividends in the long run.
Did any previous jobs inspire you to run Gusto the way you do?
Before Gusto, I felt like it was all about simply making more revenue, and it was unclear what problem we were solving for our customer. When we started Gusto, we began with the customer pain point, and we kept that mindset as we grew and hired. We want to find people that are motivated by the problems we are tackling and derive a lot of pride in helping the customer.
Make Your Money Work Better for You
Before starting Gusto, I founded an online business in the social media space. We made money through advertising, and although the revenue was real, we lacked a long-term mission and purpose. It was fun to optimize during online flows, and instrument dashboards for monetization, but it was not clear how much we were helping our customers. This bothered me, and I concluded that whatever I was going to do next had to solve a customer pain point — ideally, something big that affected lots of people, so we could spend decades working to serve the millions of people affected.
Who are the people you lean on most?
I have two co-founders at Gusto, Edward Kim and Tomer London, and they have been my partners from day one. We had all met each other at Stanford where we studied electrical engineering. We started Gusto with a shared philosophy of wanting to tackle a big problem and build a company in a way we are proud of.
Also See: How I Avoid Burnout as an Entrepreneur
What advice would you give to someone who wants to start their own business?
Many startup founders and entrepreneurs can get distracted by fundraising or public relations early when they should be focusing on their customers. My advice is to start with the problem that you are solving for your customers and make sure that your product or service is actually making their life much better.
Similarly, a big focus is what you stand for as a business. What are your company values? What is your philosophy? They should guide the way you hire so that your team is aligned around values and motivations. There are no shortcuts. The key to building a great business is trying to solve a problem that you care about, and doing it in a way you are proud of.
Make Your Money Work Better for You
When did you realize Gusto was going to make it?
I still feel like we are very early in our journey at Gusto. Some milestones that indicate we are on the right track include our first set of customers telling us that our product made their life much better. Gusto saved them time and money, and enabled them to focus on their business and people. Another special milestone is serving more than 1 percent of all employers in America. Our mission is to create a world where work empowers a better life, and we know that we have the potential to help a lot more people.
Take Your First Step: 101 Side Business Ideas and How to Start Without Quitting Your Job
How do you define success?
There are two components — meaningfully making our customers' lives better and building the business in a way we're proud of.
For the first part, Net Promoter Score is our guiding metric. We have maintained a Net Promoter Score of more than 70 since Gusto's early days. For the second, we care a lot about unit economics and making sure we scale sustainably with high employee morale, and in a way that is authentic to our values.
More on Entrepreneurship
Make Your Money Work Better for You
We make money easy. Get weekly email updates, including expert advice to help you Live Richer™.