Harley-Davidson's Stock Is Winning — Are the Company's Struggles in Its Rearview?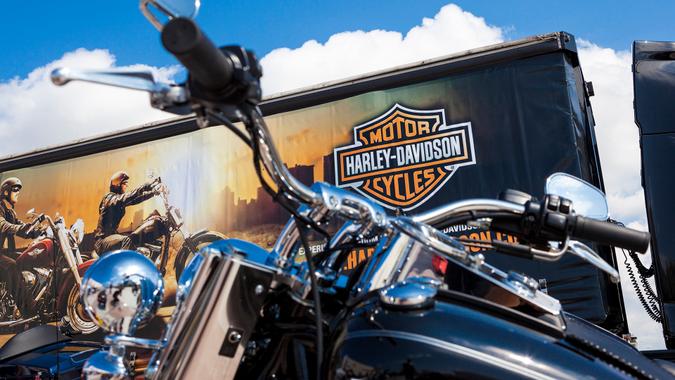 gokhanilgaz / Getty Images
For years it appeared that the buzzards were circling overhead of Harley-Davidson. 
Its revenues and stock price were swirling around the drain as its core customer base of mostly white, male baby boomers aged out its product lines. Big, loud, expensive, dirty, dangerous and macho, Hogs simply never caught on the same with younger generations, women and other demographics who were into brands that were clean, green and diverse. 
Small Business Boost: Don't Miss Out on Nominating Your Favorite Small Business To Be Featured on GOBankingRates — Ends May 31
As the 2010s came to a close, it seemed that the most iconic name in motorcycles was joining Sears and Toys "R" Us as a once-great American company turned 20th-century relic that was headed for extinction. 
Until it wasn't. 
Read: Popular Brands That Could Disappear in 2021
Harley Has Been Coming Up Fast in the Rearview
HOG (Harley-Davidson) was trading at around $34 at the end of 2018. Now it's up near $47.50 for an impressive gain of 39% in less than 2 1/2 years. That's even more impressive when you consider that HOG had fallen all the way down to below $19 around the start of the pandemic on March 1, 2020.
Make Your Money Work Better for You
If you had bought a few shares of HOG 12 months ago, you'd be up about 150% right now. In short, Harley-Davidson is on a roll that could be too steady for too long to be a fluke. 
Its stock is still a far cry from $74, where it reached its all-time peak on May 1, 2014, but it is beginning to approach its rebound peak of around $60, which it reached in November 2016. 
And Harley appears to still have plenty of wind in its sails.
Innovations: Can Electric Motorcycles Save Harley Davidson?
Harley Is Riding High on Strong Earnings
Harley shook up its management, even bringing in a new CEO, and created a five-year plan designed to shepherd the company through the first half of the 2020s. 
By any reasonable standard, it's working.
Harley crushed its most recent earnings report, blowing past Wall Street's already lofty expectations for both revenue and earnings per share. For the full year, Harley's guidance predicted robust revenue growth of 20%-25% but it did so well that the company had to revise that guidance up to 30%-35%. 
Make Your Money Work Better for You
All of this happened as COVID-19 was raging and all of this happened despite a real threat from new European tariffs, which the EU approved but Harley is appealing. Some analysts fretted that those tariffs would be unsurvivable for Harley, which builds its bikes stateside, but so far, HOG endures in Europe. Back home in the U.S., demand for touring bikes like the kind that made Harley famous soared as open-air road trips became a virus-free way to get away.
Discover: 100-Year-Old Companies Still in Business Today
There Are Still Plenty of Bumps in the Road
If Harley loses its appeal and the EU's tariffs stand, the cost of Hogs could increase by 56% in Europe, putting the already pricy American motorcycles out of reach for most. That would surely hurt overseas sales just as Harley needs to expand into new markets the most. 
Make Your Money Work Better for You
The more dire threat comes from home. 
Harley's previously mentioned demographic challenges are not going away. The brand spent a lot of money trying to convert young people, women and minority future bikers, but to little avail. 
Prospective new customers face steep barriers to entry, not the least of which is learning to ride. Then you have to get a special license endorsement — and with an average price tag of $20,000, it's hard to make a case that Harleys are good bikes for beginners. 
Find Out: The Top 10 Stocks for 2021
Harleys are big, loud gas hogs, and society is clearly trending toward clean, green batteries. Harley saw the writing on the wall and built the LiveWire, the first fully electric production motorcycle. It's a beautiful and technologically impressive piece of machinery that's a joy to ride, by most accounts — but it flopped. Harley enthusiasts, it seems, don't care about going electric and people who are enthusiastic about going electric don't care about Harleys.
Even so, Harley-Davidson stock is on a tear and when COVID-19 spent 2020 weeding out the weak, Harley kept on riding.
More From GOBankingRates
Last updated: May 18, 2021
Make Your Money Work Better for You