How Far Down Is the US Restaurant Industry Right Now?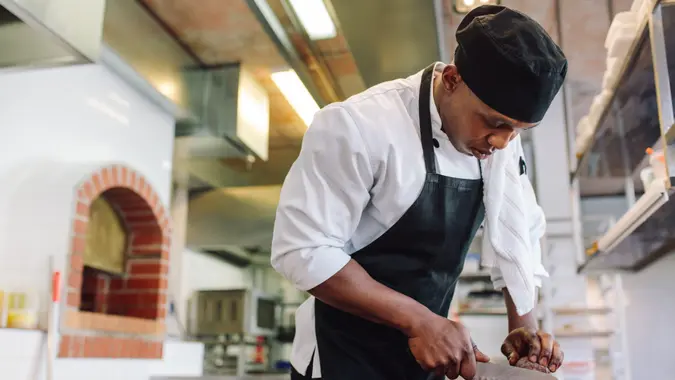 ©iStock.com
2020 was perhaps the roughest economic year for the restaurant and food service industry due to the devastating impacts of public health restrictions related to the COVID-19 pandemic. Though vaccine rollout and warmer weather is helping the industry to rebound somewhat, according to The National Restaurant Association's 2021 State of the Restaurant Industry Report, it's going to take time to recover from some of the most massive losses the industry has seen in decades. The report surveyed 6,000 restaurant operators and 1,000 adult consumers and revealed some startling statistics.
2021 Small Business Spotlight: Don't Miss Out on Nominating Your Favorite Small Business To Be Featured on GOBankingRates — Ends May 31
How Low Did It Go?
Just how hard hit was the restaurant food service industry? Sales fell by $240 billion in 2020 from an expected level of $899 billion. The report states, "Restaurants were hit harder than any other industry during the pandemic, and still have the longest climb back to pre-coronavirus employment levels."
Make Your Money Work Better for You
Moratoriums on indoor dining and stay-at-home orders directly impacted restaurants' ability to do business. As of Dec.  1, 2020, over 110,000 food and beverage serving locations had to close for business temporarily or for good. This translated into nearly 2.5 million lost jobs in the fallout.
Read: 18 Restaurant Chains That Have Filed for Bankruptcy
Even Time-Tested Businesses Suffered
Even some of the most established and enduring restaurants could not keep up with the pandemic-related losses. Of those restaurants that closed for good in 2020, the report states that "the majority were well-established businesses and fixtures in their communities." Most of these had been in business for an average of 16 years, and some of them for 30 or more years.
The losses of these businesses trickled down to workers, as these restaurants had employed, on average, 32 people, with 17% of them having 50 or more employees before closing.
And even though there are signs of industry rebound, an astonishing 72% of the restaurant owners who closed for good do not believe they will be able to reopen. Less than half of those owners even plan to stay in the restaurant business.
See: COVID's Financial Impact After 1 Year: All Our Coverage
Employees Took a Hit
Before the pandemic struck, the restaurant and food service industry was estimated to provide 15.6 million jobs in 2020, which represents 10% of all payroll jobs. Instead, staff levels plummeted in 47 states. This heavily impacted the 16- to 34-year-old cohort of the labor force, who are nearly 2 million fewer than usual. Additionally, staffing levels dropped to more than 20% below normal for 62% of fine dining operators and 54% of both family dining and casual dining operators.
Make Your Money Work Better for You
What the Future Holds
The report estimates that overall restaurant industry sales will total $548.3 billion in 2021, which is significantly less than the $800 billion that was projected for 2020, but closer on the heels of 2019's $615.9 billion.
Despite this alarming state of the industry, there is hope. "With more than half of adults saying that restaurants are an essential part of their lifestyle, we are confident that, with time, the industry is positioned for successful recovery," according to Hudson Riehle, senior vice president, research and knowledge group, for the National Restaurant Association.
More: Supply Shortages That May Happen Again
Indeed, a majority of adults surveyed (across all age ranges) said that they would like to be eating out at restaurants more often and that eating out is a more pleasant experience than eating at home. This bodes well for when businesses are able to open up.
Additionally, the pandemic has spurred more people to purchase takeout meals than did before, and restaurants have adapted to these changes in ways that may continue after the pandemic. Sixty-eight percent of consumers said they are more likely to eat takeout from a restaurant than before the pandemic, and 53% of consumers feel that takeout and delivery have become essential to the way they live.
Make Your Money Work Better for You
Though the restaurant industry took a terrible hit, as the virus gets controlled, the future of restaurants is bright.
More From GOBankingRates
Last updated: April 8, 2021
Make Your Money Work Better for You