How Much Is Disney Worth?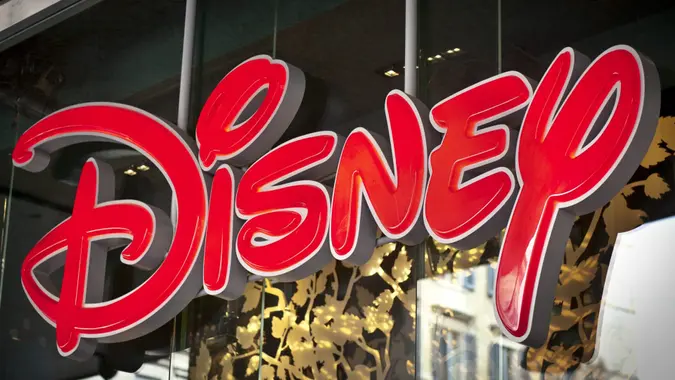 RinoCdZ / Getty Images
The Walt Disney Company (DIS) is a large and diversified Global 500 entertainment and media enterprise headquartered in Burbank, California. The company's vision is to "entertain, inform and inspire people around the globe through the power of unparalleled storytelling."
The premier entertainment company operates businesses in many different industries. The most significant operations include media networks, parks, studio entertainment and direct-to-consumer productions.
About Walt Disney Company
Walt Disney founded the company in 1923. Interestingly, he took some major financial risks in his career. Today, Disney boasts more than 200,000 employees.
| Walt Disney Company Snapshot | |
| --- | --- |
| Headquarters | Burbank, Calif. |
| Year Founded | 1923 |
| Founder | Walter Elias Disney |
| CEO | Bob Chapek |
Disney parks include many well-known theme parks, resorts, cruise lines and other experiences around the world. Some of the most popular include:
Walt Disney World Resort in Florida
Disneyland Resort in California
Disneyland Paris
Disney Cruise Lines
Disney direct-to-consumer offerings include the following streaming services:
The Studio Entertainment business produces live-action and animated films for the following:
Walt Disney Animation Studios
Walt Disney Live Action
Pixar
Marvel Studios
Disney Music Group
Make Your Money Work Better for You
Disney licenses its intellectual property to merchandise manufacturers, publishers, retail stores and more. It also creates video games, magazines, books and other print pieces. Keep reading to see how much Disney is worth, including its market cap, significant operations and future outlook.
How Much Is Disney's Net Worth?
According to Disney's earnings report for the fiscal year that ended Oct. 1, 2022, total revenues exceeded $82.72 billion, a 23% increase from the previous year. Net income was $3.5 billion, up from $2.5 billion in 2021.
Here are the company's valuation measures, as posted by Yahoo Finance.
| Type | Ratio |
| --- | --- |
| P/E Ratio | 55.23 |
| Price To Sales (TTM) | 2.19 |
| Price To Book Value (TTM) | 1.92 |
| Total Enterprise Value To Revenue | 2.81 |
| Total Enterprise Value to EBITDA (TTM) | 18.22 |
Disney Market Cap
Disney stock experienced a 52-week low of $86.28 per share and a high of $176.87. The company's market cap fluctuated in proportion to those share prices. The Nov. 9 price of $87.24 gave Disney a market cap of $155.32 billion.
| Type | Amount |
| --- | --- |
| 52-Week Stock Price Range | $86.28 – $176.87 |
Make Your Money Work Better for You
What Is Market Capitalization?
A company's market capitalization calculates the total market value of all outstanding stock at current market prices. Market cap is one way of estimating how much a company is worth. For example, a company with one million outstanding shares trading at $50 would have a market cap of $50 million.
Companies are typically categorized in one of the following groups:
Small cap: less than $2 billion
Mid cap: $2 billion to $10 billion
Large cap: greater than $10 billion
Calculating Disney's Net Worth
You can calculate Disney's net worth by subtracting its liabilities from its assets. For the fiscal year ending Oct. 1, 2022, Disney's balance sheet showed $203.63 billion in total assets. The same report stated that its liabilities were $104.75 billion. By this formula, Disney's net worth is about $98.88 billion.
The GOBankingRates net worth formula is a calculation of a company's worth based on concrete, measurable figures like assets and revenue. It takes into account only full-year profits and revenue from the past three years and the company's assets and debts. By this GOBankingRates metric, Disney's net worth is currently $138.59 billion.
| Type | Amount |
| --- | --- |
| Total Assets | $203.63 billion |
| Total Liabilities | $104.75 billion |
| Net Worth | $98.88 billion |
| GOBankingRates' Evaluation of Disney's Net Worth | $138.59 billion |
Key Product Lines Contributing To Revenue
According to the latest annual report, published in January 2022 for fiscal year 2021, Disney's key product lines include the following.
Make Your Money Work Better for You
Media Networks
Disney's Media Networks include Disney, ESPN, Freeform, FX, and National Geographic brands and networks. This business includes ABC brands for broadcast television and eight domestic television stations. Disney also owns a stake in A&E Television Networks. Revenues come from affiliate fees, advertising and licensing fees for distribution.
Parks, Experiences and Consumer Products
Disney's Parks, Experiences and Consumer Products business includes all of its theme parks and resorts. The company's consumer products include licensing of trade names, characters and other intellectual property. In addition, Disney sells branded merchandise directly through retail, online and wholesale businesses. Revenues come from park admissions, merchandise, resorts and licensing deals.
Studio Entertainment
Disney's Studio Entertainment includes motion picture production for Walt Disney Pictures, Twentieth Century Studios, Marvel, Lucasfilm, Pixar, Searchlight Pictures and Blue Sky Studios banners. Disney has other businesses that provide for the development, production and licensing of live entertainment events. The company also produces and distributes music. Revenues come from theatrical distribution, home entertainment, TV distribution and licensing fees.
Direct-to-Consumer and International
Disney's DTCI businesses include Disney+, ESPN+ and Hulu. Disney also has branded international television networks and other digital content platforms. Revenues come from subscription fees, advertising, affiliate fees and licensing fees.
Current Top Shareholders
According to Yaoo Finance, the largest institutional shareholders of Disney stock are:
Vanguard Group Inc., 7.78% of shares
Blackrock Inc., 6.42% of shares
State Street Corp., 3.91% of shares
How Does the Future Look for Disney?
Fiscal years 2020 and 2021 were challenging for many businesses. The COVID-19 pandemic had a significant adverse impact on Disney's revenues — in particular, Disney's Parks, Experiences and Products segment.
Mandated closures and reduced operating capacities led to large drops in revenues. Direct-to-Consumer also took a hit, as did Media and Entertainment Distribution, due to production shutdowns. At the same time, the company saw $1 billion in increased costs from government regulation and from safety measures it implemented for its employees and customers, according to its fourth-quarter 2021 earnings statement.
As a result, Disney missed earnings and revenue estimates for the fourth quarter of 2021. The company also fell short on the number of new Disney+ subscribers, sending the stock down over 4% in extended trading, CNBC reported.
Disney Showing Improvement and Profitability
With Disney theme parks and Disney Cruise Lines fully open and video and movies back in production, Disney was off to a strong start at the beginning of 2022. In its Feb. 9 earnings release for the first quarter of the new fiscal year, it reported diluted earnings per share of $1.06 compared to 32 cents in the first quarter of 2021, coming in well ahead of analysts' estimates of 63 cents, according to CNBC.
Revenue and new Disney+ subscriptions also exceeded expectations by wide margins. Disney shares surged 8% in extended trading after the earnings release.
In its fourth-quarter and full-year earnings release, Disney reported revenue increases of 9% and 23%, respectively. Although earnings per share were down $0.09 for the quarter, they rose from $2.29 to $3.53 for the full year. Strong Disney+ subscription growth continued, driven by quality content and an international service rollout, prompting Disney to confirm the streaming service should be profitable in fiscal year 2024.
However, the company also warned that Disney+ growth might slow moving forward, and the parks and media divisions both fell short of Wall Street estimates, CNBC reported.
Looking Ahead
In an earnings call with reporters, Disney Chief Financial Officer Christine McCarthy said that, assuming there's no "meaningful shift in the economic climate," Disney expects high-single-digit growth in both company-wide and segment-operating income in 2023. The rollout of ad supported Disney+ should help, although not until later next year, McCarthy said.
The company announced previously that it planned to make Disney+ available in over 160 countries by the fiscal year 2023. It expects Disney+ to be profitable by 2024 and reach as many as 260 million paid subscribers that same year. Disney+ had 164.34 million subscribers as of Oct. 1 — almost 4 million more than analysts had expected.
Is Disney Worth the Money?
While assessing value is sometimes a personal opinion, Disney certainly has a track record of success. The company owns the rights to some of the most well-known characters and brands in the world. There's a reason why Disney is no. 7 on the Forbes World's Most Valuable Brands 2020 list — its most recent.
Daria Uhlig contributed to the reporting for this article.
Information is accurate as of Nov. 10, 2022.
Methodology: The GOBankingRates Evaluation assesses a company's net worth based on the company's total assets, total liabilities, and revenue and net income from the last three years. Base value is established by subtracting total liabilities from total assets from the company's last full fiscal year. Income value is established by taking the average of the revenue from the last three full fiscal years, 10 times the average of the net profits from the last three full fiscal years, and then calculating the average of those two figures. The final GOBankingRates Evaluation number is the sum of the base value and the income value.
Our in-house research team and on-site financial experts work together to create content that's accurate, impartial, and up to date. We fact-check every single statistic, quote and fact using trusted primary resources to make sure the information we provide is correct. You can learn more about GOBankingRates' processes and standards in our editorial policy.
Make Your Money Work Better for You