Tesla Net Worth: How Much Is Tesla Worth and Is It Worth Investing?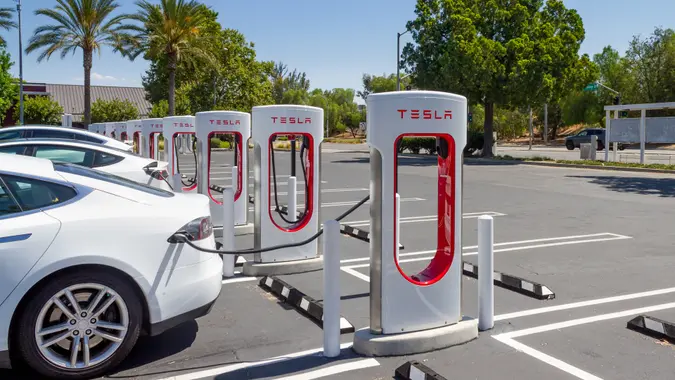 sanfel / Getty Images
Tesla is the electric car company that is probably equally well known for its exciting lineup of products and its outspoken CEO, Elon Musk. Yet, the company has proven to be a huge success and is ranked No. 242 on the Fortune 500 list. Tesla turned a profit for the first time in 2020, and the company is an undisputed Wall Street darling.
To see how much Tesla is worth, take a look at this snapshot of the company's current state, along with a discussion of the company's history, value and future outlook.
| About Tesla | |
| --- | --- |
| Headquarters | Palo Alto, California |
| Year Founded | 2003 |
| Founders | Elon Musk, Martin Eberhard, Marc Tarpenning, Ian Wright, JB Straubel |
| CEO Elon Musk's Salary | $0 |
| What Tesla Is Worth | |
| --- | --- |
| Share Price, 52-Week Range | $620.57-$1,243.49 |
| 2021 Revenue | $57.826B |
| 2021 Profit | $5.52B |
| GOBankingRates' Evaluation of Tesla's Net Worth | $58.04B |
Tesla's Market Cap: $962.26B
Market capitalization is simply the number of outstanding stock shares a company has issued times its current market price. Market cap does have its drawbacks as an evaluation method, however. For starters, market cap changes frequently, and it's closely tied to the company's current share price. It doesn't take into account any of the direct financial metrics of the company, such as earnings per share, growth rate or book value.
Make Your Money Work Better for You
Share Price and Market Cap
Tesla's share price saw astronomical growth last year, soaring as high as $1,243.49, thanks to strong third-quarter 2021 earnings and news that Hertz would purchase 100,000 Tesla vehicles for its rental car fleet. These events pushed the company's capitalization above $1 trillion for the first time and made Tesla one of a handful of companies to have achieved that valuation.
The stock is currently trading for over 27% less than that 52-week high, reducing Tesla's market cap to $962.26 billion, but not because of disappointing earnings. Tesla's second-quarter earnings per share rose 57% year over year, to $2.27, coming out ahead of the $1.81 analysts had expected, according to CNBC. Total revenues were up 42% year over year, to $16.9 billion, which fell short of the $17.1 billion analysts had predicted.
Tesla stock rose slightly in after-hours trading following the release despite a 46 basis-point decrease in gross margins, indicating reduced profits on sales.
Tesla Stock Split
In a proxy statement filed with the Securities and Exchange Commission in June, Tesla included a provision for the company to split its stock 3:1. As GOBankingRates reported, the reasoning behind the split is that a stock with a single share price as high as Tesla's can be psychologically prohibitive for some investors.
Splitting the stock divides it into small shares, each of which has a lower price. A split does not affect the value of each investor's position. Tesla's board has recommended that shareholders vote to approve the split. They'll vote on it during the upcoming shareholders' meeting.
Make Your Money Work Better for You
Tesla's Net Worth: $58.04B
Methods of determining the value of a company are wide and varied, each with its own merits and blind spots. The GOBankingRates company net worth is a more conservative valuation than most, taking into account only full-year profits and revenue from the last three years and the company's assets and debts.
Tesla's net worth as of the quarter ending June 30 was $58.04 billion.
Tesla's Founders
Tesla has five founders: Elon Musk, JB Straubel, Marc Tarpenning, Ian Wright and Martin Eberhard. Eberhard and Tarpenning were the original founders, but after Eberhard was ousted, the remaining three were named co-founders after a court battle.
According to Forbes' Real-Time Billionaires List, CEO Elon Musk's current net worth is a whopping $278.8 billion as of Aug. 3, making him the world's wealthiest person.
Key Product Lines Contributing To Revenue
Tesla's prime product line is electric cars. In fact, Tesla's Model 3 is now the best-selling electric car of all time — a record that's probably safe for now considering that's the model Hertz ordered last year.
Make Your Money Work Better for You
In its slide deck for shareholders, Tesla said it has the cash to increase its manufacturing capacity and reach 50% average annual growth in vehicle deliveries, and fund its long-term capacity expansion and other expenses.
Some of that cash comes from sales of Tesla's bitcoin reserves. As of the end of the second quarter, the company had liquidated about 75% of its bitcoin holdings, adding $936 million in cash to its balance sheet.
Although Tesla reported record production rates in in the second quarter, it continued to face challenges resulting from shutdowns, supply chain disruptions, labor shortages, logistics complications and other issues that prevented it from consistently running its factories at full capacity. However, it anticipates continued improved production at its facilities in the U.S., China and Europe.
Automotive revenues reached $14.6 billion, including $344 million in regulatory credits, in the second quarter — a 43% increase over the same quarter last year. Model S/X production rose 601% and Model 3/Y production grew 19%, for an overall production increase of 25%. Total deliveries grew 27%.
Current Top Shareholders
The top 10 shareholders of Tesla stock are all asset managers/mutual fund companies. As a group, institutional and mutual fund shareholders own 42.84% of all Tesla shares. Here's what the top shareholders list looks like:
Tesla's Top 10 Shareholders

The Vanguard Group, 6.24% of shares
BlackRock Inc., 5.29% of shares
Capital World Investors, 3.48% of shares
State Street Corporation, 3.10% of shares
Geode Capital Management LLC, 1.37% of shares
T. Rowe Price Inc., 1.24% of shares
Fidelity Management & Research, 1.10% of shares
Baillie Gifford & Co., 0.94% of shares
Jennison Associates LLC, 0.94% of shares
Any of these shareholder percentages can change at any time, even dropping down all the way to 0%. Tesla is currently a popular stock on Wall Street, so these percentages may hold, but if the company's fortunes turn sour, institutions may bail out at any time.
How Does the Future Look for Tesla?
Tesla, like all auto manufacturers, is working to overcome ongoing supply chain issues and semiconductor shortages resulting from the pandemic. Despite those challenges, Q2 showed the company to be resilient and laying the groundwork for future success.
Consider This

Tesla was great bet in 2021, but some think that the runup was too far and too fast. In a note to clients, Citi analyst Itay Michaeli reiterated a sell rating on Tesla stock, Yahoo Finance reported. Michaeli's rating stems from skepticism over Tesla's autonomous driving technology and the belief that the current share price doesn't factor in a slowing economy. He also noted that Tesla hasn't achieved anywhere near the gross profits of other companies that have achieved a $1 trillion market cap.

However, 23 analysts polled by Yahoo Finance give the stock a consensus "buy" rating, although not a unanimous one, with eight calling the stock a "strong buy" or "buy," 13 rating it "hold" or "underperform" and one rating it "sell." The analysts' average price target is $879.33, which is about 2.5% lower than its close price of $901.76 on Aug. 2.
Is Tesla Worth the Money?
Tesla is the ultimate love-it or hate-it stock. Short sellers keep betting the company will go out of business — which seems unlikely at this point — while dreamers and believers see the company as changing the fundamental auto and energy landscape. Therefore, the stock is likely to continue to undergo enormous price swings.
Whether or not you find Tesla to be worth the money will likely depend on which camp you fall into.
Regardless of your choice, share price is just one of the variables you should consider when investing in a specific stock. Your financial situation plays a large part in determining whether or not you should invest in stocks at all — let alone invest in a specific stock like Tesla.
Working with a fiduciary financial advisor is a good way to delineate your investment objectives, risk tolerance and personal financial situation to determine if investing in stocks is a good match for you.
Daria Uhlig and Sean Dennison contributed to the reporting for this article.
Data is accurate as of Aug. 3, 2022, and subject to change.
Methodology: The GOBankingRates Evaluation assesses a company's net worth based on the company's total assets, total liabilities, and revenue and net income from the last three years. Base value is established by subtracting total liabilities from total assets from the company's last full fiscal year. Income value is established by taking the average of the revenue from the last three full fiscal years, plus 10 times the average of the net profits from the last three full fiscal years, and then calculating the average of those two figures. The final GOBankingRates Evaluation number is the sum of the base value and the income value.
Editorial Note: This content is not provided by any entity covered in this article. Any opinions, analyses, reviews, ratings or recommendations expressed in this article are those of the author alone and have not been reviewed, approved or otherwise endorsed by any entity named in this article.
Our in-house research team and on-site financial experts work together to create content that's accurate, impartial, and up to date. We fact-check every single statistic, quote and fact using trusted primary resources to make sure the information we provide is correct. You can learn more about GOBankingRates' processes and standards in our editorial policy.
Make Your Money Work Better for You