Uber's Value Gets a Boost Thanks to Toyota's $500M Investment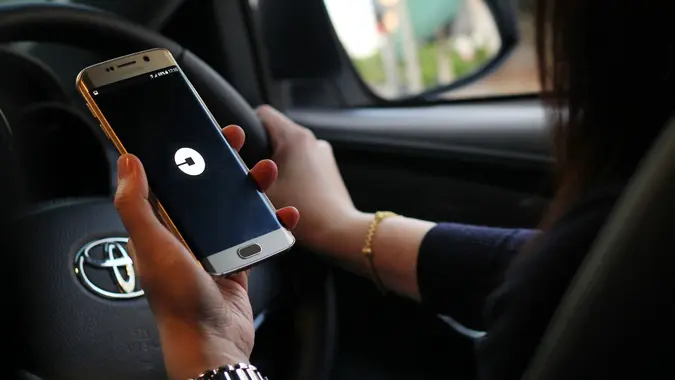 Teerawit Chankowet / Shutterstock.com
Ride-sharing app Uber got another major influx of cash this week when Toyota made a $500 million investment that boosted Uber's valuation to $76 billion, making it one of the world's most valuable private companies. That increases the valuation of $72 billion that the company reached earlier in 2018 on the back of a court settlement that gave Alphabet-owned Waymo — aka the former Google self-driving car project — a 0.34 percent stake in Uber valued at $245 million.
Click to learn more about 15 genius companies launched by people who fled Amazon, Apple, Facebook and Google.
Uber Valuation
Uber Valuation Post Toyota Investment:
(August 2018)
$76 billion
Uber Valuation Post Alphabet Investment:
(February 2018)
$72 billion
Major Automakers Lining Up to Invest in Self-Driving Cars
Toyota's investment in Uber is specifically intended as part of a joint effort by the two companies to develop self-driving cars.
"Combining efforts with Uber, one of the predominant global ride-sharing and automated driving R&D companies, could further advance future mobility," said Shigeki Tomoyama, president of Toyota Connected Company, in a press release by the company. "This agreement and investment marks an important milestone in our transformation to a mobility company as we help provide a path for safe and secure expansion of mobility services like ride-sharing that includes Toyota vehicles and technologies."
Make Your Money Work Better for You
The deal is one of many that show that the world's biggest automakers are working hard to ensure that their products won't get left behind by the anticipated autonomous car revolution on the horizon. Cruise Automation — GM's self-driving subsidiary that could be worth more than the combined value of GM, Ford and Fiat-Chrysler — got a $2.25 billion investment from the SoftBank Vision Fund to go with the $1.1 billion invested by General Motors in May 2018. Ford followed suit, announcing in July that it was carving out a $4 billion investment in self-driving cars in the form of its Ford Autonomous Vehicles.
Uber's Status as a Private Company Makes Valuation Murky at Best
The value of Uber is much more difficult to ascertain than that of most other car companies because it remains a privately held company until its highly anticipated — and still unscheduled — IPO. Without stock trading on public exchanges, it's difficult to establish a clear market value for the company's shares, forcing eager investors to rely on projected valuations drawn from investments by other companies. And because it's still private, Uber doesn't have to release revenue and profit figures every quarter like Alphabet, Ford, GM and other companies do.
In fact, some of the most reliable information about what Uber is worth comes from the disclosures required of those public companies. Alphabet, for instance, made a $258 million investment in Uber in 2013 that they revealed in a recent quarterly report to have gained some $3 billion in value.
More on Business and Investing