How Much Money Will Be Bet on Super Bowl LVII?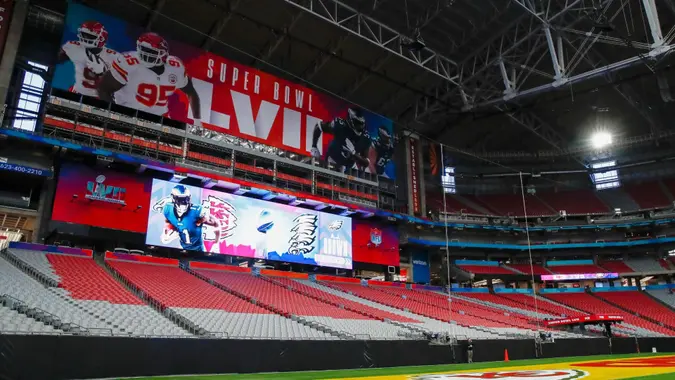 CAROLINE BREHMAN/EPA-EFE/Shutterstock / CAROLINE BREHMAN/EPA-EFE/Shutterstock
Americans wager more on March Madness than any other contest in the sporting world — but the NCAA basketball tournament lasts the better part of a month and includes 67 games. In terms of individual events, the NFL Championship wins the Lombardi Trophy of gambling — and the odds are that Super Bowl LVII between the Kansas City Chiefs and Philadelphia Eagles on Feb. 12 will reset the bar for sports betting.
See the List: GOBankingRates' Best Banks of 2023
See: With a Recession Looming, Make These 3 Retirement Moves To Stay On Track
With sports betting now legal in 36 states plus Washington, D.C. — and three states that haven't yet implemented their programs — 2023 is on pace to smash all records. Keep reading to learn how much will be bet, won and lost on Super Bowl LVII.
Billion-Dollar Bowl: Vegas Leads the Way in Record-Breaking Year
According to gaming industry publication PlayUSA, America's legal sportsbooks are on pace to take in $1.1 billion in wagers on Super Bowl LVII. If that happens, it will be not just the most bet-on Super Bowl ever, but the most heavily wagered sporting event of any kind in U.S. history.
Make Your Money Work Better for You
More than half of all bets — nearly $622 million — will be placed in the top five gambling states: 
Ohio: $82.5 million
Illinois: $86.1 million
New Jersey: $115.5 million
New York: $161.6 million
Nevada: $176.2 million
Interestingly, Eagles fans can legally bet on the home team in Pennsylvania, but Chiefs fans cannot wager on the game without running afoul of the law in Missouri.
Live Richer Podcast: How To Leverage Your Investments
As New Markets Go Legal, More of America Places Its Bets
Legal sportsbooks took in $937 million in 2022, when just 30 states allowed live, legal betting, and that number continues to grow with every new state that decriminalizes gambling on games.
According to the American Gambling Association (AGA), Super Bowl betting increased by a full 35% between 2021 and 2022. It was part of a years-long trend:
2018: One legal state took $159 million in bets
2019: Eight legal states took $197 million in bets
2020: 14 legal states took $281 million in bets
2021: 21 legal states took $468 million in bets
The Real Money Still Changes Hands Under the Table
Despite the nationwide trend toward legalized sports betting, the lion's share of wagering still takes place outside the purview of state governments. 
Make Your Money Work Better for You
Last year, the AGA estimated that 31.4 million Americans — nearly one in five Super Bowl viewers — bet $7.6 billion on Super Bowl LVI, less than $1 billion of which was legal wagers. 
Here's how it broke down:
18.2 million people placed traditional sports wagers online, at a retail sportsbook or with a bookie, an increase of 78% over 2021.
18.5 million people placed casual bets with friends or family, or as part of a squares contest or pool, an increase of 23% over 2021.
12.9 million people bet online, an increase of 70% over 2021.
4.7 million people bet in person at a sportsbook, an increase of 231% over 2021.
For Books and Whales, the Stakes Are Enormous
According to the Las Vegas Review-Journal, the perfect Super Bowl scenario for sportsbooks is for the favorite team to win but not cover the spread, and for the total score to go under. Bookies across the country hit the trifecta last year when the Rams beat the Bengals 23-20, but failed to cover the 4½-point spread in a game in which the score stayed under the total of 48½ points.
Make Your Money Work Better for You
According to a local CBS affiliate, the result was that Nevada sportsbooks won $15.4 million on $179.8 million in wagers, making 2022 one of the state's most lucrative Super Bowls on record. However, some bettors kick a whole lot more into the pot than others.
Last year, Texas furniture mogul Jim "Mattress Mack" McIngvale lost $9.5 million through a series of record-setting bets he placed on the Bengals through Caesars Sportsbook's app. Had Cincinnati prevailed, he would have been $16.2 million richer.
According to Covers, several mini-Mattress Macks have already bet big on this year's contest, with BetMGM reporting a $1 million wager on the Eagles to win, straight up, at -125 odds. Caesars Sportsbook took a $314,000 bet on the Chiefs +3.5 at -157 odds in Arizona, which, incidentally, is hosting this year's big game.
Good luck!
More From GOBankingRates
Make Your Money Work Better for You