How Much Will a Super Bowl Ad Cost in 2023?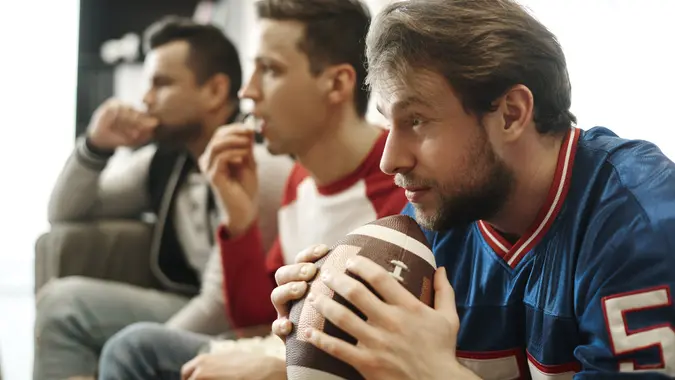 gpointstudio / iStock.com
Celebrities vie to star in them. A single production can make an advertising exec's career. Audiences of all kinds applaud or reproach them. In an era of scattered attention spans and television shows getting canceled on a dime, there is something sacred about the Super Bowl commercial. It is one of the few cultural traditions that people still care about, which is why $7 million for 30 seconds is worth it in some companies' eyes. If they can hold 100 million people captive for half a minute, the ones that can afford it will cringe and cut the check — even if the exposure tends to be short-lived.
So, even while the average person is freaking out about rent, companies are still shelling out the big bucks — about $2 million, more in fact — to advertise for the amount of time you're supposed to wash your hands. The Super Bowl, which is played on about 225 stations, according to NBC, is the most-watched sports game of the year. Advertising during the game is a dream opportunity for any brand, which is why most of 2023's slots sold out by the end of September. If you have the means to roll out a new product on the most popular Sunday of the year, then the Super Bowl is guaranteed to generate buzz. Plus, even though companies are competing with 70 other brands (and shelling out an arm and a leg for something that cost $37,000 in the '60s), the audience is generally more diverse and much larger than the norm. Everyone is at the Super Bowl, from the most hardcore sports fans to the anti-athletic. It's the Beatles of the sports world.
Make Your Money Work Better for You
Plus, there is just the prestige of being involved. If you want the cachet of mixing with legacy brands like Michelob, Budweiser and Doritos, then sign on for the Super Bowl. It's like belonging to the most elite club in the world and automatically says that even a ho-hum company is somebody.
There is also the ripple effect that can justify the months of prep, millions in production fees and the pressure of creating something original. If a commercial lucks out, talk shows, podcasts, news segments and streaming services can keep it alive long after its initial premiere. A bad ad might even get a bump. In fact, according to University of Minnesota Carlson School of Management Professor Linli Xu, Super Bowl commercials receive a 68% bump in the impact of online-only word of mouth on the day of the event, meaning no matter their quality, the ads get people talking.
Take Our Poll: How Big of a Sign-Up Bonus Would It Take for You To Change Banks?
See: Million-Dollar Businesses That Turned Down 'Shark Tank' Deals
So, if you're wondering why companies deplete their marketing budgets for a single night, now you know. Take a little more time to appreciate those 30 seconds and don't be afraid to give your favorite commercials a shout-out. They'll need a boost after shelling out $233,000 a second.
More From GOBankingRates
Make Your Money Work Better for You
Make Your Money Work Better for You