Inflation Is the Single Most Important Business Problem: Here's How 5 Small-Business Owners Are Adjusting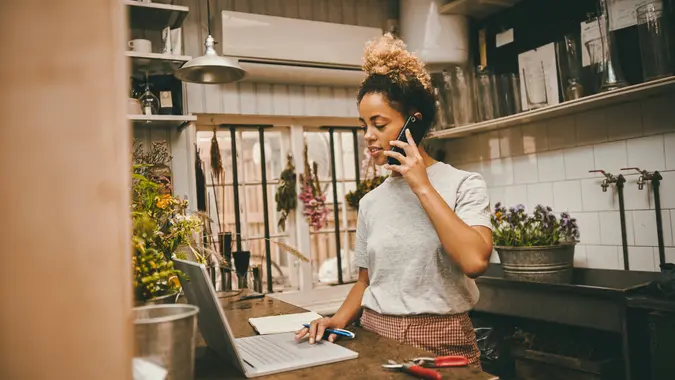 pixdeluxe / Getty Images
Inflation is the single most important business problem, according to 22% of business owners surveyed in the NFIB Small Business Optimism Index. This issue remains unchanged from December 2021 and the Index notes small-business owners started raising prices at the beginning of 2022 to combat inflation issues. 
GOBankingRates spoke to several small-business owners across the United States to learn about the strategies they are using to fight inflation.
Read More: 17% of Small Businesses Fear Going Out of Business in 2022 – How They Can Combat Inflation and Retain Employees
Related: Small Business Index Hits Pandemic High Note as Staffing and Investing Prospects Increase, but Supply Chain Issues and Inflation Still Top Concerns
Use Automated Processes
Bill Glaser, CEO of Outstanding Foods, said automation is a small-business owner's friend and inflation's enemy. As labor costs continue rising, productivity is becoming increasingly expensive. The good news is small businesses can automate and still remain personal with consumers.
"Our team uses automated processes like chat boxes and project management software to streamline our workflows, offer immediate customer support and boost productivity while cutting costs and avoiding burnout," Glaser said.
Make Your Money Work Better for You
Watch Your Expenses
Now is the time to pay close attention to your expenses. Which expenses can be cut that do not provide a significant return on investment (ROI) for the business? 
Hector Gutierrez, CEO of JOI, said that by tracking expenses, his company has been able to adjust its budgets to maximize profitability and stay on top of tax deductions. 
"When you judiciously track what you spend, you'll discover where you can cut costs. You might shrink your inventory or turn to cheaper marketing strategies," Gutierrez said. "Expense tracking is always necessary, but inflation is the teacher looming behind our heads, checking our answers."
See: The Top Investments You Should Make as a Small-Business Owner
Implement Price Changes
One popular strategy that is helping small-business owners fight inflation is raising prices. 
Ely Khakshouri is the founder and CEO of Retrospec, a DTC company that sells ready-to-outdoor essentials including bicycles, skateboards and paddle boards. Like many sporting goods brands, Khakshouri said they did raise prices but they spent a lot of time considering the best way to implement price changes in a way that is transparent and mindful of customers and partners.
Make Your Money Work Better for You
Small businesses that decide to raise prices need to be transparent, Khakshouri said. Communicate well with customers, who are likely to be understanding of inflation and supply chain issues. 
Outside of customers, make sure you inform dealers early on of a future price increase. 
"This allows dealers time to stock up at old prices, digest new prices and implement changes in their store," Khakshouri said. "Typically, we will let our dealers know of a price increase two to four weeks in advance to ensure ample planning time on their end."
Establish Long-Term Contracts With Suppliers
Brogan Renshaw, founder and director of Modelers Central, said he has been able to work around inflation by establishing longer-term contracts with suppliers. 
"The moment prices were predicted to go up, I immediately made arrangements with my long-time suppliers to lock in prices already, which they agreed to because it meant guaranteed revenue for them as well," Renshaw said.
Make Your Money Work Better for You
Renshaw said that locking in prices for long-term contracts protects budgets and business operations from the impact of inflation. 
"You get to protect your prices and supply, which in turn protects your customers," Renshaw said.
Similarly, small businesses may renegotiate existing contracts with suppliers. Some strategies that may be discussed with suppliers include preordering, buying in bulk amounts and financing payments over an extended period of time. Renegotiating existing supplier contacts helps small businesses better manage cash flows and lessen the strain inflation has on the business.
Find: Small Business Owners Predict What's Next for 2022
Watch How Other Businesses Tackle Inflation
Small businesses are not alone in the fight against inflation. This is an issue facing every business. Khakshouri said small businesses need to put their consumer hat on and pay close attention to how other businesses and brands are tackling inflation and communicating about it with consumers.
"Use what you see to inform your strategy," Khakshouri said. "Keep close tabs on your competitors and what they are doing to ensure you're staying competitive."
Run 'What If?' Scenarios
Harry Campbell, CEO and founder at The Rideshare Guy, said their team regularly runs "what if?" inflation scenarios.
In an extreme scenario, Campbell said they would check their financials and make sure there is enough cash and risk management resources in case things turn bad. Another way they would try to adjust and strengthen the company's pricing power is by improving their offers, adding complementary services and targeting less price-sensitive customers. If needed, freelancers could be relied on to cover technical website tasks and other supportive functions.
"I believe that the combination of these factors will help our business remain up and running even in bad scenarios, but we are always prepared for the worst case scenario," Campbell said.
Whether your small business is fighting inflation or enjoying a quarter where sales are steadily rising, it's a good idea to map out a strategy for what the business would do in the event of an unforeseen circumstance. 
More From GOBankingRates
Make Your Money Work Better for You