How Tesla Could Make Money on Every EV Ever Made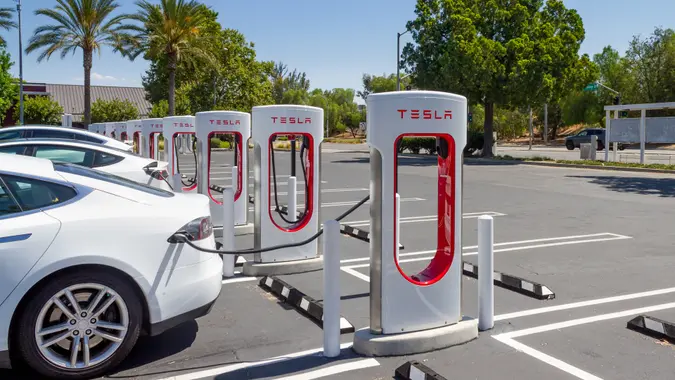 sanfel / Getty Images
Tesla has long been a controversial company, thanks in large part to its mercurial CEO Elon Musk. But there's no denying that Tesla has been hugely innovative in the electric vehicle space, holding a 72% market share as recently as January 2022. But as competitors flood the market, that share is expected to fall as low as 18% by 2026, according to Bank of America.
Understanding that competitors would flood the market as EVs became more efficient to produce and more affordable to buy, Tesla made a huge strategic move that ensured it will soon make money on nearly EV ever made. Read on to learn how this EV pioneer leveraged its strengths and positioned itself to profit even as its market share dwindles.
How Will Tesla Benefit From Other EV Makers?
Tesla is in the unique position of having a more well-developed charging network than other EV makers. In fact, no other individual EV company actually has its own dedicated charging network. Unlike Tesla, which owns its proprietary North American Charging Standard port, most other EVs in America use the Combined Charging System.
However, in May 2023, Ford announced that it would begin making vehicles that are compatible with Tesla's NACS port, as opposed to the CCS. Just one month later, GM announced that it would use the NACS port as well.
This is huge news for Tesla, which can now charge these vehicle makers a fee to use its proprietary technology. Tesla, GM and Ford combined make up 72% of the entire EV market in the United States, meaning that Tesla's technology would be "fueling" nearly three-quarters of the entire American EV market — with potentially even more to come.
Make Your Money Work Better for You
Why Is the Tesla Supercharging Network So Important?
With a national charging network that can power all types of EVs, why would two legacy automakers like Ford and GM decide to sign up with Tesla's NCAS instead? Ford's CEO Jim Farley said it best when conducting an interview with CNBC's Jim Cramer: "I have no problem being opportunistic when it comes to advantaging my customers." Farley said he liked the reliability and locations of Tesla's charging network.
The bottom line is that Tesla's generating interest from other automakers simply because it's got the best network in the world already in place. Tesla has more than 45,000 so-called "superchargers" already installed across the globe, and perhaps equally as important, those superchargers live up to their name because they are incredibly fast. In just 15 minutes, cars can charge up to a range of 200 miles.
Tesla's app also informs drivers of stall availability at its supercharger locations, and it can notify drivers when charging is complete.
How Much Might Tesla Stand To Earn?
According to Piper Sandler analyst Alex Potter, Tesla could stand to earn $3 billion in charging revenue from GM, Ford and other non-Tesla owners by 2030, and as much as $5.4 billion by 2032. While certainly a huge revenue boost, it's worth noting that Tesla already generates over $80 billion per year in revenue, making the added income just a small percentage increase.
But the fact that Tesla could tap into nearly all charging revenue for the foreseeable future will forever make it an indispensable part of the EV landscape, regardless of what it does with its specific vehicle lineup. As more and more car makers hop aboard the Tesla supercharging network — and as EVs continue to climb in terms of total automobile market share — Tesla has proven once again that it understands the market better than anyone.
Make Your Money Work Better for You
Ancillary Benefits for Tesla
In addition to the immediate and measurable financial consequences of the Ford and GM deals, Tesla may have also shrewdly benefited from the deal in a more intangible way. If owners of GM and Ford vehicles become accustomed to the benefits of using the Tesla supercharging network, it's entirely possible that they start becoming enamored of Tesla as an EV company, as well.
In other words, by exposing their customers to the world of Tesla, Ford and GM risk losing some of their own customers to Tesla when they buy their next vehicles.
There's no way to estimate how many vehicle owners may cross over to Tesla, but it's almost inevitable that at least some customers will make the switch, and perhaps a large percentage. This could translate to untold additional revenue for Tesla, making its deal an even smarter move.
More From GOBankingRates