How To Make Money on eBay: Your Guide to Selling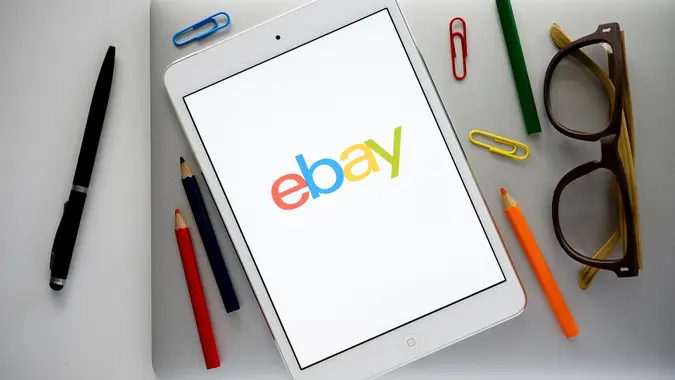 qoppi / Shutterstock.com
In September 1995, Pierre Omidyar launched AuctionWeb, a site "dedicated to bringing together buyers and sellers in an honest and open marketplace." Two years later, AuctionWeb was rebranded as eBay, and by the first quarter of 2021, the global online auction giant had grown to 187 million active buyers.
And although other online sites have cropped up to challenge eBay — think Facebook Marketplace — it remains the top dog in the genre. And if you're not selling and making money on eBay, why not? You're missing out on a piece of a very big pie. The gross value of goods sold on eBay in the United States in 2020 was $37.5 billion, up 22.1% from the year before, Digital Commerce 360 reported.
There's an opportunity to make big money on eBay if you know what to sell and when to sell it. Here's how to get started.
1. Take Inventory
Chances are that you have things in the back of your closet or in your garage that you haven't pulled out for a year — or more — that people are looking to buy. On its website, eBay lists about three dozen categories of merchandise that are the most popular, and sellers are making money on eBay from them.
Did you buy golf clubs or a guitar, determined to learn to play, only to decide it wasn't your thing? There's a market for those. The old VHS tapes your kids watched over and over? Tapes are listed among the popular categories, as are DVDs and Blu-ray discs. Cameras, jewelry, video game consoles, auto parts, women's clothing and men's sneakers also make the list. Even nonworking items, such as electronics, have a market, with buyers seeking to repair them or use them for parts.
Make Your Money Work Better for You
So as you clean out your closets or cupboards and find something you bought that you used sparingly and no longer want, don't trash it. Try making money on eBay. The vast reach means someone might just be looking for something you have. And you'll be diverting it from the landfill, too.
2. Sign Up and Buy
With that like-new guitar and those Air Jordans that your parents gave you but you never wore because they were a size too small, try your hand on eBay. Register for a free account to start the process.
The most successful eBay sellers are those with high feedback ratings. Every transaction you take part in can be rated. The seller may leave feedback about you as a buyer — how quickly you paid to complete a transaction, typically — and a buyer can rate a seller on how fast an item was shipped, how well the seller communicated, and the quality of the item and whether it was as advertised.
Buyers might be hesitant to bid on an item from a seller with no feedback, so eBay veterans recommend making a few small purchases before you start selling. That's a way to build your feedback rating, and it will give buyers more confidence that you have experience navigating the ins and outs of eBay before buying from you.
3. Set Your Price
Now that you're signed up for eBay, poke around the site and check out your competition. Are there other Air Jordans like yours being offered? But don't stop there. Do a Google search of your item to find out the asking price of similar items on other online sites to help inform your price.
Make Your Money Work Better for You
By using eBay's advanced search function, you can search for completed auctions on similar items to find out the selling price. While you're perusing those listings and others you find online, take note of the descriptions the seller attached to each item. (More on that later.)
EBay offers some options for selling goods in most categories:
Auction: Buyers compete for the item, and setting a low starting price helps to generate the first bids.
Reserve price: In some selling categories, eBay will allow you to set a reserve price. That is the lowest price you will accept. Bidders will have to meet that minimum to win the item.
Buy It Now: Sellers set a price they will take to end the auction immediately.
As you set your price, remember these three things:
Final value fee: While it's free to sign up for eBay, and free to list your first 200 items per month (in almost all categories) for sale, the site receives a commission, called a "final value fee," for every item sold. The fee is a percentage of the total amount of the sale, which is the sales price, plus any shipping and handling charges the buyer pays. Sales tax isn't included. The final value fee can be as high as 12.85%, capped at $750, and depends on the category the merchandise falls in.
Cost of shipping: Consider the price to ship the merchandise from seller to buyer. Will you pay the shipping fee or will you ask the buyer to pay? EBay has tools to help you calculate the cost, and if you are going to pay the fee, you'll need to set your starting price high enough to absorb the shipping rate.
Income taxes on sales: Many sellers making money on eBay are responsible for paying income taxes on their sales, especially if they are running a small business on the site. It is wise to keep a spreadsheet of all the merchandise you offer, the final sales price, the fees, shipping charges and any cost you paid to acquire what you sell to show to your tax advisor come tax time — just in case.
Make Your Money Work Better for You
4. Grab Buyers' Interest
A good sale begins with a great product description — and sharp pictures. That's how to make the best money on eBay.
The way you spell out the facts about the item you're selling will give prospective buyers the details they need to decide whether to buy. If you're selling those Air Jordan shoes, for example, you'll want to list the size, whether they are for men or women, the brand and color, and if they're new in the box. The description should be concise and accurate.
It's crucial that you spell the brand name and other pertinent information correctly. You can write the greatest product description for your Air Jordan shoes, but if you mistakenly type "Air Jordon," they won't show up in the buyer's search. The best eBay users know how to search for the misspellings, and they can snatch your shoes at a ridiculously low price because no one else can find them to place a bid.
You'll also want to snap several high-resolution pictures of those shoes to give buyers the best images possible. EBay will allow you to post a main photo and several side pictures. For the main photo, eBay recommends you use a white background to increase visibility. Other photos should be taken without flashes or filters, and your item should fill the entire frame. Be sure to photograph from multiple angles to show details of both features such as logos and any blemishes there might be.
5. Sold Out? Source More Items
At some point, you'll run out of things from your closets, cupboards and garage to sell. But if you've been a successful seller and made some good pocket money, you don't need to stop. You just need to source more merchandise to sell. Devote some time to poring over eBay to see what people are buying — and for how much — and finding similar items to sell. But where do you start?
Make Your Money Work Better for You
You might have seen the news story in March 2021 about the sale of a rare porcelain bowl from 15th century China that sold at auction for nearly $722,000 — after a smart shopper snapped it up for $35 at a yard sale in Connecticut. And while you shouldn't expect such a return, yard sales and garage sales are a great place to spot potential eBay items at rock-bottom prices.
That's just the start. Other places to source your treasures and make money on eBay include:
Estate or moving sales
Facebook Marketplace, Craigslist or similar sites
Thrift shops
Church or school rummage sales
A family member's attic or basement (share the proceeds!)
Other local resellers who have excess inventory
Online "wanted" ads
End-of-season sales, when merchandise is deeply discounted
Antique malls
Auctions at abandoned storage units
There's a lot of unsellable stuff to sift through, for sure. But the best resellers are skilled at sorting out the trash from the treasures for big returns.
Good To Know

One cautionary note: As you collect items to sell, make sure you have a place to store them. You won't be able to sell everything immediately for top price. Those Christmas lights you bought for 90% off in January won't bring you a profit if you list them in February. Instead, eBay sellers recommend listing Christmas items in September, and summer items as the snowy season winds down.
Ways To Get Rich Online
Make Your Money Work Better for You
Our in-house research team and on-site financial experts work together to create content that's accurate, impartial, and up to date. We fact-check every single statistic, quote and fact using trusted primary resources to make sure the information we provide is correct. You can learn more about GOBankingRates' processes and standards in our editorial policy.