How To Pivot Your Small Business During Unprecedented Change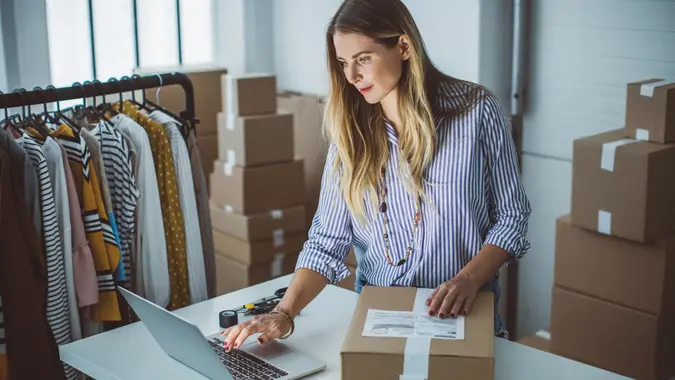 svetikd / Getty Images
If you are a small business owner, you might wonder how you can pivot during tough times, especially during unprecedented change. For example, the COVID-19 pandemic and the ensuing inflation led to changes no one could have predicted — both for the business world and for the economy as a whole.
See Our List: 100 Most Influential Money Experts
Check Out:22 Side Gigs That Can Make You Richer Than a Full-Time Job
The result has been the realization that businesses must be ready to adapt quickly and effectively if they hope to survive during uncertain times. This is especially true for smaller businesses, which may have leaner cash reserves to help them through low periods.
Let's take a look at how businesses can pivot during unprecedented changes.
Embrace Remote Work
Remote work is here to stay. After all, a slight majority of people want to work remotely at least occasionally. This means not only having the willingness to embrace remote work but also the agility to make it a reality for your business.
Make Your Money Work Better for You
"When the pandemic first started, we had to find a way to keep our employees in a safe and healthy environment while ensuring our customers did not feel the impact," says James Burati, senior vice president at 1-800-PACK-RAT.
Burati says not all companies were agile enough to find a solution, causing many to close or lose employees. "Our team was able to quickly mobilize our personnel, provide people with work-from-home equipment, and ensure anyone still at our location could follow all CDC guidelines," Burati says.
Burtai continued, explaining how embracing remote work benefited not only their employees, but their customers as well. "This allowed us not only to show our employees that their health and safety comes first, but we were also able to provide consistent coverage on our phone lines and out in the field."
Diversify Your Product Offerings
Diversifying your product offerings is key to success for small business owners, both in normal times and in not-so-normal times. Jane Goodrich, founder and CEO of Picsello, suggests diversifying in a way that won't make you entirely reliant on doing business in person.
Make Your Money Work Better for You
"Offer remote/Zoom sessions, offer courses, work on getting other streams of income to your business," Goodrich says. "Can you sell related products online? Does your website get a lot of traffic that you can monetize?"
Thinking about these questions will help you start to diversify your business.
Live Richer Podcast: First-Time Homebuying During Inflation: Is It Worth It?
Start an Emergency Fund
Starting an emergency fund is one of the most important steps to take with your personal finances, but the same principle applies to small business owners. Specifically, Goodrich says you should be charging enough to set some extra money aside.
"Take a good look at your profitability," she says.
Nurture Customer Relationships
The benefit of nurturing customer relationships is you might find they are willing to show their support during uncertain times. You can do so by providing great customer service and going the extra mile.
If you foster great relationships with your customers, you might find they will pay it forward — literally. "I was very touched when my clients reached out to me and asked if they could pre-purchase a session if it would help me," Goodrich says.
Make Your Money Work Better for You
Get a Line of Credit
Whether or not you like borrowing money, a line of credit can be a valuable tool for business owners, especially when business is a little slower than usual. Getting that line of credit at the bank can often "be a life saver during a pandemic," Goodrich says.
Of course, credit should be used responsibly in the business world, just as it should in the personal finance world. If your business is losing money, the question to ask is whether the situation is only temporary. If it isn't — for example, if you were losing money before the pandemic — a loan may not be as helpful.
Re-Evaluate Your Business
This step is not one that suggests there is a problem with your business. In fact, it's about assessing what you could be doing better. For example, Goodrich suggests taking a good look at your business to determine where you can improve.
"Where are you wasting money? Where can you streamline operations or marketing? Where can you improve your ROI?" These questions will help you figure out what is and isn't working, and perhaps even pivot in order to favor the more lucrative side of your business.
Help Others
We mentioned nurturing customer relationships earlier, and while this step is related in a way, it's much broader. "Help others. Help your clients. Help those at the front line," Goodrich says. Whoever needs help should not feel ignored.
One example of this is how Goodrich created a guide for customers when the pandemic made in-person contact difficult. "I created a 'how to photograph your newborn with your iPhone' for all of my clients and I ended up sharing it worldwide since no-one was able to have those photos taken," Goodrich said. "It was using my skills for the greater good (and also made me feel like I was helping in a little way!)"
More From GOBankingRates
Make Your Money Work Better for You