4 Steps To Turn Your Hobby Into a Business, According to Experts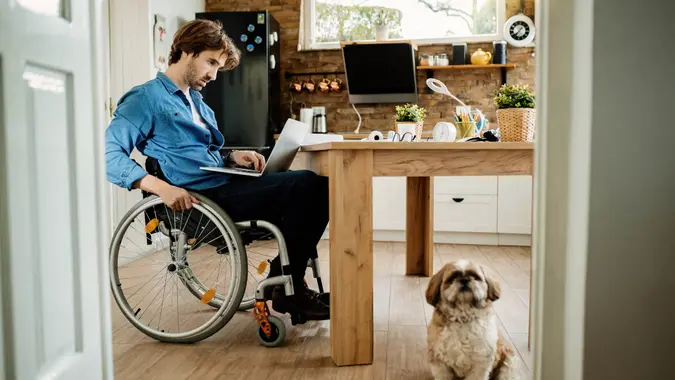 Drazen Zigic / Getty Images/iStockphoto
The definition of success, according to Michael Dermer, is when you can marry your passion with the ability to make a living at it. 
Dermer is a former mergers and acquisitions lawyer in New York who quit his job to start his own business, a company that offers rewards and incentives for healthy behaviors. After selling his company in 2016, he founded Lonely Entrepreneur, a platform where he could share with others what he had learned about the challenges of starting and running your own business.
See Our List: 100 Most Influential Money Experts
More: 22 Side Gigs That Can Make You Richer Than a Full-Time Job
"One of the things we've missed in this country is that having passion and grit and a good idea are enough," Dermer said. "But you have to understand that if you go into something with passion but no skills, you're probably going to do some damage." 
Make Your Money Work Better for You
Jen Hope, an executive and business coach based in Seattle, cautions clients to also think seriously about that passion and the joy they get from their hobby before embarking on a mission to monetize it. 
"Do you want to turn your hobby into a business? Because for some people it loses its joy," she said. "If it's something you did for fun or pleasure, are you willing to give some of that up?"
Whether it's selling your delicious baked goods, going pro with your photography or taking an entrepreneurial idea from launch to a public IPO, as the business owner, you'll most likely have to wear all the hats for a while. Tapping into knowledge networks, support resources and finding communities of other business owners who can share what they've learned will be crucial throughout the journey, Dermer says. 
With that mindset in place, here are four steps to building a foundation for success.
1. Find Your Playground
Some call it identifying your niche. In business speak, it's doing your market research and competitive analysis in order to develop a go-to-market (GTM) strategy. 
Dermer calls it "finding a playground where no one else is playing." 
That's harder than ever these days, with oversaturation seemingly everywhere you look. "The world is such a cluttered place," Dermer said. "You have to define that unique spot where everybody is selling apples and you're selling oranges." 
Make Your Money Work Better for You
When businesses struggle to succeed and are forced to spin their wheels pivoting or refocusing, Dermer says it's probably because they didn't have a solid differentiator from the competition or failed to identify who and where their market was. "A lot of people don't spend nearly enough time on this," he said. "If you've really honed in on it, though, it stands the test of time." 
Hope warns against unreliable marketability signals like conflating a social media following with having paying customers. "The reality is, you could have a million followers on Instagram, but zero customers," she said. 
The key to finding your audience is testing, Hope says, and doing it in a way that's "small and achievable." Consider offering your product or service to your neighbors, sell at a farmers market or do a pop-up shop event. "Can you get somebody to actually hand you money for it?" she said. 
This is the phase where you can try out different variants of your product to figure out what's popular, what you should focus on, what works and what doesn't and importantly, how much people are willing to pay for it.
Make Your Money Work Better for You
"If you bake cookies and people will pay $10 a dozen, great. Maybe you can charge $20 a dozen. Maybe that's too much, but it's important to test to find out what the market will bear," Hope said. 
Take Our Poll: Do You Think You Will Be Able To Retire at Age 65?
2. Build a Financial Plan 
It's essential to have a clear picture of how much you need to earn from your hobby in order to make a successful living at it. That includes listing out all your startup expenses for the first year, from overhead, supplies and hiring to insurance costs and taxes, plus having some extra cash for the unexpected. 
Having a solid financial plan in place will not only be key to securing any outside investment you may need, but it will help you set realistic expectations and manage your finances as you get off the ground. 
Dermer says your financial plan should start with your personal goals. "Maybe you want to make a million dollars and sell your company for a billion. Or maybe you just want to help people," he said. Regardless of the scale of your goal, you should make sure that your business model supports it. 
A wealth of resources online are available to help build financial plans, including free templates and sample plans. Check out BPlans, the U.S. Small Business Administration or sites like the Lonely Entrepreneur's Learning Community, which has a free two-week trial period. 
3. Identify Your Operating Priorities 
There will inevitably be a long list of tasks you'll need to accomplish to get your business off the ground. That could include raising startup money, assembling a team, launching a product and more. Dermer advises budding entrepreneurs to make that list, and then zero in on the top three priorities. 
"Given your go-to-market strategy and your financial plan, how do you take your scarce resources and all that passion and make sure that you're aligning it not to the million things you could do, but the three most important things you can do to advance your business," he said. 
Hope adds that some things you might be in a good position to handle yourself — maybe you're more comfortable with one aspect of the business, like accounting or marketing or SEO, that you feel confident you can lean into. 
But for areas that might be more challenging, take the path of least resistance. "If you need to hire an accountant or get help, I recommend to everyone to outsource as soon as you can afford it," Hope said. 
4. Know How To Scale 
While demand for your product sounds like a good problem to have, it's ultimately bad for your business if you can't keep up. 
"If your customers love your cookies, how do you produce cookies at scale to meet demand?" Hope said. "You can only work so many hours in a week." 
Explore your options and budget expectations ahead of time if you may need to hire employees, rent a larger space or invest in equipment. Make sure that your income or reserves will be able to fund any necessary expansion. 
Scaling your business isn't just about multiplying your product or service. Hope says business owners should also think about how they'll continue to find new customers in the future. "Do you have referral partners? What about sales and marketing? Think about at what scale you want it to exist, and how you'll generate demand for it." 
Ultimately, Hope stresses that whatever you might read online, it's probably going to be more work than it sounds. "The internet will tell you that it's simple and it's certainly not," she said. 
But with passion, grit, a good idea, some handy new skills and a solid business plan, you may be well on your way.
More From GOBankingRates
Make Your Money Work Better for You