How One Man Built a Multimillion-Dollar AI Company to Fight Crime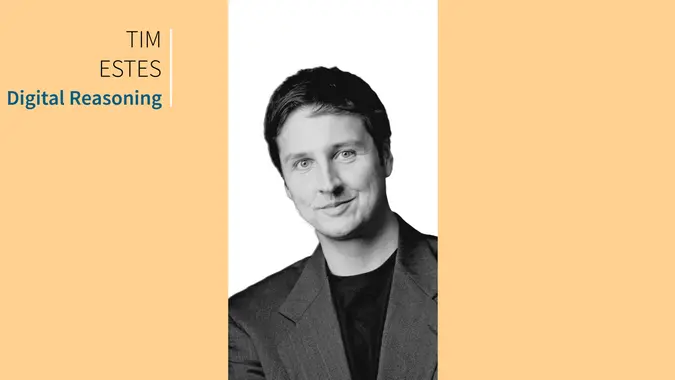 Tim Estes got the idea for the artificial intelligence platform Digital Reasoning back when he was a student at the University of Virginia. He wanted to create an online system that would recommend campus events based on a user's network and activities. The student council denied his request for funding, but he got the backing he needed his senior year from an economics professor at the school. 
Estes created Digital Reasoning as a way to use algorithms to find meanings and connections in language — a technology that the company has since applied to a number of fields, from government to finance to healthcare — and even to spot signs of human trafficking, for which Forbes nicknamed the company "Wall Street's Robocop." Since its founding, Digital Reasoning has raised $104 million in funding, according to Crunchbase, and it was named one of Forbes' top 50 fintech companies of 2019.
Each week, GOBankingRates sets out to discover what makes the people behind top companies tick. We like to call this series "Best in Business" — and Estes really is one of the best. He told us how he turned his first "real job" into a multi-million-dollar business, the importance of paying it forward and ways that you can find (or build) your own dream job, too. Below, find our favorite moments from the story of how Estes launched such a successful venture.
Up Next: 24 Tips to Change Your Career and Land Your Dream Job
He Experienced Such 'Profound Frustration' with Microsoft Word That He Launched a Company
It may sound silly, but I was inspired to start Digital Reasoning by a profound frustration from the software I was using while I was a student at the University of Virginia. While writing papers, it was unbelievable to me that Microsoft Word was not able to pick up on simple, repeated mistakes — this was back in 2000. But I realized then that software should be able to learn and make itself better.
Make Your Money Work Better for You
Someone had to build that software, and I thought, "Why not me?" It boils down to the fact that if something frustrates you enough, you should find a solution and build something that will be better… or at least you can try to.
At Digital Reasoning, our capability to learn and understand language was well ahead of the market. But putting our software into action in real-world situations was a huge challenge at first. This is something I had no appreciation for until we tried to do it.
Read More: How Gusto CEO Josh Reeves Turned Your Paycheck Into a $2 Billion Business
"We have used artificial intelligence to make an impact on human trafficking," explained our founder Tim Estes, speaking about the humanitarian impact of

#AI

at the 2018 Goldman Sachs Charity Forum. Read more about how we did it:

https://t.co/mREfgPbbxP pic.twitter.com/OcESP1fwKn

— Digital Reasoning (@dreasoning)

June 8, 2018
He Tapped into His Fear of Failure — and Losing Money — as Motivation
When I first started Digital Reasoning, I had no clue about the intricacies of fundraising — getting your hands on the capital to get the business off the ground. Luckily, I was fortunate enough that people made a bet on me and the company. A whole new fear sets in though, once you've taken people's money: the fear of losing it. It's easy to get anxious when people are putting their trust in you to make something of your business — and ultimately, there's a big risk of failing.
You have to remember that people know they can lose it all. For investors, the risk is hedged against the return. The issue is more of an integrity problem, but this fear ultimately gives us an obligation to try until we simply can't anymore.
Make Your Money Work Better for You
I think this mindset has shifted in recent years, with entrepreneurial culture today saying you should fail fast and move onto the next thing. For me, it was about giving my word and keeping it. Of course, you make a lot of mistakes along the way, but it's all about how you react to the fear of failing those that believe in you. Personally, I used it as motivation to not give up.
Discover: Doing Something That Scares You Could Help You Build Your Wealth
This Was His First 'Real Job,' So He Built a Workplace He and His Employees Would Care About
I started Digital Reasoning at 20 years old as a student at UVA, so it was my first "real job." Based on other experiences I'd gained during my time in academia, the most important lesson I learned is that you have to do the work to get people to believe it. As part of that, I realized that in order to get my own team on board with our vision, I had to lead the way.
Today, we idolize creative geniuses that, in many ways, treat their employees like garbage. They're pushy and brash — for some work environments, this can be effective. For my company, I knew this wasn't the culture I wanted to create. I think you need a measure of optimism, cheerleading your employees through successes, big and small, to keep them motivated.
I did not want to create a transactional culture, where executives simply see their employees as a means to an end. I wanted Digital Reasoning to be relational at its core to align with my own personal values. It was important to me that every employee level with each other and show charity toward one another. This is why we're able to attract such good talent. People want to be part of a business that doesn't only care about making money.
Make Your Money Work Better for You
Also See: 28 Genius Side Hustles You Never Knew Existed
He Harnessed the Power of AI for the Greater Good
I first started to understand the impact Digital Reasoning was having when we started to get recognition in the technology market and media for things we've done, from our work in stopping financial crimes at banks, to helping law enforcement combat sex trafficking with a nonprofit organization, Thorn. There are different things that have allowed us to rally around, and getting recognition for those initiatives drives a little of that.
There wasn't one event — such as a major contractor partnership — that made me admit our success. In some ways, you never feel like you're successful when you keep building something and chipping away at a problem. Sometimes it's nice to take a step back and look at the proverbial measuring stick of how people work in the culture of the company and the impact on the world.
As an entrepreneur, there are always economic measures of success, such as revenue or major contracts won. But the truth is that there isn't a one-size-fits-all scorecard. For me, it's about a bigger impact on the world. There's always going to be ups and downs in the market, but the one thing they can't take away from my company is there have been 8,000 children identified from trafficking in the U.S. based on the tech we've helped build. In the medical space, we've helped healthcare systems better detect diseases like cancer and speed up the time to treatment, so patients have a better shot at beating it. At Digital Reasoning, the impact of what we do is a major factor — and if you impact enough of the right things, you are a success.
Make Your Money Work Better for You
Do Good: Warren Buffett and Other Celebs Who Donate Millions to Charity
He Has Some Sound Advice for Anyone Who Wants to Start a Company
My biggest advice is to surround yourself with people that are building things and paying it forward. In that same vein, I try to pay it forward and help other entrepreneurs pick the right people to start with, both team members and investors. Having the right people around you, especially in the foundational years of a company, is essential.
Another piece of advice is to trust your gut. It may sound cliché, but the most difficult setbacks I faced were when I had convictions or saw red flags that I hadn't acted on. Then, after going against my gut, I started to realize I was right all along. In many cases, it's better to take the seemingly harder route and avoid those trade-offs. No matter how much longer it will end up taking, don't cut corners and take the easy route. In the end, it always ends up the worse decision.
Click through to read about how Halo Top took over the ice cream industry, according to the company's COO.
More on Money
We make money easy. Get weekly email updates, including expert advice to help you Live Richer™.
This interview has been edited and condensed.