From Pandemic Closures to Hiring Struggles, a Look Back at a Difficult Year for Small Businesses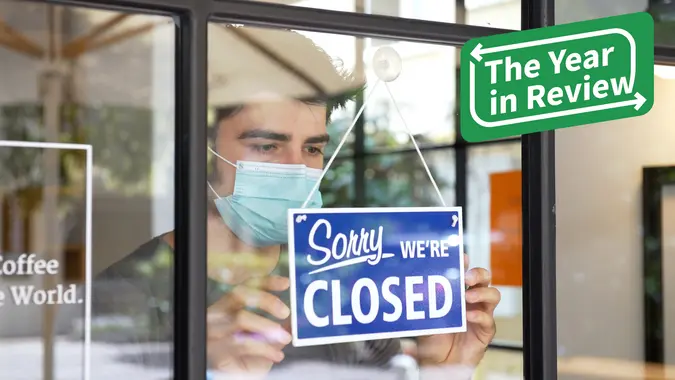 brightstars / iStock.com
There were 4.3 million new businesses created in 2020 — nearly 1 million more than were formed in 2019, according to U.S. Census Bureau data. But what has become of those businesses in 2021?
Here's a look at what the past year has meant for small businesses across the U.S.
The Pandemic Spurred the Need for More Healthcare Industry Small Businesses
An April survey conducted by Gusto found that among owners who started their businesses during the pandemic, healthcare and social assistance was the most popular industry, with 16% of new small businesses falling into this sector. Other popular categories were professional services (15.7%), food and beverage (15.5%), personal services (9%) and retail (7.3%).
Many Small-Business Owners Feared They Would Not Survive the Year
An estimated 20% of new businesses that started in 2019 (pre-pandemic) failed within one year. But the pandemic has exacerbated the fail rate, with recent research estimating that 130,000 businesses above the norm closed in 2020, Gusto reported. And as of April, small-business owners were fearful that an even larger proportion of their businesses would close this year. Among all owners, 51% estimated that their business would fail within the year without additional government support.
"In 2020, everyone was home and everyone was supporting small business because the whole world was shut down, there were stimulus checks to help keep the economy moving and a lot of influential people were promoting small business survival on social media," said Tricia and Hazel Arce, owners of The Toasted Mallow in Gilbert, Arizona. "This year, there hasn't been much of that. There aren't many programs to support small businesses and not much talk on keeping small businesses alive within the communities."
Make Your Money Work Better for You
Adding to the difficulty many small businesses have faced are supply shortages and the inflated costs of goods.
"This past year we have struggled more than the year previous," the Arces said. "We've had to increase prices on our products and on our shipping due to the price increase at the U.S. Postal Service and cost of goods. In 2020 we actually thrived, but in 2021 we are definitely head-deep in water due to the price increase on just about everything, from the boxes we use to the ingredients we use. A 50-pound bag of sugar was $19 in 2020 and now it's $38. It's been a struggle because when you're a small business, you don't get the price breaks that big corporations get buying in bulk."
A separate study conducted by UKG in November found that small businesses were more likely to be permanently closed than larger businesses: Across the U.S., 18% of all businesses — and 20% of small businesses — remain indefinitely closed.
Small Businesses Have Been Struggling To Hire New Workers
The Great Resignation has affected businesses both big and small, but it can have devastating effects on small businesses in particular. According to the National Federation of Independent Business, 48% of small businesses reported posting job openings in May that went unfilled. 
In order to attract and retain new talent, small businesses have been offering a number of new incentives in 2021, including bonuses, higher wages and additional benefits, such as free meals or discounted products, Gusto reported. 
Make Your Money Work Better for You
Despite these new incentives, small businesses have found it harder to recover workers — especially shift workers — than larger businesses. According to the UKG data, larger companies saw more than eight times the growth in shift work than smaller companies did in November.
"This past year, finding the right employees — or finding anyone who even wanted a job — has been a struggle," said Nicole Evans, owner of Elevated Grounds Coffee & Espresso in Lindon, Utah.
A lack of employees has led to a loss of income opportunities for some small-business owners.
"Due to the employee shortage, we are unable to frequent the yearly events that are held throughout the city, such as farmers markets and holiday markets," the Arces said.
Businesses Have Gotten Creative To Stay Open
Among the businesses that have survived in 2021, many have added new services to attract customers.
"As a local, small coffee shop, we have had to make certain changes with what we do so we can stay open, especially during the pandemic," Evans said. "We've opened up delivery services. By doing so, we are able to cater to those who stay home, whether for personal or work-related reasons. We are hoping to cater to those who enjoy being home during the holidays, especially if it snows."
Chris and Jessie Apple, owners of Little Rockers in Shrewsbury, New Jersey, have also made changes to their business over the past year.
Make Your Money Work Better for You
"Like many other small businesses who are lucky enough to still be here, we have pivoted and adapted how we work and what we offer," they said. "As a new option, we offer outside classes during the warm months and have developed an app for schools and families to do music class at home. This has helped us generate more income and allowed us to use our creativity in ways we always wanted."
More From GOBankingRates