Lowe's New CEO Is Shaking the Company Up Just a Week In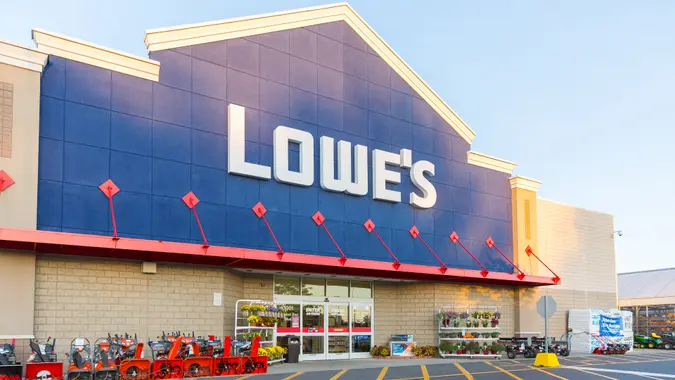 Helen89 / Shutterstock.com
New Lowe's CEO Marvin Ellison is restructuring the company's management team.
The company's net sales have increased by more than $8 billion over the last two years.
He's only been part of the company since July 2, but Marvin Ellison, Lowe's new president and CEO, is already making his mark. One week into his tenure, the home improvement chain announced a major shift in its management team.
Under the new structure, several top positions at Lowe's have been eliminated, including chief operating officer, chief customer officer, corporate administration executive and chief development officer. Three new executive vice president positions have been created in the merchandising, stores and supply chain divisions, respectively.
Is the ability to make big moves like this something investors look for in a CEO?
"We have taken a fresh look at our organizational structure and are realigning our leadership team to improve our focus, better leverage Lowe's omni-channel capabilities and deliver increased value for our customers, associates and shareholders," Ellison said in a statement.
Today's store training focus in online fulfillment and store systems. We have a great group of Associates who are eager to win!!

pic.twitter.com/QHJDPFifCu

— Marvin Ellison, President & CEO of Lowe's (@MarvinREllison)

July 6, 2018
The reorganization is effective immediately, and all other members of the executive team will remain intact.
Don't Miss: The Most Outrageous CEO Salaries and Perks
Make Your Money Work Better for You
It will be interesting to see how Ellison's restructuring impacts Lowe's already-healthy bottom line. The company realized net sales of $68.6 billion in 2017, up from $65 billion in 2016 and $59.1 billion in 2015.
Ellison previously served as the chairman and CEO of J.C. Penney Co. He took the helm of the struggling retailer in November 2014. During his tenure, the company retired $1.4 billion in debt, strengthened its revolving credit facility and boosted its financial position, according to a statement from the retailer.
GM's Profits Are Soaring: 8 Genius Reasons Why From CEO Mary Barra
No stranger to shaking things up, Ellison made several changes to J.C. Penney leadership. In November 2017, the company announced a realignment of its merchandising organization and restructured its senior leadership team in March 2018.
A tenured home improvement industry professional, the job at Lowe's seems like a natural fit for Ellison. He previously spent 12 years in senior-level operations roles at The Home Depot, including executive vice president of U.S. stores. In that position, he led the operations of the company's nearly 2,000 stores in the U.S., Guam, Puerto Rico and the U.S. Virgin Islands.
Not everyone can start big, just take a look at these people who went from entry level to CEO.
More on Business
Make Your Money Work Better for You