Jeff Bezos Has a New Focus – What Will It Mean for the World?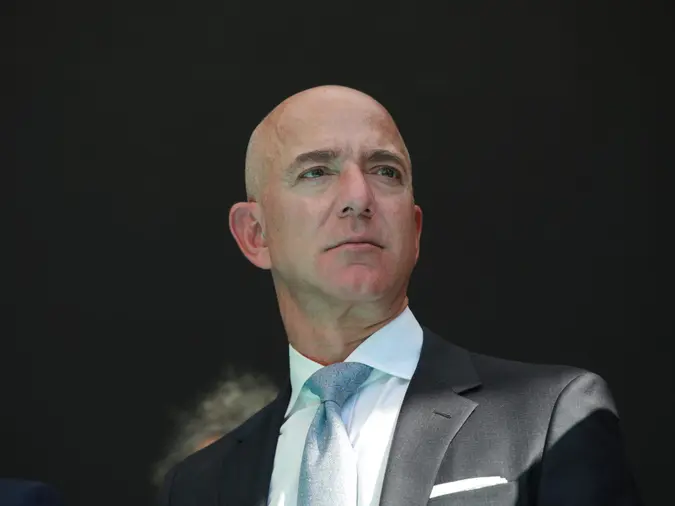 AHMET SEL/SIPA/Shutterstock / AHMET SEL/SIPA/Shutterstock
Jeff Bezos announced he would be stepping down as Amazon CEO in the third quarter of 2021, leaving Andy Jassy to replace him. Jassy currently heads Amazon Web Services, the cloud computing arm of the online retail giant. Amazon chief financial officer Brian Olsavsky said in a conference call with Wall Street analysts that it has yet to be determined who will take over Jassy's position with AWS, noting, "We'll talk more about that in the future."
See: What Bezos Stepping Down Means for Amazon Investors
Find: How Rich Are These Top CEOs?
As for Bezos, Olsavsky said the billionaire will focus on strategic issues such as mergers and acquisitions when he transitions to his new role as executive chair of the board.
In a memo to employees announcing his resignation as Amazon CEO, Bezos noted that he also wants the time to focus on other venues, including the Bezos Climate Fund, the Bezos Day One Fund, The Washington Post, which he purchased for $250 million in 2013, and Blue Origin, his space flight company.
Make Your Money Work Better for You
Some of these initiatives, like the Post, undoubtedly sound familiar. But what's the past, present and future of these organizations – and how far will Bezos take them with his newfound time?
See: Here's What Happened When These Famous Founders Left Their Companies Behind
Find: Amazon Closes 2020 With Record Earnings, Starts New Year With Announcement That Jeff Bezos Is Stepping Down as CEO
The Bezos Climate Fund Supports Advocacy Groups
Although Amazon was recently the target of jokes for shipping customers' purchases in comically large boxes, the company has shown its commitment to sustainability in many ways. According to the Amazon site, the online retailer has reduced packaging waste by more than 33% since 2015. The introduction of recyclable mailers and working with manufacturers to reduce packaging waste were important steps.
Bezos personally invests in fighting climate change through the Bezos Climate Fund, a $10 billion fund created in February 2020. To start, Bezos selected 16 environmental advocacy groups that will receive a total of $791 million from the fund. The Verge reports that the $10 billion fund represents about 7% of Bezos' total net worth and is 10 times more than the total donations made worldwide in 2018 toward fighting climate change.
Make Your Money Work Better for You
See: Joe Biden's Plans for the Shocking Costs of Climate Change
Find: Global Catastrophes Jeff Bezos Could Fix and Still Be the Richest Man in the World
The Day One Fund Aids Underserved Communities
Until the last few years, Bezos had not been recognized as one of the most generous billionaires. He opted out of The Giving Pledge, where the world's wealthiest people have vowed to donate 50% of their net worth either throughout their lives or in their wills, according to The New York Times.
As he steps down from his day-to-day role with Amazon, he plans to focus more on his own initiatives aimed at helping others. The Bezos Day One Fund helps nonprofits focused on aiding families struggling with homelessness. The Day 1 Families Fund supports organizations and civic groups working to provide food and shelter for families on a local level. Finally, the Day 1 Academies Fund arm of the organization is focused on building full-scholarship preschools in underserved communities. The preschools will follow the Montessori method and will employ Amazon's customer-first principles to ensure quality education.
Make Your Money Work Better for You
See: As Jeff Bezos Prepares to Step Down as CEO, How Much Is the Iconic Billionaire Worth?
Find: MacKenzie Scott, Jeff Bezos' Ex, Just Gave Away $4.2 Billion; Now One of World's Top Donors
The Sky's the Limit for The Washington Post
Bezos purchased the Washington Post in 2013, turning the struggling newspaper into a thriving media company. Within three years under Bezos' helm, the Post became profitable once again, doubling its web traffic and adding 250 people to its newsroom, according to CNN. By 2019, the Post had more than 1.5 million paid subscribers.
Who knows what the future will bring for the Post as it benefits from even more of Bezos' attention. In a 2018 interview at The Economic Club of Washington, he said, "I know that when I'm 90, it's going to be one of the things I'm most proud of, that I took on The Washington Post and helped them through a very rough transition."
See: Jeff Bezos' Most Outrageous Business Failures
Find: How Jeff Bezos Built Amazon Into What It Is Today
Can Bezos Take Blue Origin to the Moon?
Blue Origin was one of only three private space flight companies that received NASA grants as part of the Artemis program, an initiative striving to put American astronauts on the moon again by 2024. The company received $579 million, the lion's share of the award money, Spaceflight Now reported. Blue Origin has partnered with Lockheed Martin, Northrop Grumman and Draper to create a three-stage Integrated Lander Vehicle. The Human Landing System can launch on commercial rockets, such as those created by Blue Origin, or on NASA's Space Launch System.
In December 2020, Blue Origin also received a NASA Launch Services contract for its New Glenn reusable launch vehicle capable of carrying satellites, scientific equipment and other payloads into orbit.
See: Biden Appoints Acting NASA Administrator, Space Stocks Skyrocket
Find: Elon Musk's Biggest Bets That Paid Off
Although space journalists and policy experts tend to believe President Joe Biden may extend the deadline to reach the moon, the Artemis project is likely to continue. Plus, as Biden has said he wants to put more of NASA's budget into environmental studies to combat climate change — a cause Bezos' obviously feels strongly about, as well — there's a high likelihood that Blue Origin could play additional roles with the space agency.
All this as noted space rival Elon Musk's SpaceX rockets and Crew Dragon vessel took U.S. astronauts safely to the International Space Station and back. Certainly, a private "space race" between the two billionaires can only be beneficial toward the future of U.S. space travel.
More From GOBankingRates:
Make Your Money Work Better for You