Numbers Behind the Modern-Day Space Race: Why Billionaires Are Obsessed With Going To Space and How Much They're Spending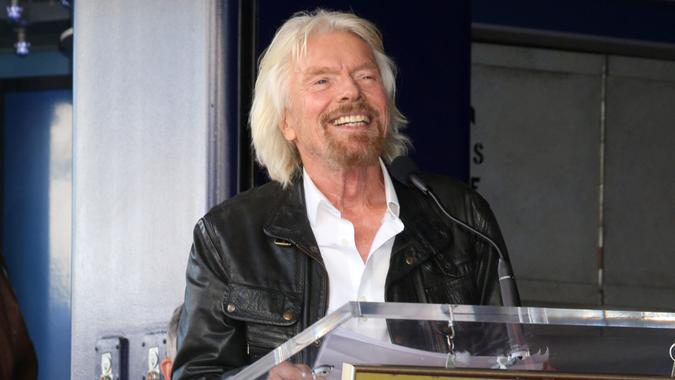 Kathy Hutchins / Shutterstock.com
There's a new space race in the world, but this one isn't being driven by competing governments, but rather by billionaires. Some of the biggest names in business, from Richard Branson to Jeff Bezos and Elon Musk, are all pumping billions of dollars into various space ventures. A combination of a childlike love of space, an insatiable drive for success and a seemingly unlimited amount of available capital has vaulted these billionaires atop the pyramid when it comes to the next generation of space travelers.
Show Support: Don't Miss Out on Nominating Your Favorite Small Business To Be Featured on GOBankingRates — Ends May 31
From space tourists taking a brief suborbital flight around the Earth to human beings flying to Mars, the next few decades look particularly exciting for space fanatics, thanks to the vision — and the money — of these well-known billionaires.
Richard Branson
Philanthropic billionaire Richard Branson is, among many other things, the founder of the Virgin Group. One of the many companies under the Virgin Group umbrella is Branson's spaceflight company Virgin Galactic. Coupled with its sister company The Spaceship Company, Virgin Galactic is creating spacecraft that will ultimately be used for a number of services, from transporting passengers to Earth-orbiting hotels or laboratories or providing rapid transcontinental travel. 
Make Your Money Work Better for You
Read: Weird Things Top Billionaires Have in Common
In discussing the reason for developing his company, Branson has said that "I have dreamed of experiencing the view of Earth from space ever since I watched the Moon landings as a child." Although the first human flights on Virgin Galactic have been delayed, Branson now anticipates that his company's first commercial spaceflight will lift off in 2022. 
Virgin Galactic currently has a valuation of about $5.2 billion.
See: 5 Space Stocks To Keep Your Eye On
Jeff Bezos
Jeff Bezos is the richest man in the world, and among the numerous other projects he's funding, his spaceflight company Blue Origin has generated perhaps the most buzz. Founded in 2000, Blue Origin has focused on returning to space in a more cost-effective manner by reusing rocket-launch materials. On April 29, Bezos announced that Blue Origin would soon be selling tickets for rides on its New Shepard rocket, with the price estimated at around $250,000.
Make Your Money Work Better for You
The vision behind Blue Origin, extends much further than simply shuttling tourists to space on a joy ride. Blue Origin envisions a future in which millions of people are living and working in space, and it plans to build a road to space using its infrastructure of reusable materials. Bezos has been quoted as saying that he sells about $1 billion per year in Amazon stock to help fund Blue Origin.
Discover: Jeff Bezos Has a New Focus – What Will It Mean for the World?
Elon Musk
Elon Musk is well known as the CEO of the electric vehicle company Tesla, but he's another billionaire who has his hands in a lot of pots, including his space exploration company SpaceX. In a feverish competition with Blue Origin to launch the first commercial spaceflight, SpaceX has already had a number of well-publicized successes, including a recent $2.9 billion contract from NASA to build a moon lander. It also has a string of accomplished missions taking astronauts to the International Space Station and returning its booster safely to the Earth via self-landing on a launchpad, a remarkable feat.
Make Your Money Work Better for You
In the first quarter of 2021, SpaceX raised $850 million from investors, giving it a valuation of $74 billion. According to Musk, he originally put $100 million into the company when he founded it in 2002. 
More: Elon Musk's Biggest Bets That Paid Off
Robert Bigelow
No one has yet matched the ambition and success of "The Big Three" billionaires when it comes to the new space race. However, that doesn't mean that others aren't looking to toss their hats into the arena. Robert Bigelow, the billionaire owner of Budget Suites of America, is also the founder of Bigelow Aerospace, which creates expandable, habitable architecture for space. The company has already launched two subscale spacecraft, Genesis I and Genesis II, into orbit, and its Bigelow Expandable Activity Module, or BEAM, is currently attached to the International Space Station. Mr. Bigelow himself has thus far funded the entire operation, to the tune of $350 million.
More From GOBankingRates
Last updated: May 4, 2021
Make Your Money Work Better for You