Pfizer Beats Revenue, Misses EPS Expectations, Says It Will Deliver 200 Million Doses by May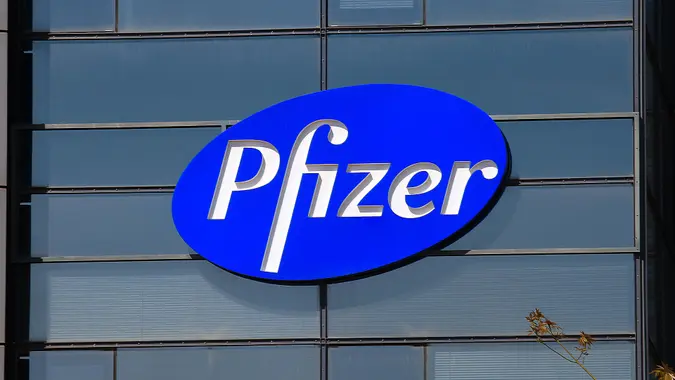 StockStudio / Shutterstock.com
Pfizer (NYSE: PFE) reported its fourth-quarter earnings and full-year revenue today, missing earnings-per-share estimates but beating revenue.
See: Should You Invest in Vaccine Stocks Right Now?
Find: Companies That Exceeded Expectations Last Quarter
The company reported EPS of $0.42, compared to the consensus EPS estimate of $0.46, according to Seeking Alpha. Revenue stood at $11.7 billion in the fourth quarter, compared with the consensus revenue estimate of $11.32 billion.
The company said its revenue increased 12%, or $1.2 billion, compared to the prior-year quarter.
On Dec. 11, 2020, Pfizer became the first company to receive a Food and Drug Administration emergency use authorization for its COVID-19 vaccine. The two-dose vaccine has a 95% efficacy rate. As of Jan. 31, Pfizer said it has supplied 65 million doses globally, of which 29 million doses were supplied to the U.S. government, according to slides accompanying the earnings release.
See: Biden Administration Orders 200 Million Additional Vaccines
Find: COVID Antibody Treatments Show Potential as Vaccine Roll-Out Stumbles; Regeneron Stock Soars
The company also said that it expects to deliver 200 million doses to the U.S. government by the end of May and can "potentially deliver [approximately] 2 billion doses by the end of 2021."
Dr. Albert Bourla, Pfizer chairman and chief executive officer, said in the earnings statement that 2020 has been a transformational year.
Make Your Money Work Better for You
"Right away, our ability to move quickly and utilize cutting-edge science to help address the world's most important medical challenges was put to the test by the COVID-19 pandemic," Bourla said in the statement. "Our record-breaking success at developing a vaccine against COVID-19, along with our partner BioNTech, is just one example of what we believe this new Pfizer is capable of achieving. As the world looks forward to 2021 with renewed hope for better days ahead, we also look forward with renewed confidence and resolve in our ability to fulfill our purpose, to deliver breakthroughs that change patients' lives."
See: Moderna Vaccine Gets Thumbs Up from the FDA; Stock Market Surges
Find: UK Approves AstraZeneca Coronavirus Vaccine on the Heels of New Strain Discovery, Pharma Stocks a Buy
Pfizer also issued financial guidance and expects 2021 revenue to be between $59.4 billion and $61.4 billion, according to the statement. "These projections broadly reflect a continued recovery in macroeconomic and healthcare activity throughout 2021 as more of the population becomes vaccinated against COVID-19. These assumptions are guided by the trajectory of current infection rates in many parts of the world and the expected timeline for broad access to effective vaccines."
Make Your Money Work Better for You
More From GOBankingRates:
Make Your Money Work Better for You