OxyContin Maker Agrees To Plead Guilty in $8.3 Billion Settlement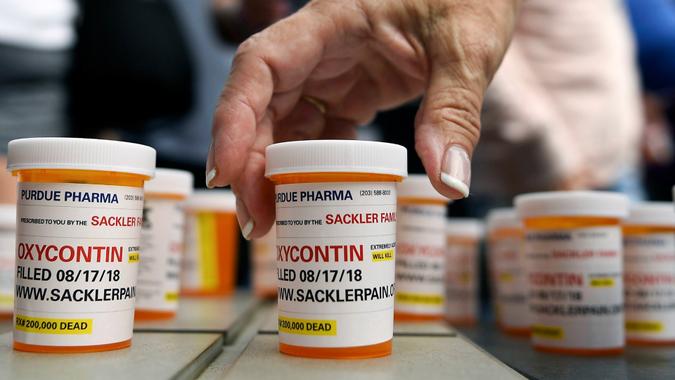 Jessica Hill/AP/REX / Shutterstock.com
Purdue Pharma, maker of the prescription opioid OxyContin, has agreed to plead guilty to three federal criminal charges as part of an $8.3 billion settlement, Fox Business reported. The settlement includes a criminal fine of more than $3.5 billion, $2 billion in criminal forfeiture and a civil settlement of $2.8 billion. This would put Purdue among the major companies that have lost big money in lawsuits.
The guilty plea is expected to include one count of dual-object conspiracy for defrauding the U.S. and violating the Food, Drug, and Cosmetic Act, and two counts of conspiracy to violate the Federal Anti-Kickback Statute. As part of the plea, Purdue will admit that it reported misleading information to the Drug Enforcement Administration to increase its manufacturing quotas. The two violations of the anti-kickback law involve paying doctors to write more prescriptions for opioid drugs and using electronic health records software to influence the prescription of pain medication.
Because Purdue is in the middle of bankruptcy proceedings, a bankruptcy court still needs to approve the settlement. If it is approved, Purdue would become a "public benefit company." This means it would be governed by a trust and that the wealthy Sackler family — who currently owns the company — would no longer be involved with Purdue.
The settlement deal would not expunge any of the company's executives or owners from criminal liability, as a criminal investigation is ongoing.
Make Your Money Work Better for You
Still, critics of the settlement deal say it does not go far enough. Last week, 25 state attorneys general sent a letter to Attorney General William Barr urging the Justice Department to "avoid having special ties to an opioid company" that "caused a national crisis," NPR reported. Numerous Democratic Congress members also sent a letter to Barr stating that any resolution reached should involve prison time for Purdue's owners and executives.
"Purdue and the Sackler family perpetrated one of the most egregious criminal acts in American history," lawmakers said in the letter obtained by NPR.
From 1999 to 2018, nearly 450,000 people have died from an overdose involving an opioid, according to the Centers for Disease Control and Prevention. Federal officials have long stated that Purdue's actions helped fuel the deadly prescription opioid epidemic.
Does this rank as one of the biggest scandals in business?
More From GOBankingRates
Make Your Money Work Better for You
Make Your Money Work Better for You