The Rise and Fall of Sears
From mail-order watches to department stores around the world, here's the complete Sears history.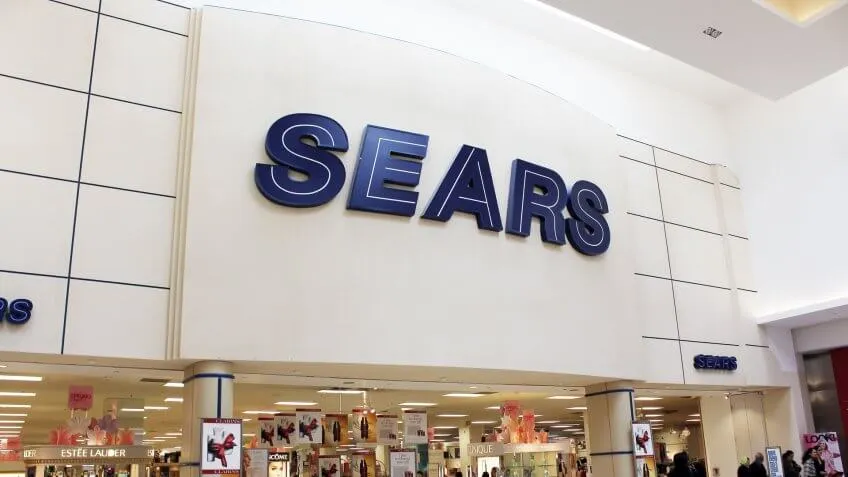 Niloo / Shutterstock.com
Amazon might be synonymous with getting goods delivered to your door in 2017, but in 1895, Sears was the cutting-edge way to buy products. The Sears, Roebuck and Company catalog gave rural families low-cost products and greater choices than they could find in their local general stores.
Over the years, Sears branched out into everything from auto repair to insurance and home sales, but the company has been struggling as of late. Sears store closings in recent months have sparked concerns about the company filing for bankruptcy.
Here's a look at Sears' dynamic history, its rise to retail royalty and it's slow, steady decline to near obscurity.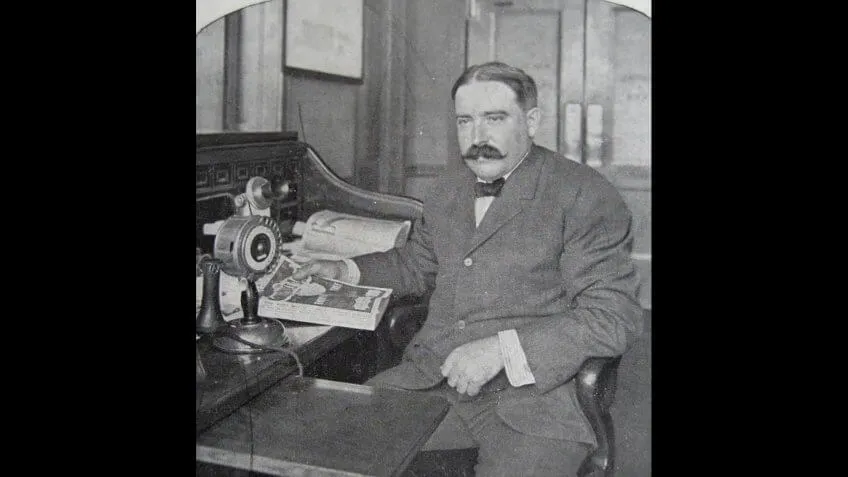 Boston Public Library / Flickr.com
A Company to Watch Out For
At 17, Richard W. Sears worked as a station agent for the Minneapolis and St. Louis Railway to support his widowed mother and sisters. While working at this job, a small but life-changing event set the stage for what would become the department store giant.
When a local jeweler refused a shipment of watches,Sears got permission from the manufacturer to sell the watches himself at a low price. He netted $5,000 --nearly$124,000 by 2017 standards — for his efforts and started his own mail-order watch business in 1886, calling it the R.W. Sears Watch Company.
It didn't take long to see the need for watch repair as a supplementary part of the business. Less than a year later, he joined forces with Alvah C. Roebuck to repair watches. The business moved to Chicago and published a mail-order catalog inviting customers to buy watches, jewelry and even diamonds, all with a money-back guarantee.
Sears sold his successful mail-order business for $100,000 — more than $2.5 million today — just three years after he started it. Afterward, he moved to Iowa to become a rural banker.
©Amazon
History Repeats Itself, Then Moves Forward
Rural banking left Sears restless, so he returned to Minnesota and reconnected with his old partner Roebuck two years after he'd left. Together, they morphed the mail-order watch and jewelry business — then known as the A.C. Roebuck Company-- into Sears, Roebuck and Company and moved to Chicago in 1893.
By that time, the catalog had rolled out 196 pagesthat went far beyond just watches and jewelry. With 65 percent of U.S. citizens living in rural areas at the time, Sears, Roebuck and Company were on the cutting edge of accessibility, making things like musical instruments, sewing machines, bikes and shoes easily available through mail-order. You could even buy kits to build your own home through the catalog. Within a year, the catalog had grown to 507 pages and was written almost entirely by Sears.
In 1895, Roebuck sold his one-quarter interest in the company to clothing manufacturer Julius Rosenwald, whose administrative skills worked as an ideal match for Sears' creative marketing. Where Sears' catalogs created demand, Rosenwald's redesign for more efficient customer service kept buyersloyal.
When Rosenwald came on board in 1895, the company had annual sales of$750,000,the equivalent of $20.6 milliona year by today's standards. By 1907, the company's annual sales had skyrocketed to $50 million, more than $1.2 billion in today's money.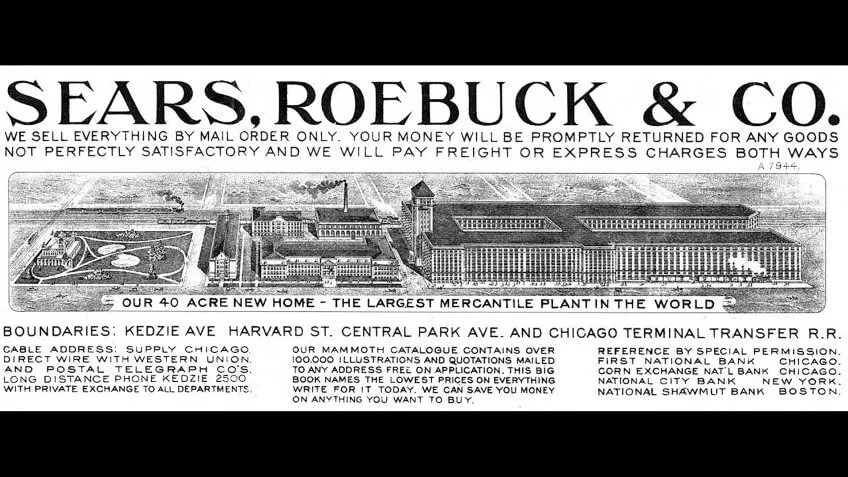 Sears, Roebuck & Co. / Wikimedia Commons
A Store Is Born
The runaway success of Sears, Roebuck and Company inspired its creators to build a merchandising plant covering 41.6 acres on Chicago's west side in 1904. With nine stories and 3 million square feet of floor space, the mail-order plant was the largest building in the world at the time. The complex was also home to the original Sears Tower, and included a one-story power plant to provide all its heating and cooling needs.
The power plant wasn't the only self-sufficient addition to the complex, though. It had its own company fire department, some of the earliest in-building sprinklers, a bank, a cafeteria and 9 miles of pneumatic tubing for transporting letters between departments. Its u-shaped design even incorporated railroad tracks. The complex also housed extensive athletic fields and sports facilities for employee use. Sears referred to it as a "city within a city" and it served as company headquarters until the second Sears Tower lanced its way into the Chicago sky as the world's tallest building in 1974.
By 1925, automobiles had become more easily accessible to American families, so Sears opened its first department store in the expansive merchandise building. Besides buying products, shoppers could refresh themselves at a soda fountain or get new glasses at the store's optical department. As the population shifted from rural areas to cities, Sears opened more Chicago area stores. Its sixth Chicago location opened downtown on State Street and employed more than 1,000 people during the Great Depression.In 1931, retail sales exceeded catalog profits for the first time. By 1933, 400 stores were open across the nation.
Related: 15 Best Luxury Shopping Destinations Around the World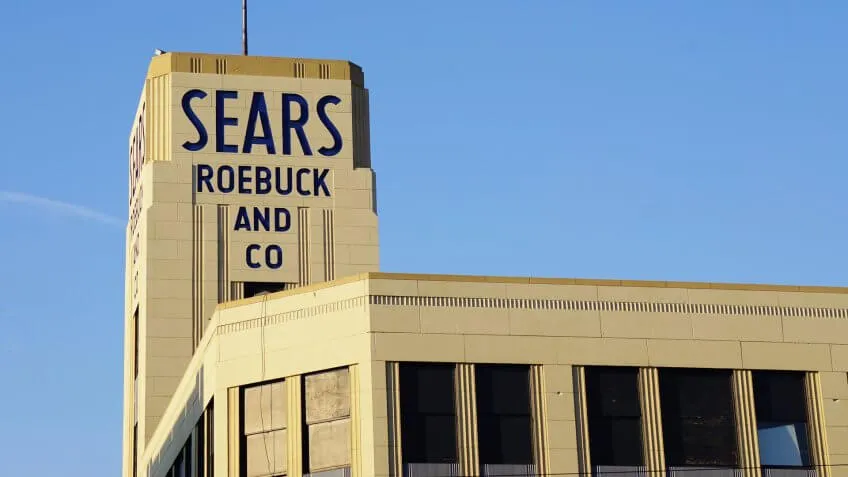 EQRoy / Shutterstock.com
The Company Heyday
With the opening of the stores, Sears moved from being the largest mail-order business in the country serving a primarily rural population to being the most successful department store in the coutry. During World War II, Sears president General Robert E. Wood directed the company to research the anticipated needs of the country once peace time returned instead of pinching pennies during the war.
The company expanded as it gained momentum, buying Encyclopædia Britannica in 1920 and founding Allstate Insurance Co. in1931. Stores began to spread worldwide, including Canada, Mexico, Europe, Central America and South America. Although growth slowed during World War II, 1945 sales exceeded $1 billion, the equivalent of $13.5 billion today. Its repair services grew far beyond just watches and jewelry: Sears stores expanded to provide auto, electronic, appliance and HVAC repair. Today, the company makes more than 14 million service calls yearly.
Sears developed its own appliance lines throughout the years. Some of the best known are Craftsman, Kenmore and DieHard. Well-known clothing lines include Jaclyn Smith and Joe Boxer.
The company was the undisputed king of the retail industry throughout most of the 20th Century, though Walmart took the throne in 1994.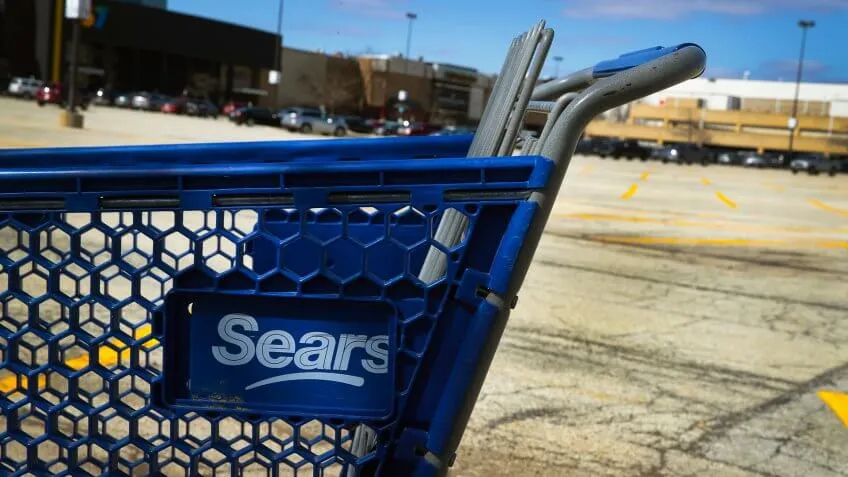 Scott Olson / Getty Images
Repeated Restructuring
The retail industry giant entered the financial industries arena in 1980. The move started with renaming the company Sears Merchandise Group, and includedacquiring Dean Witter Financial Services Group and Coldwell Banker Real Estate Group to form Sears World Trade. By 1992, the company's revenue reached $59 billion.
But only a year later, the companyrestructured again, selling 20 percent of its shares of bothDean Witter and Allstateto the public in an IPO. The rest were offered to Sears shareholders as spinoffs. The company also sold Coldwell Banker Residential Services shares, Sears Mortgage Banking Group shares and Homart Development Group. The sales netted Sears about $4 billion to reduce its corporate debt.
Thereafter, the company returned to its retail roots. It restructured its operations to keep pace with modern consumerism, closing the traditional U.S. catalog operations and embarking on a $4 billion store upgrade. By 1997, Sears debuted its first of itsGreat Indoors Stores, which would last until 2012.
Sears didn't ignore online consumers during restructuring. In 1998, it introducedWishbook.com, a website that now clicks into the Sears.com site introduced in 1999. In 2001, Sears announced a Room for Kids specialty catalog and website featuring furniture, bedding and decor specially designed for children.
By the end of 2000, Sears stores anchored 863 shopping malls. Most locations included a Sears Auto Center where consumers could get routine maintenance and buy everything for their car from tires to batteries. More than 1,200 smaller Sears stores included home and garden related products, major appliances, power tools and the traditional Sears watches and jewelry.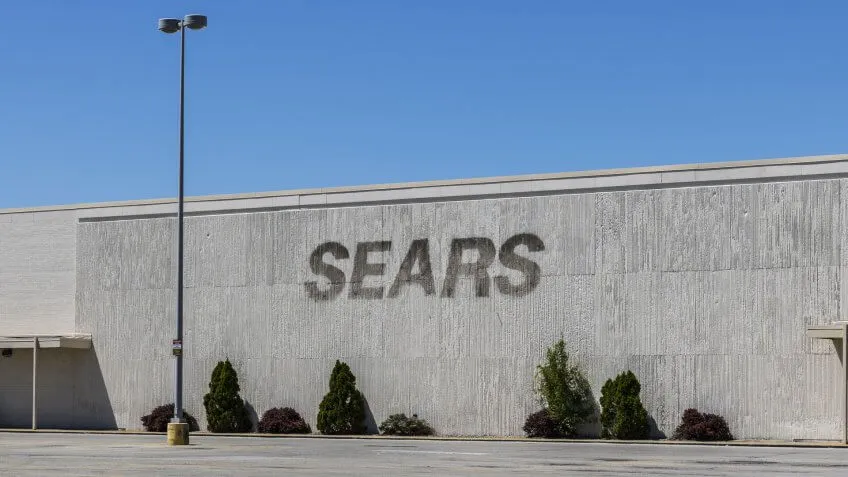 Jonathan Weiss / Shutterstock.com
A Bleak Future?
Though its rise to the top was fairly rapid, its downfall has been long and hard. Sears was the star of its day, but it fell behind retail industry giants like Walmart and Amazon. The trend isn't unique to Sears, however. Forbes reported that nearly 3,600 retail stores will close this year alone.
Sears merged with Kmart in 2004, but even in a reworked orchestration known as the Sears Holdings, it failed to keep pace. Revenues decreased steadily starting in 2006, and the core company today is worth less than $1 billion.
The company's solution to its financial woes includedhundreds of Kmart and Sears store closings and the selling of some of its name brands. Craftsman, Kenmore and DieHard had a collective value of up to $3 billion leading into 2017, but in January, Sears sold Craftsman to Stanley Black &; Decker for $900 million.
Sears Holdings Chairman and CEO, Eddie Lampert, denied that the company is folding. In a May 2017 press release, he stated, "For far too long, many commentators have rushed to conclusions about the future of our company. Not only have these predictions been off the mark and based on incomplete and selective information or biased sources, but they have also been harmful ... while it hasn't been easy, we are still here and fighting hard."
Later that month, Sears negotiated a deal with its lenders to extend the deadline on its $500 million debt repayment. Originally due in July, the company will now have until January 2018 to pay back the loan, with the option of another six month extension. Sears also reported passing off $515 million in pension obligations to MetLife. The company said these moves were in support of its goal to reduce outstanding debt by $1.5 billion during the 2017 fiscal year.
In Memoriam: Companies That Went Out of Business in 2016