Sheldon Adelson, Billionaire Casino Owner and GOP Megadonor, Dies at 87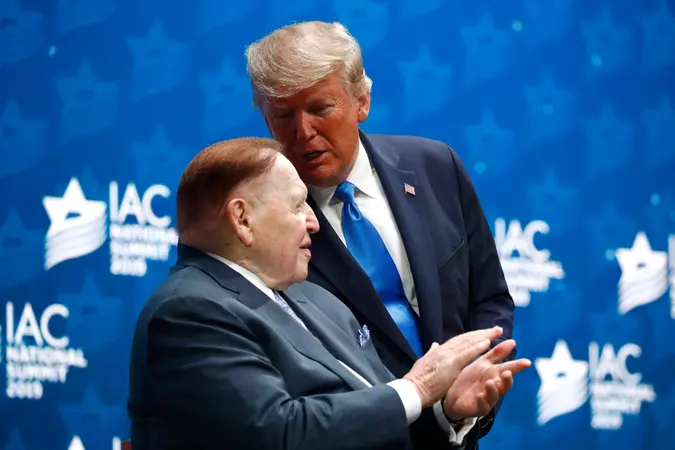 Patrick Semansky/AP/Shutterstock / Patrick Semansky/AP/Shutterstock
Sheldon Adelson, billionaire casino owner and CEO of the Las Vegas Sands, died from complications related to cancer treatment for non-Hodgkin's lymphoma. The Las Vegas Sands issued a statement early Tuesday, followed by a statement from his wife, Dr. Miriam Adelson, 75, published in the Las Vegas Review-Journal, a publication owned by the Adelsons. "It is with unbearable pain that I announce the death of my husband, Sheldon G. Adelson, of complications from a long illness," she said. "To me — as to his children, grandchildren, and his legions of friends and admirers, employees and colleagues — he is utterly irreplaceable."
See: Watch Out, These Billionaires Could Buy Your CityFind: These 47 Billionaires Got Richer During the Pandemic
Forbes reports Adelson's net worth at $34.7 billion. Former President George W. Bush called Adelson "a generous benefactor of charitable causes, especially medical research and Jewish heritage education."
Adelson was also a staunch supporter of the Republican Party, giving tens of millions to Newt Gingrich and Mitt Romney in 2012. In 2020, he donated more than $430 million to conservatives, including President Trump. His paper was the only one to endorse Trump in the 2016 election.
See: How Much Money Warren Buffett, Dana White and 35 Other CEOs Are Pouring Into the ElectionFind: Betty White, Cher and 48 More of the Richest Stars Over 70
A self-made business magnate and billionaire, Adelson was a Boston native who made his first dollars selling newspapers on city street corners at age 12. He went on to own the Las Vegas Review-Journal and Israel Hayom. In 1989, he purchased the Sands Hotel and Casino for $128 million, turning the resort into a global brand with properties across the U.S. and Asia. Sands employs more than 51,000 people globally and was the only U.S.-based casino company that did not institute layoffs in 2020 due to the coronavirus pandemic, CNBC reports.
Make Your Money Work Better for You
On Jan. 7, Adelson took leave from his position as CEO of the Sands to resume cancer treatment, leaving Robert Goldstein as acting chairman and CEO. Adelson's funeral will take place in Israel, with a memorial service in Las Vegas to be held at a later time, said the Las Vegas Sands in a statement.
More From GOBankingRates: