Small Business Thoughts: Should You Open a Brick-and-Mortar Store?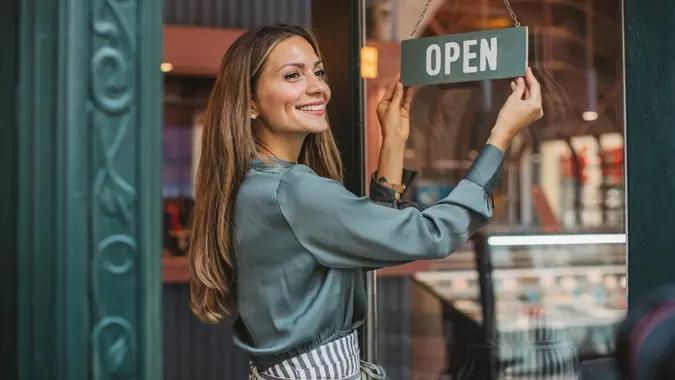 svetikd / Getty Images
After having two children and taking a hiatus from her job as a pharmacist, Chelsey Hancock wanted to return to work, but felt she needed a different environment.
"People come in and they're not in a good mood. They feel sick and they just want to go home. As much as I tried, I felt like I was never really able to make customers happy as a pharmacist, and I found that very frustrating," she said.
She baked great cookies, though — large, mountainous treats in fun, creative flavors like root beer float and strawberry shortcake. So in spring of 2020, she decided to give it a go selling them at her local farmer's market in Burien, Washington, a suburb of Seattle.
"It was around the start of COVID and I thought, cookies are a great individual item, you can drop them off at a friend's house without contact, and the flavor options are endless," Hancock said.
After several successful months at the market, she began thinking about opening her own brick-and-mortar shop. She had her doubts, but the experience of unexpectedly losing her father, who had been a chef, to cancer 12 years earlier had imbued her with a "seize the day" attitude that inspired her to take the leap.
"You don't know what your time on this earth is going to be, so if you don't take the opportunities you're presented with, you'll never know what could come of them," Hancock said. 
Make Your Money Work Better for You
Having such heart and passion is one of the essential elements of opening a successful shop, says Wendy Batten, a small retail business coach. "You have to have vision and dreaming, because that's where we win," Batten said. "That's what the big-box stores don't have."
Before deciding whether to open a physical store to pursue your small business aspirations, ask yourself the following questions — and make sure you know the answers.
Do you know your numbers? 
Passion will only get you so far if you don't have a handle on your numbers. 
"This is the one area people want to avoid, or it's not first on their list because they're so busy," Batten said. "You have to master your inventory, you have to understand your margins, and you have to be financially literate. That's not easy for a lot of heart-centered businesses." 
Hancock dreaded the idea of accounting and bookkeeping. Fortunately, she had support from her mom, who had years of experience managing restaurant operations and joined as her business partner (and part-time babysitter). Plus, with her husband's income sufficient to support their family, Hancock felt free of the pressure of her livelihood depending on cookie sales. 
"Opening a new business is exciting, but it's important to make sure you're set up for success before jumping in head first," said Ana Wight, GM of Retail for Lightspeed, a retail commerce platform.
"A successful opening is dependent on having a strong plan that has covered as many details and contingencies as possible. You should take the time to understand everything associated with opening a retail business — from the more obvious variables like your rent, inventory, and marketing costs, to the more murky ones, like business licenses and insurance," Wight said.
Make Your Money Work Better for You
Are you willing to learn? 
After scoping out some possible locations, Hancock found a retail storefront on her city's historic main drag. She did some renovations and in the fall opened Treat Cookies, a cheerful shop with big front windows, whimsical arched doorways and bubblegum pink walls.
In the process of renovating the space and scaling up her cookie operations, she says she learned things she never expected she'd need to know, including the ins and outs of older electrical systems, supply chains, and hiring and training employees.
"That's actually something that really attracted me about owning my own business — that there are so many opportunities to learn new things," Hancock said. 
Willingness to learn is another quality that Batten says is a must-have for business owners. "Everybody has limitations and none of us knows it all," she said. It's important to identify your strengths and weaknesses, fill in your knowledge gaps, and delegate where you need to. "That's the CEO mindset," Batten said. 
Being the CEO and the boss also means being a strategic planner. That includes having a broad view of future events and staying on top of industry trends. "Planning is a big part of being a retailer so that you're not winging it," Batten added. 
What's your marketing plan? 
The last key piece of brick-and-mortar success, according to Batten, is being "a tremendous marketer." 
Make Your Money Work Better for You
"A lot of people say, 'Oh, I just post on Facebook when I have time.' But understanding the marketing side is an engine that has to be a part of your business — and that doesn't mean social media," she said. "It's understanding your customer base and being continuously innovative in your marketing strategy."
Beyond your brick-and-mortar shop, an online presence is still a must. That point was emphasized by the pandemic, when countless local businesses were caught off guard, scrambling for their survival to build e-commerce channels overnight. Hundreds of thousands closed.
COVID lockdowns may have been extreme, but foreign wars, ongoing supply chain issues and economic swings like inflation serve as repeated reminders that diverse channels for connecting with customers and a nimble ability to pivot are necessities. 
"In-person shopping will always be an important option for consumers," said Wight of Lightspeed. Seventy percent of consumers in a recent Intuit survey said they are shopping to support small businesses, through a mix of online and in-store purchases. 
"Providing a great and consistent retail experience that is both in-store, online, and across social media is the best way to grow your business and achieve long-term success," Wight said. "All retailers — and especially new ones — should be taking an omnichannel approach."
Wight advises business owners to make an early investment in a solid e-commerce platform, with your point of sale, inventory management, reporting and accounting all integrated. 
How will you grow? 
In the early days of her shop being open, Hancock ended up working long hours. She remembers exhausting days extending into nights in the kitchen, making dough until 11pm. "We were definitely a lot more popular than I expected when we first started, which was great, but also pretty stressful," she said.
Make Your Money Work Better for You
She had originally planned to add a couple of employees so that she and her mom could switch off with the kids. They ended up hiring 13. 
"It was hard to find employees, especially with the hiring crisis everyone is going through," she said. "But I have such a good team now, and life balance has gotten so much better."  
In order to expand and avoid burnout, Batten stresses that the business has to be profitable. "You can't sustain a business if it's not making a profit. You don't have to be taking a giant salary or need a big bank account to support you, but if it's not profitable, it won't be fulfilling."
She says three years is the magic number where shop owners hit the burnout wall and can't do it anymore. "Heart and hustle won't fill the till and keep your calendar sane. You can't do it alone." 
To that end, running a brick-and-mortar shop isn't just about finding employees to work the register while you make more of your product, but surrounding yourself with a larger community of support as well. That might include a bookkeeper, marketing partners, a mentor or coach, and a network of other small business owners you can learn from. 
Hancock's question for other aspiring shop owners is: How hard are you willing to work? 
"It's not going to be crazy hard work forever, but how hard are you willing to work for it, and do you have the resources to help in the areas where you're not strong?"
Make Your Money Work Better for You
As she's grown, Hancock has added catering services to her cookie shop, a monthly cookie club subscription service, and for the days she can't imagine eating another cookie, she's now selling soft-serve ice cream. She's also expecting her third child.
She doesn't regret the years she spent studying and working as a pharmacist, for the management skills she gained and carried over to her retail business. But now she can welcome customers into an upbeat environment of her own creation. They come in excited to be there, and they leave happy.
More From GOBankingRates