Small Business Licenses You May Need To Apply For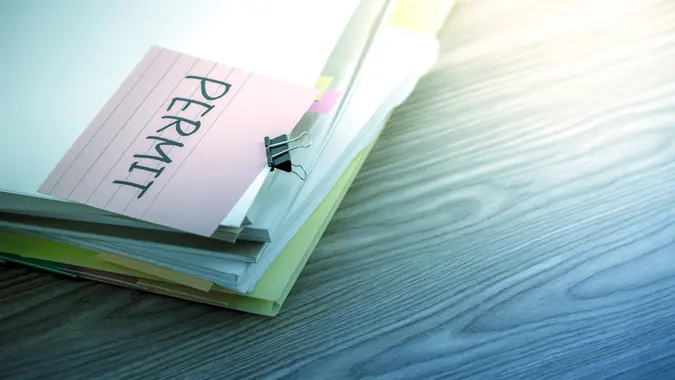 Eiko Tsuchiya / Shutterstock.com
If you're wondering whether your small business requires a license, the answer is generally "yes." Typically, licenses are required so that government entities — be they local, state or federal — can ensure that you're complying with relevant regulations to operate safely and ethically and that you're also paying your taxes.
See Our List: 100 Most Influential Money Experts
Check Out: 22 Side Gigs That Can Make You Richer Than a Full-Time Job
But not all businesses require the same types of licenses, and some may require more than others. How do you know which business license your company should apply for? Read on to learn more. 
Types of Business Licenses and Permits
The number of available business licenses and permits is exhaustive. Fortunately, most businesses need just a handful to operate. Basic permits are required by every business; but, depending on the industry your company is in, the products you sell, where you are located and other considerations, you may be required to obtain additional permits. Here are the most commonly required business licenses and permits.
Make Your Money Work Better for You
DBA
The term "DBA" means "doing business as." It's used when companies operate under a name different than the one that is officially registered. The DBA name is also known as a fictitious, trade or assumed name. Obtaining a DBA is particularly important for sole proprietors, as without one the business will legally operate under the sole proprietor's actual name. For example, if John Smith wants to run a business known as "Fashion Shoes," he'll have to register that name as his DBA, otherwise it will simply be known as "John Smith."
Operating License
An operating license grants your company the legal right to conduct business. This makes it an imperative step for all small businesses. They are issued on the city and state levels, so you may have to get one of each.
Fire Permit
Most businesses with physical locations must be inspected by the local fire department. This is particularly true for companies that handle flammable or hazardous materials. You may be required to get an annual inspection in addition to an initial one before you open your doors.
Make Your Money Work Better for You
Health Permit
Not all businesses need health permits; but, if you intend to operate any company that's remotely food-based, you'll likely need to file for one. Restaurants, grocery stores, beverage outlets and food distribution companies will need local health inspector clearance in order to operate.
Building Permit
If you operate your business out of a physical location, you'll need to get a building permit verifying that it's safe to occupy. Even if you run a business from home, you may have to get a home occupation permit verifying that you're operating in a legally zoned location.
Tax ID Number
A Tax ID number is one of the primary requirements of operating a business. A Tax ID number, also known as an Employer Identification Number, is a nine-digit number provided by the IRS that essentially tracks your business for tax purposes. 
Zoning or Land Use Permit
Zoning and land use permits dictate where certain establishments within a local area can be located. For example, zoning permits often break up cities and towns into business and residential areas, preventing companies from operating in areas where people live.
Make Your Money Work Better for You
Sign Permit
It may seem like overkill that your business has to get a permit to hang a sign, but it's usually a local requirement. The sign permit outlines the parameters that your sign must follow to be legally attached to your business. For example, if you want to put a 40-foot fish in front of your seafood restaurant, you won't be allowed unless it's permitted under local ordinances.
Industry-Specific Licenses
The most common types of business licenses are listed above. But some companies require special licenses to operate. One of the most common of these "special" licenses is a liquor license. You may be able to operate a restaurant under a certain type of permit, for example; but, if you want to sell liquor, you'll also need to file for a liquor license. Gaming licenses for casinos are another type of special license. 
How Do I Know Which Licenses My Business Needs?
According to the Small Business Administration, "You'll have to research your own state, county and city regulations. Industry requirements often vary by state. Visit your state's website to find out which permits and licenses you need." Typically, you can visit websites for these agencies, although you can also visit your local city hall and/or chamber of commerce for additional information. 
How Much Does a Business License Cost?
The cost of a business license can vary dramatically based on the type and the location. In Nevada, for example, corporations have to pay $500 for a standard business license, while in California, LLCs have to pay an $800 tax. Liquor licenses can run from $100 in states like Alabama and Arkansas to $16,000 in California.
Generally speaking, the types of operating licenses that most businesses require tend to run a few hundred dollars, occasionally reaching a few thousand dollars. Specialty licenses can cost much more, so check with federal, state and local regulators.
More From GOBankingRates
Make Your Money Work Better for You