65% of Americans Love Frequenting Small Business Restaurants and Coffee Shops: Here Are Our Top Nominees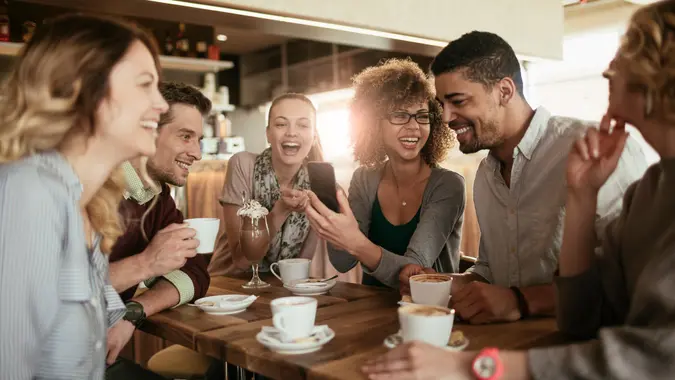 Geber86 / Getty Images
GOBankingRates is recognizing the top small businesses across the country and getting the inside scoop from the owners on what makes these businesses so special. We asked our readers to nominate their favorite local businesses and what made them unique, then we reached out to the businesses to find out more behind-the-scenes insight on these one-of-a-kind spots.
In addition, GOBankingRates recently conducted a survey of over 1,000 Americans to get some insight on why they enjoy supporting small businesses over big-box establishments and the types of small businesses they support. We discovered that 65% of Americans frequent small business coffee shops and restaurants most frequently. In light of this insight, let's take a look at some of our top nominations for coffee shops and restaurants.
Top Coffee Shop Nominations
Top Restaurant Nominations
Why Small Business Restaurants and Coffee Shops Are So Popular
Nearly every street corner within a city features a quaint restaurant or a welcoming coffee spot. To answer the question of what makes these spots a constant go-to for the community, we turn to small-business owners themselves.
The 'Feel Good' Atmosphere
"Coffee shops and cafes (or anything similar) are 'feel good'; people are happy to support independent cafes," said Deepak Shulka, founder of Pearl Lemon Cafe, a coffee and bubble tea cafe based out of London. "Furthermore, with the increased prevalence of remote working, cafes and the comfortable spaces they provide are increasingly relevant and appreciated by people."
Make Your Money Work Better for You
They Make You Slow Down
Unlike fast food restaurants, people tend to experience local coffee shops and restaurants at a more leisurely pace. In our Small Business Spotlight, we featured Source of Coffee, a coffee shop based out of Willcox, Arizona, that highlights a slower-paced atmosphere.
"(Source of Coffee) stands out against the other quick coffee shops in the city as it doesn't have a drive-through, but instead encourages visitors to settle in and play a game of chess or read a book by the fire," said Benjamin Morgan and Dana and Debra Suorsa, owners of the family-run coffee house.
Unique Products and Personal Connection
Small businesses are able to cater to their community in a way that chain stores are unable to. For example, the family-owned burger joint in your neighborhood may buy meat from local butchers and sell locally-made rubs and sauce from other small businesses in the community. Or, the coffee shop in your town might have live music Fridays and host local bands every week. These specialty items and experiences allow small businesses to continue to attract new customers and serve their community. They entice people to stray away from the convenience of a chain store and opt for a more personal experience.
How To Best Support the Local Coffee Shops and Restaurants in Your Community
The small businesses you love rely on good reviews, social media promotion and word of mouth to stay in business and continue reaching new customers. Here are some of the best ways to show support to the local coffee shops and restaurants near you.
Leave a Positive Review
Be sure to leave a positive review on Yelp or Google for the local spots you love. One or two negative reviews can put a small business in danger, so don't skimp out on a five-star review if you had a great experience. Additionally, add a few photos alongside the review to show what the business offers and boost its credibility.
Make Your Money Work Better for You
Promote the Business on Social Media
Small businesses do not have the social media staff and budget that major corporations do. Liking, commenting and tagging the business on your Facebook and Instagram helps promote their content and allows it to reach more users. If you post a picture of your morning latte from your favorite local coffee spot, don't forget to tag the business so your followers can see where you purchased it from and start engaging with the business' social media as well.
Spread the Word
If you love the small business you frequent, let people know what makes the business so special and why they should shop there.
Word-of-mouth marketing is probably more effective than you think. A recent study conducted by Forbes found that 64% of marketing executives stated that this type of marketing is the most effective form of obtaining new consumers.
Think about it this way, if someone you trust was telling you the shop down the street sold an incredible donut, you would likely believe them and make it a priority to check it out. If you go and discover your friend was right and the donut was delicious, maybe you tell two more people to try it out, and thus the cycle continues.
More From GOBankingRates