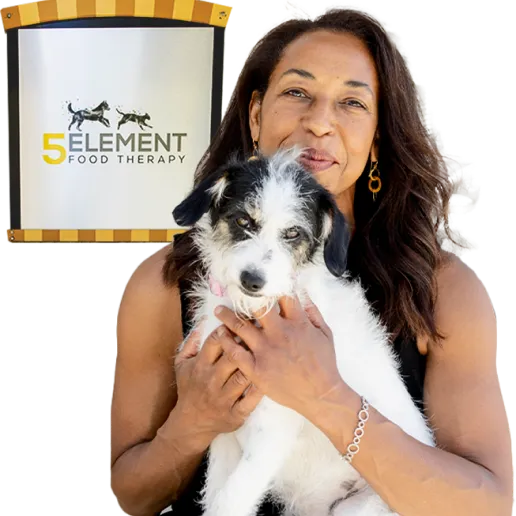 5 Element Food Therapy
Oakland, CA
There's so much you can't anticipate when it comes to your business, but if you love and believe in what you do, it'll be worth it.

Sharon Tuggle


5 Element Food Therapy
About 5 Element Food Therapy
What does traditional Chinese medicine have to do with your furry best friend's food? You might not see the relevance, but Sharon Tuggle did. After food therapy rejuvenated her dog, allowing Sharon to spend more time with Hoochie before she passed, she was inspired to create a line of supplements so more pets, and therefore pet parents, could reap the benefits. 5 Element Food Therapy was born.
Working with a certified holistic veterinarian, Sharon based her recipes on the five element theory of traditional Chinese medicine, which organizes the body into five organ systems: spleen, lungs, kidneys, liver, and heart. The goal is to maintain balance in your pet by taking all five systems into account, while remaining delicious, of course.
The Oakland, California, company has faced many hurdles. But 5 Element Food Therapy has continued to grow. Sharon shares her challenges, success, and advice for new business owners with GOBankingRates below.
Your inspiration for starting your business comes out of a personal experience with your own dog, Hoochie. Can you tell me about that?
With 13 years under her collar, Hoochie was a happy and healthy Boxer-Rottweiler mix who still had the energy to hold her own at the dog park. One day, on the way home from that very same dog park, she had a seizure. Several days and tests later, Hoochie was diagnosed with pancreatic cancer and a life expectancy of 30 to 60 short days. She wasn't interested in eating and had seizures fairly often.
Concerned and worried about my time left with Hoochie, I contacted Dr. Anne Reed, who recommended that I try food therapy for her. Following Dr. Reed's suggestion of food therapy, Hoochie's expected 60 days turned into nine months, in which she had very few seizures. She was happy and re-energized.
Hoochie's successful life-extending treatment inspired me to share the health benefits of fresh food with every pet and pet owner I knew. In 2016, I returned to Dr. Reed to ask her to partner on a new endeavor: creating a line of pet food supplements based in Traditional Chinese Veterinary Medicine to help nourish the bodies of pets, companions and best friends everywhere.
Are there any challenges unique to running a pet health supplement business? If so, what are they?
The pet space is so saturated, and there is so much information out there. Pet parents don't know what to believe. For the first couple of years, I found it most difficult to educate pet parents on health/dietary information, especially given the complexity of Traditional Chinese Veterinary Medicine.
You just opened your first brick-and-mortar location in Oakland's Jack London Square. How did you choose that location? What makes 5 Element Food Therapy vital to the local community?
It was an accident choosing this location. When COVID-19 hit, I was told that I had to move out of my kitchen if I wasn't going to be able to work. I then started looking for restaurant fronts and retail locations and set a meeting with my broker in Jack London Square. While I was there, I went over to visit a pet store that was carrying my products and found out that they had moved out. I then realized that would be the place for us.
Jack London Square is a community space. I have made connections with so many of my customers. Some pet parents even have to drag their dogs out of the store when it's time to leave! It's a place for sharing, and it is a great community. I couldn't have asked to land at a better place.
What is the most rewarding aspect of being a business owner?
The most rewarding aspect of being a business owner in the pet health space is getting to see how our food makes a difference in the lives of so many pets. We see the benefits flow up the leash to pet parents. You can't help but be happy seeing the difference that our product makes in the lives of pets and pet parents.
What advice would you give to someone who wants to start their own business?
It's going to cost you more than you think it'll cost you, and it'll take twice as long to get things done. There's so much you can't anticipate when it comes to your business, but if you love and believe in what you do, it'll be worth it.
For five years, I did everything on my own. I would be working in the store, delivering products, cooking, etc., but I would never ask for help, which hurt me in the end. I would encourage business owners to ask for help.
ICA Fund, a small business accelerator in the Bay Area, helped me connect with a network of mentors and also my peers. During my participation in the Lab, their seed-level business mentorship program, I met some great people and made lots of good connections.
What does the future hold for 5 Element Food Therapy throughout 2023 and beyond?
We're hoping to expand to a second retail location and … do more regional distribution, hopefully entering strategic partnerships with stores like Whole Foods. Our Addabar product is also launching within the next 60 days, which will bundle all the superfoods that pets need into one new bar. 5 Element Food Therapy is also pitching at SuperZoo this August.
Type of Business
Pet health supplement store
Plans for Growth
Owner Sharon Tuggle is eyeing a second store and planning to launch a new all-in-one pet nutrition bar later this year.