From Custom T-Shirts to Affordable Prices, This Alabama Boutique Is Blooming With Style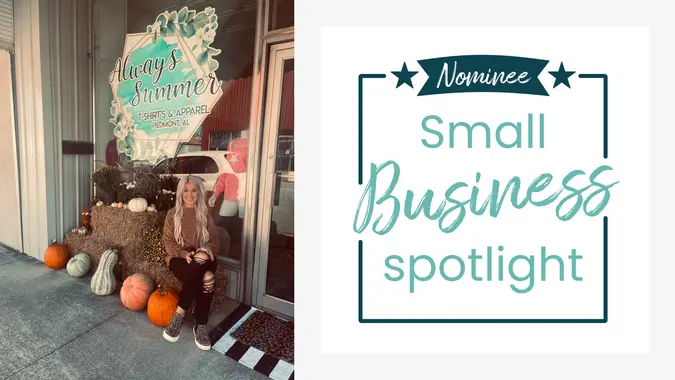 This summer, GOBankingRates is continuing its annual tradition of the Small Business Spotlight by featuring small businesses that have been nominated by our readers. We hope to shed light on inspiring local businesses, particularly after the pandemic left so many establishments struggling to get back on their feet.
Here It Is: Our 2022 Small Business Spotlight
Find Out: 7 Surprisingly Easy Ways To Reach Your Retirement Goals
In this Small Business Spotlight, we're featuring Summer Littlejohn, the owner of Always Summer, a storefront in Alabama carrying a variety of hand-picked boutique clothing items, as well as Littlejohn's specialty: custom-designed bleached T-shirts. Littlejohn transformed her side hustle of creating custom T-shirts for friends and family into a successful boutique, which helps people find the clothing they love at affordable prices, and makes shopping fun and easy for everyone. Here, we speak with Littlejohn about how she got started following her passion, as well as the advice she has for aspiring small-business owners.
Was there a particular moment or experience that inspired you to start your business?
I started doing my shirts in my home for family and just for fun. I quickly noticed how creative I could be and very soon I started taking orders. I now offer tees to 10 different boutiques that also sell my tees. 
What did you take from past experiences or jobs that you knew you wanted to be a part of your new business?
Customer service. I knew I wanted to offer high-quality customer service. In my past experiences, my worst experiences had to do with bad customer service. I wanted to excel in that field. 
Make Your Money Work Better for You
Take Our Poll: Do You Tip for Service?
What has been the most rewarding aspect of being a business owner?
The most rewarding aspect has been seeing everyone in my small town wearing my stuff! That just makes me proud. Another aspect is that I can make my own schedule and have more time with my children.
Most of the clothing items on your site range from $15 to $20 even though they are all handmade. What inspired you to keep the prices so affordable?
My clothing is affordable because I want everyone, no matter their financial bracket, to be able to wear and enjoy nice cute custom clothes.
How has inflation affected your business, if at all, and how have you been coping with it?
The recent rise in inflation has impacted me very little. I keep my prices as close to my original price as I can get away with. I know that with inflation being so high right now it just makes people struggle even more, so there's even more of a need for affordable clothing.
Why are small businesses like yours so vital to the Piedmont community?
My small business is vital to my town because it gives more of a personal buying experience.  I know certain customers' tastes and financial abilities. I know the colors they like and want. Every holiday and/or special event, they know who to call for tees! 
Make Your Money Work Better for You
What advice would you give to someone who wants to start their own business?
My advice to someone wanting to start would be to just do it. Don't be afraid or worry about not succeeding. Just take a chance and if your heart is in it, you will succeed! 
More From GOBankingRates
Make Your Money Work Better for You