Small Business Spotlight: This Woman-Owned Tour Company Gives Visitors a New Way To See Florida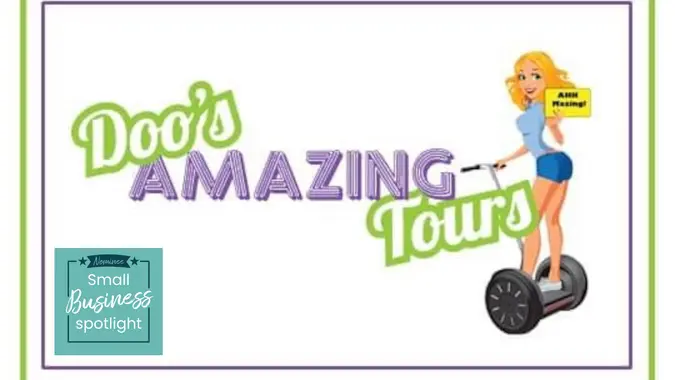 ©Doo's Amazing Tours
"Small Business Spotlight" nominee Doo's Amazing Tours is a woman-owned tour company that offers a variety of guided tours via paddle boards, Segways and bikes that focus on the local history, flora and fauna of St. Petersburg, Florida. Owner Louisa Scopacasa opened the business in 2012, and it has gone on to receive numerous local and national awards, including a 2020 Travelers' Choice Award from Tripadvisor. Here, we chat with Scopacasa about how her own love of travel sparked her business idea, how she's kept her company afloat during inflation and why aspiring business owners shouldn't pay attention to the naysayers.
Was there a particular moment or experience that inspired you to start your business?
Growing up not so wealthy and losing both of my parents at a young age, I did not know the world outside of my small town of Venice, Florida. It wasn't until I was much older that I was able to take my first vacation and discover my passion for travel. I love learning about history and experiencing the different cultures that I visited.
Make Your Money Work Better for You
Small Business Spotlight 2022: Celebrate Small Businesses Across the US
See: 7 Things You Should Never Do When Planning for Retirement
What did you take from past experiences or jobs that you knew you wanted to be a part of your new business?
Things I've taken with me into my business from other jobs are being flexible and working hard to meet the expectations of my customers, reminding myself that ultimately everyone is coming with different expectations and that the only thing I can do day in and day out is to give 100%.
What has been the most rewarding aspect of being a business owner?
I think the best part of being a business owner is knowing that I had a memorable impact on the customer's vacation. I love to hear customers tell me that the tour they did with me was the highlight of their vacation. I also like to believe that I have inspired young females to pursue their own passions, and perhaps open up their own businesses.
How has inflation affected your business, if at all, and how have you been coping with it?
Being a company that relies mostly on tourists, inflation has greatly impacted my overall revenue and cost to operate. I am seeing way fewer bookings than in previous years. The cost to run the tour has gone up as well. In order to keep my high standards, I've had to make strategic cost reductions while streamlining my overall operations.
Make Your Money Work Better for You
What advice would you give to someone who wants to start their own business?
Most of the people I knew told me that I would fail and not to pursue this idea, and that ultimately my business idea wouldn't work. So my strongest advice would be to never give up on yourself and your dreams. As long as you are fully invested and passionate about your idea, the only failure is you not giving everything you have to that business. Everything else is just a temporary setback.
More From GOBankingRates
Make Your Money Work Better for You