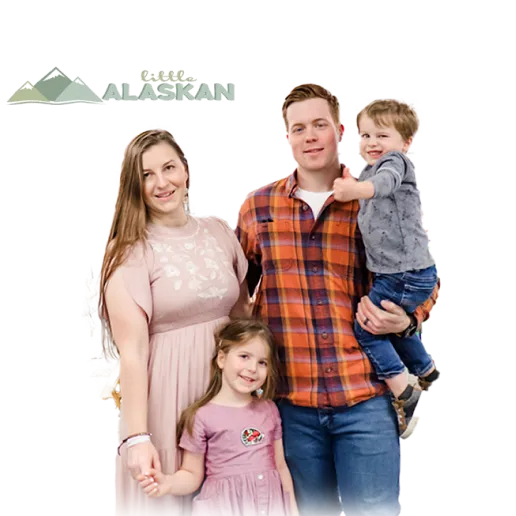 Little Alaskan
Kenai, AK
There is always the opportunity to work a little harder. If it's a slow day, there's always something you can do that will improve your business.

Shelby and Mike Oden


Little Alaskan
About Little Alaskan
The seeds of this family-owned and operated store were first planted in Mike and Shelby Oden's home in Kenai, Alaska, where Shelby sewed children's clothes at the kitchen table. Then, in 2021, the couple bought a retail space where they could sell their Briar&Boone clothing line alongside books, toys, and gifts, creating Little Alaskan.
Little Alaskan's offerings are all about quality. "We focus on brands that will last so that families get the most value for their money," Shelby says. Children's clothing, which kids grow out of so fast, isn't the easiest product to sell, but the family's commitment comes through to their loyal customers. With creative solutions such as a gently-used clothing section, and a strong bond with local families, the couple have reached exactly the place they want Little Alaskan to be.
In this interview, Mike and Shelby share what makes their family business unique, what others can learn from Little Alaskan, and their favorite advice for those starting out small.
What inspired you to open a children's store?
My first gig after having kids was making clothing at my kitchen table so I was constantly marketing them on social media and being exposed to beautiful children's stores all over the country. I thought to myself, "that is the kind of place I want to sell my clothes in!" Just a few short months later we were signing a lease on our first little 400-square-foot space.
Are there any challenges unique to running a children's store? If so, what are they?
Kids grow so fast, so our biggest challenge is communicating the importance of quality goods. It is HARD to convince parents to buy an expensive piece when their child is going to outgrow it within the year, especially when they can buy a similar item at a box store for a quarter of the price.
This is part of why we have a "used, but not used up" section in our store. It is an example of how quality items maintain value throughout their life and are worth investing in. We are constantly working to create a culture of "quality over quantity" within our store community.
What makes Little Alaskan an important part of the Kenai community?
We are located in a small town in Alaska and we are also parents. It dawned on us early on that the people who were coming in to our store are the same people we will be sitting next to at our kids sporting events, at school plays, and eventually graduations.
The kids that are coming in with those customers are going to grow up with our own children. They might not be in the same class, but they might be on the playground together or competing against each other in sports and academics up until they graduate.
Knowing that our kids are all growing up together it felt important to love on ALL of them as much as possible, so we host a lot of free events for kids in the community like story times, music classes, coloring contests and even visits with Santa. We spend our advertising budget loving on local families without the expectation of anything in return.
More often than not, when families who have enjoyed our free community events are in the market for something we offer, they come back! We also focus our charitable giving on organizations that directly impact youth in the community as often as we are able.
What is the most rewarding aspect of being a business owner?
Initially the store was a beautiful way for me to have a fulfilling career without ever having to put my kids into daycare. When we needed employees it became our mission to offer the same opportunity for all of our employees. Today we have five mothers on our payroll and they all are free to bring their own children with them to work.
The most rewarding aspect of this business is that we get to offer flexible employment to moms while they still get to prioritize their families. The best days in the store are when we get to work alongside our employees while all our children play and grow together.
What advice would you give to someone who wants to start their own business?
You can start with so little. When we first opened we were in the tiniest space we could find and we still didn't have the money to fill it with inventory, it was half empty at our grand opening!
It only took us two years to move into a 1,900-square-foot space, and then another year to be able to fill that one with inventory. It can be a slow process, but you have to start somewhere.
My other favorite piece of advice is that there is always the opportunity to work a little harder. If it's a slow day there is always something you can do to that will improve your business.
What does the future hold for Little Alaskan throughout 2023 and beyond?
We feel a sense of contentment about where we are at now. We do not have big plans to open another location or move into a bigger space. We love where we have managed to get ourselves and we look forward to pouring into our space and community over the next few years while growing our online presence and sales.
Type of Business
Children's store
Take Your Kid to Work
Every day is "Take Your Kid to Work Day" at Little Alaskan, where employees are free to bring their young tikes into the office year-round. It helps save on daycare costs, and it adds to the atmosphere of the children's store.