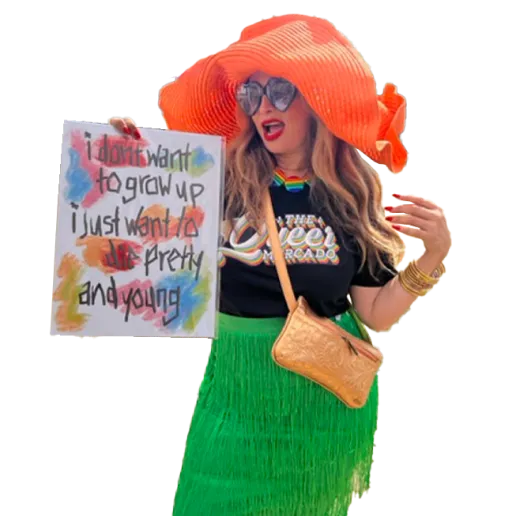 Mexichic Crafts / Goddess Mercado
East Los Angeles, CA
Be fearless, because fear is just an obstacle. Stay positive and stay true to you.

Diana Diaz


Mexichic Crafts
About Mexichic Crafts
Diana Diaz could have called it a day after she successfully turned her unique and colorful purses and wallets into the luxury leather brand Mexichic Crafts. But the self-described "fashionista activista" still had more to give, especially to her East Los Angeles community, and she's only gone up from there.
She went on to found The Goddess Mercado, an outdoor market where other local artisans would also sell their products. It was such a success that the collective was able to open a brick-and-mortar location, The Goddess Mercado Boutique, and begin holding a monthly marketplace for LGBTQ artisans and vendors called The Queer Mercado.
"I saw an opportunity to support other entrepreneurs in the community and build safe spaces for them," Diana said.
Now, with both her luxury brand and community endeavors thriving, she shares her experience of turning her passion into a business — and into opportunities for fellow artisans.
How did you get into crafting leather products?
My parents, both Mexican immigrants, introduced me to the world of street vending and apparel construction when I was young. I started with apparel construction and cloth handbags. I became interested in elevating my product, which is when I started experimenting with incorporating leather and creating Mexichic Crafts. We are a brand that is intended to be both inclusive and exclusive. 
How did you come to found The Goddess Mercado and The Queer Mercado?
I witnessed incredible entrepreneurship in my community, so I wanted to create a space where I could support my friends and we could all make money together. I couldn't afford a building, so I built on my street vending roots and started an outdoor local marketplace. I eventually turned this into a nonprofit so it could be a community-run organization.
The Goddess Mercado is the mother of The Queer Mercado, which I created because I realized we needed not just a safe space for women, but a space for youth to nurture entrepreneurship, and a queer family space. It is important for people to feel visible, supportive, and empowered. We now have 100+ vendors who come together each month for this incredible community. 
How does the community of East LA influence The Goddess Mercado/Queer Mercado and vice versa?
East Los Angeles is a mostly Latino community, and we sell things at The Goddess Mercado and Queer Mercado that are inspired by the local culture. The brands we work with have roots in the Latino community here and Latin America. East Los Angeles has shaped our businesses.
In return, we are intent on giving back to East Los Angeles. We create opportunity for entrepreneurs who may not have the resources to get started on their own. We give them a marketplace and a safe space. Some of our entrepreneurs come from difficult backgrounds, including domestic violence survivors, people who were unhoused, those in recovery, and people who have been incarcerated. We create economic opportunity for everyone in our community.
How has inflation affected your business and how have you been coping with it?
Inflation has been tough, and it's something I particularly have heard about from customers who have had to cut back on their spending and have not been able to buy as much from us. The costs have gone up for products that we source as well, which eats into profits. We are creating new products and getting the word out about our business, so that hopefully we can overcome these challenges.
Are there any business challenges unique to running a collective? If so, what are they?
When you work with a collective, you have to understand that everyone has different ideas and personalities! It can be difficult to meet consensus, but we do. Everyone needs and wants to be heard, so we have to create space for that collaboration and long-lasting connections.
What is the most rewarding aspect of being a business owner?
For me, it is that I am fully in control of my own fate. My tears and my gains are all my own, which is empowering. I want my business to grow, so that I can grow and continue to support my community.
What advice would you give to someone who wants to turn a passion into a business?
First, be fearless, because fear is just an obstacle! Stay positive and stay true to you.
Second, if you are struggling, you should reach out for help. CAMEO is an organization in California that has wonderful resources for entrepreneurs, and I know I can reach out to their networks and find advisors and business support through them.
What does the future hold for Mexichic Crafts, The Goddess Mercado and The Queer Mercado throughout 2023 and beyond?
We are launching a shoe line this month! They will be fabulous leather shoes. We are continuing to build spaces where the community can come and gather and focus on empowering women, youth, and queer people in our community.
Type of Business
Luxury leather boutique
Growing Community
In addition to running her leather brand, Diana Diaz has built local marketplaces in East LA where more than 100 vendors come together each month to sell their products.