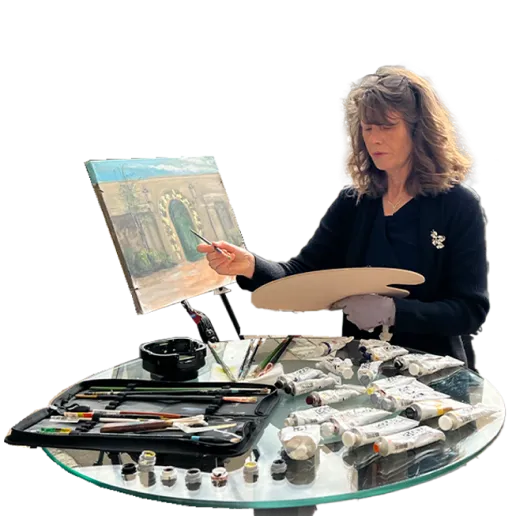 New England Wedding Painter
Canterbury, NH
As a small-business owner I am solely responsible for my own success or failure, and while sometimes that is a heavy burden, more often than not it is liberating.

Carol Lake


New England Wedding Painter
About New England Wedding Painter
Making a living through art often seems like a pipe dream to struggling young artists, but there is a thriving industry of professional painters who do just that by documenting weddings and other events, similarly to photographers.
Carol Lake stumbled into the live event painting industry several years ago, and now travels New England (and farther afield) painting her clients' special days. From beaches to corporate offices, hiking trails to sailboats, she captures events in paint, in front of live audiences.
Carol explains, "Before cameras, artists were hired to create lasting memories of special events. I follow that time-honored tradition by painting an archival quality piece of fine art as an event unfolds." It's a job that requires a lot of skill and confidence under pressure, but it's also fulfilling.
Carol talked to GOBankingRates about a wedding painter's unique experiences and how she has grown her business.
What inspired you to start a business painting wedding scenes?
I was living in Connecticut at the time and happened to notice a flyer on a bulletin board at my favorite art store. It was an advertisement for a "live event artist" and it piqued my curiosity. I ended up painting at a beautiful location on the Hudson River, and from there, it took off.
Your first wedding had a famous guest who highlighted your painting on her blog. Tell me about that. What impact did it have on your business?
That first wedding that I painted, the one along the Hudson, was attended by Martha Stewart, who happened to mention my work in her blog later that summer. It really got the ball rolling, as I had no idea prior to that painting that there was a demand for live event painters, especially wedding painters. At that point, I was living in the tri-state area of New York, Connecticut and New Jersey, and there was a growing demand for wedding painters.
Are there any challenges unique to a wedding painting business? If so, what are they?
Like any business, there are unique as well as more typical challenges. In live event painting, I think one of the greatest challenges is developing a sense of confidence. Painting in front of hundreds of strangers is daunting!
Other than that, accruing the skills required for the work, which is not only a high level of artistic skill, but an ability to paint high quality fine art in public, in only a few hours. In addition, while invariably stunning, outdoor weddings can be very hot or cold, buggy, raining or even snowing; the grounds are full of boisterous, often loud and/or tipsy people, flashing lights, loud music and of course there are long hours on your feet.
Excellent people skills are required (wallflowers need not apply, I assure you!) as are on-point photography, marketing and essential business skills including a solid understanding of sales and bookkeeping.
What is the most rewarding aspect of being a business owner?
In a word, autonomy. I get to make a living painting joy and beauty, and, even though my hours are many and sometimes seem endless, they are my own. I never once thought, as a dreamy artistic child, that I could make a living with my art.
As a small-business owner I am solely responsible for my own success or failure, and while sometimes that is a heavy burden, more often than not it is liberating.
What advice would you give to someone who wants to start their own business?
A great deal of my success is due to my desire to pursue my own interests. I had to learn how to start and grow a small business.
While you can certainly do it on your own, you don't have to as there are wonderful state and federal resources (often free) available. For example, I worked with the SBDC in my area and was accepted into their 'FAME' (the Financial Accelerator Marketing Expediter) program and was given free marketing (specifically SEO) assistance by a marketing consultant.
I was recently accepted, via the Center for Women in Enterprise, into the Duplessy Foundation's Sales Fellowship year-long program. Good advice is available at no charge through many organizations.
Stay curious, stay current, and make connections. Develop and nurture a good support system for those all-nighters that you will inevitably pull, for the tumultuous times you will encounter, and to help you celebrate your successes.
What does the future hold for New England Wedding Painter throughout 2023 and beyond?
The future is bright! So far this year I have almost tripled my revenue stream from 2022, and will be expanding my corporate event paintings as well as offering corporate gifts and limited edition, signed prints. I aim to expand my reach in corporate and private portraiture, and continue to expand in the international luxury event market in 2024 and beyond.
Type of Business
Luxury live event painter
Jump Start
Martha Stewart attended the first wedding that the New England Wedding Painter painted and mentioned the work in her blog. That exposure helped to get the ball rolling for the business.