A Growing Small Business: This Ohio Candle Shop Specializes in Customizing Candles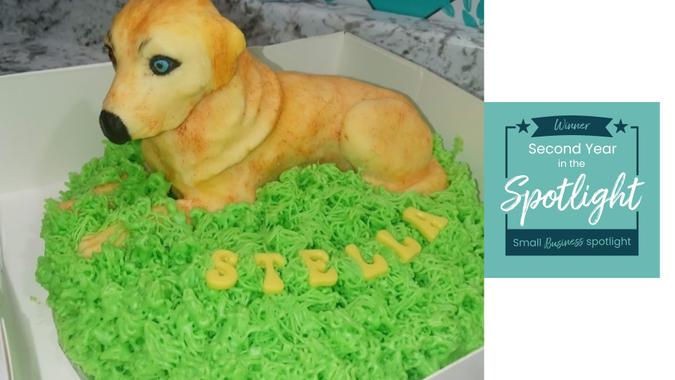 Krista Davis / No Common Scents / Krista Davis / No Common Scents
Last year, we featured No Common Scents Gifts, LLC as part of our 2021 Small Business Spotlight. Founder Krista Davis told us about her specialty candle shop in Nova, Ohio, where she creates unique candles and melts available in over 600 fragrances. These candles come in a wide variety of shapes, with many including food and drinks, and Davis accepts custom orders from clients. 
Small Business Spotlight 2022: GOBankingRates Celebrates Small Businesses Across The US
Learn More: 7 Surprisingly Easy Ways To Reach Retirement Goals
How has business been since our last conversation together? Davis returns to GOBankingRates to tell us how the company has grown since first opening its doors during the COVID-19 pandemic, taking candle creations on the road and whether we can expect to see a storefront open up.
A year after we last touched base with you, what's new with the business? How have the company and its offerings grown?
Since the last time we spoke, I have expanded my business enough that I am now located in three stores, including Wadsworth, Shelby, and Polaris Mall, all in Ohio. I am also still traveling to select events, both in and out of my home state. 
Make Your Money Work Better for You
I have grown tremendously in the past year. I have added many new products and increased my customer base, which now includes people ordering from all over the United States. My husband helps with packaging, my daughter helps with inventory and my grandson fills in where I need him. The great thing about having them help is they work for free, but I can't keep up with the orders coming in. I am looking at hiring an employee in the next month or two. 
People are drawn to the fact I am willing to customize any candle and add any personal touch they request. I recently completed an order for a woman who wanted her dog as the main part of the candle. This dog has one blue eye and one brown eye, and several other distinguishing features. This customer was so happy, she recommended me to many of her friends. Now, I have a lot of new clients just from one product!
Make Your Money Work Better for You
Take Our Poll: Do You Tip For Service?
You mentioned in 2021 one of the most rewarding parts of being in business is traveling. Where have you traveled with your candles?
I have traveled to Erie, Pennsylvania. I have also been to different cities all over the state of Ohio including Findlay, Toledo, Colebrook, Wapakeneta, Plymouth, Akron and Columbus. 
Some events include Christmas in the Village, Polaris Mall, Holiday Mart, Barberton Mum Festival, Spring Fling and several by Cloud Productions, located at The Hancock County Fairgrounds. 
How has inflation affected your business and how have you been coping with it?
Inflation has been extremely rough, as the price of everything has gone up quite a bit. I have raised my prices slightly, but not enough to affect business. 
One thing I pride myself on is not overcharging for my products. One of the reasons I've had so much success is because I keep my price point low enough so everyone can afford to purchase candles and melts, even on a strict budget. This keeps both myself and my customers happy.
Make Your Money Work Better for You
What does the future hold for No Common Scents Gifts in 2022?
I plan on opening up my own shop in the next year or so. Hopefully, business continues to grow. I love what I do, and I'm extremely proud of what I've accomplished. 
Maybe someday you will see my products in stores all over the United States… or at least outside of Ohio!
Visit the No Common Scents, LLC Facebook page to place a custom candle order today.
More From GOBankingRates
Make Your Money Work Better for You