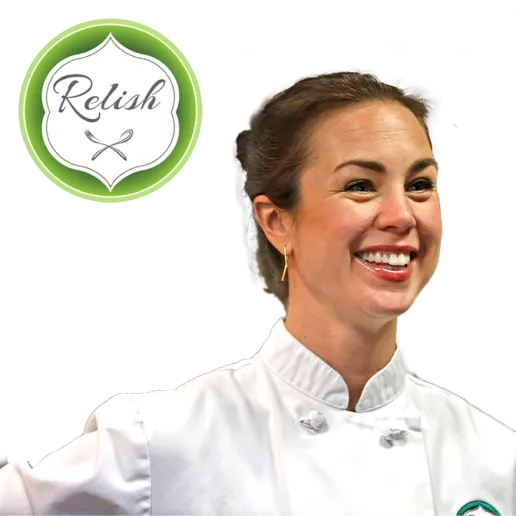 Relish Your Chef
Monmouth County, NJ
Listen to your prospective clients. At first try to be light on your feet with your business structure so you can ebb and flow with the changing tide of what your market wants. Therein you could really find that niche that will set you apart.

Marcy Ragan


Relish Your Chef
About Relish Your Chef
Marcy Ragan didn't set out to open her own business. She was working at a restaurant when a friend asked her to cook some meals for her, the way she had once hired a personal chef company to do. The request opened Ragan's eyes to the personal chef industry, which had room for growth and would fit her skills as a chef and her needs as a working single mother.
She left her restaurant job and started Relish Your Chef, a business offering custom meal delivery and catering based in Monmouth County, N.J. It was a decision based on her love of both food and family. Ever since, Ragan has been cooking and catering delicious meals for her clients, and she has a wealth of advice on starting your own business.
What made you want to start a personal chef and catering service? How did you go about making your dream a reality?
I re-entered the workforce after a painful life shift and was hired as a back-of-house chef/manager at a new restaurant. After the restaurant opened, it changed its plan and informed me that I would have to work nights and cut my pay, which did not work for me as a single mom.
Coincidentally, that same week, I had an acquaintance ask me to "cook for her" like a personal chef company did for her family while she lived in San Francisco. After some research, my eyes were opened that this was a real industry with room for growth. I left the restaurant job and pursued my custom meal delivery business. Catering came as a natural second as I love throwing parties and cooking for people.
Are there any challenges unique to running a catering service? If so, what are they?
There are always challenges on a catering job. My service is bespoke, which enables me to tailor my menus to the clients and their special occasions. However, sometimes things do not go as planned; preparation and flexibility are key. 
For instance, I have been on jobs where the oven doesn't work, the power goes out or a staff member doesn't show up. In cases like this you want to ensure that the client's vision for the event is executed even though there are potential problems. 
Caterers are the ultimate problem solvers. In my experience, the best recourse is to hold your head up, be flexible and find a way to deliver results that respect what the client envisioned. Behind the scenes, my team and I are prepared for anything to ensure the best party for my client and their guests, no matter what.
How has inflation affected your business and how have you been coping with it?
In an odd way, inflation has helped my business. As I run a boutique service, my clients are used to a higher spend as there is a luxe level of service that accompanies the weekly meals or custom catering. After the pandemic, the public at large is a little more understanding that groceries and the effort going into making meals adds a great value to their daily lives.
Inflation definitely has a downside with some of the variable costs rising such as paper goods, custom printing or an ingredient such as eggs. But it seems that every quarter one cost goes up and then another comes down. It's a waiting game; but, with some foresight and saving, it is manageable.
What advice would you give to someone who wants to start their own business?
Listen to your prospective clients. At first try to be light on your feet with your business structure so you can ebb and flow with the changing tide of what your market wants. Therein you could really find that niche that will set you apart. 
There are a million food delivery businesses out there, but mine is different in that my clients can customize their meals to suit their dietary needs. I listened to my clients and realized with the right systems in place I could accommodate their meal needs and wants.
Your local small business development center is an invaluable resource — use it! My local Monmouth and Ocean County Small Business Development Center was key to my understanding of what I needed to do and how to accomplish the goals once they were defined. All of their classes fit together nicely to give me a solid foundation.
What does the future hold for Relish Your Chef throughout 2023 and beyond?
I will be scaling my company to expand its reach. I've made a few hires to help me accomplish this and I am in the process of rewriting the business plan. I have hired a web developer who will help me create an app and a consultant who will scale my recipes and create a training manual, among other things. It's time to take the next step. 
Type of Business
Personal chef, catering, custom meal delivery
Throwing a Party?
In addition to her personal chef and custom meal service, Marcy Ragan hosts cooking parties and teaches cooking lessons at customers' homes.