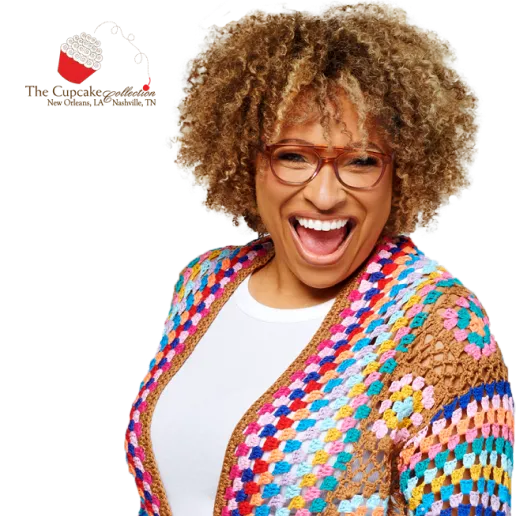 The Cupcake Collection
Nashville, TN
People often believe the lie that you need more — more money, more resources, more time. But I am living proof that all you have is all you need.

Mignon Francois


The Cupcake Collection
About The Cupcake Collection
With kids to feed and only five dollars left in her pocket, Mignon Francois knew she needed a new source of income fast. It was 2006, and she recalled hearing financial expert Dave Ramsey suggest having a bake sale to earn some quick cash. Despite having no baking experience, Mignon decided to give it a shot anyway.
Fast forward to 2023: Mignon now runs a hugely successful destination bakery, The Cupcake Collection, that boasts locations in Nashville and New Orleans. The bakery has won multiple awards and is known for a famous flavor: sweet potato.
The company's massive success is a testament to Mignon's determination and willingness to take risks. She chronicles her journey from her kitchen to a chain of stores in her book Made from Scratch: Finding Success Without a Recipe, published earlier this year. Mignon shared her story and her unique approach to business in this interview with GOBankingRates.
What inspired you to open your business?
I started my business out of hunger. I was raising six children and my family was living on around $30,000 a year at the time. Our house was on the brink of foreclosure. We couldn't pay our electric bill. We would use a generator at night to make dinner and give the kids baths.
I didn't even know how to bake at the time of starting my business, but I heard a man on the radio saying you could get out of debt by having a bake sale. I decided to start baking because we were drowning in debt and I wanted a better life for my family.
My neighbor was a realtor and she asked me to bake cupcakes for her clients. She was offering to pay me $600. I had $5 left to feed my family that week, but I decided to leverage that money for this opportunity.
She offered to pay me as I made them because I couldn't afford the ingredients. By the end of the day, I turned that $5 into $60 and into $600 by the end of the week. I've been flipping that money ever since.
At that point, I was determined to open up a bakery. So ultimately, my business was born out of necessity. I didn't set out to build a multi-million dollar business. I just wanted field trip money for my kids, so this has drastically exceeded my expectations.
Are there any challenges unique to running a bakery brand? If so, what are they?
Running a bakery, your challenges are consistent with the challenges of the economy.
During the pandemic, it was keeping up with the ingredients. Flour and sugar are usually cheap and readily available, but they spiked in price and were harder to come by. Now, with inflation the cost of eggs went up. The war is causing an increase in the price of gas and the cost of flour to rise.
Bakeries are always affected specifically by the economy — the price of gas, the weather impacts how ingredients are grown, the rising cost of goods, etc.
Separately, bakeries are often run by people who may be creative in the kitchen, but may not have a business background. You're learning how to make the dollars and cents make sense while the prices are changing. The price of dough impacts the amount of dough you bring home — pun intended.
What is the most rewarding aspect of being a business owner?
Freedom is the most rewarding aspect of being a business owner. It gives me the freedom to provide opportunities for my children; to be in charge of the direction I'm heading in; to be in charge of my own future, the future of my family and ultimately my business.
What advice would you give to someone who wants to start their own business?
My advice to someone who wants to start a business is to do it. Start now. Stop waiting for perfect circumstances. People often believe the lie that you need more — more money, more resources, more time. But I am living proof that all you have is all you need. I had $5 to my name and six kids to feed when I started my business.
Our circumstances weren't going to change unless I changed something. I took a chance in starting my business and that is what changed my family's life. So my advice is start the business– use what you have, build your business at the speed of cash, and just do it.
What does the future hold for The Cupcake Collection throughout 2023 and beyond?
Currently we have one location in Nashville and one in New Orleans. We are preparing to open two more locations in Nashville, and we actually recently bought a new cupcake truck. So The Cupcake Collection is mobile!
Our truck helps us to determine where the interest is for opening new locations. It helped us to determine which areas in Nashville had the greatest demand, and soon they will have their own stores!
Type of Business
Cupcake store
Not Your Usual Cupcake
The Cupcake Collection's most famous cupcake is a flavor you might not expect: sweet potato. It's won multiple awards and is the company's top-selling cupcake.